The CSI Character You Likely Forgot TWD's Michael Cudlitz Played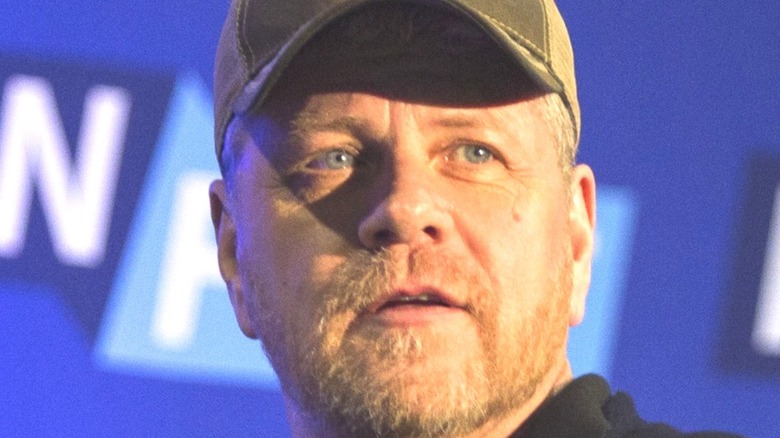 Barry Brecheisen/Getty
It's a testament to the impact Michael Cudlitz's portrayal of Abraham Ford had on fans of "The Walking Dead" that his famously brutal death in Season 7 caused as much outrage as that of long-time favorite Glenn (Steven Yeun). The often hilariously foul-mouthed, cigar-chomping former Army Sergeant was a tough fighter and a passionate team member who enjoyed a wise-cracking double-act with Eugene (Josh McDermitt) and romantic relationships with both Rosita (Christian Serratos) and Sasha (Sonequa Martin-Green). Cudlitz's incarnation of the character, with his monumental carrot top and mustache, was so iconic he became a cosplay costume and a subject of "how to dress like" articles. Following Abe's departure from "The Walking Dead," Cudlitz stayed with the show as a director.
Cudlitz has had a long and impressive acting career on stage and screen. For three decades he's appeared in popular primetime shows such as "21 Jump Street," "Beverly Hills 90210," "24," "Prison Break," and "Lost." He's also made an impact on highly respected cable shows including "Six Feet Under," "Nip/Tuck," and "Band of Brothers," in which he portrayed real-life Easy Company hero Staff Sergeant Denver "Bull" Randleman. Viewers may recognize Cudlitz more recently for his portrayal of Paul Krendler on CBS's "Clarice."
Perhaps because of his physical stature, Cudlitz has often been cast as men in uniform, and that was certainly the case with his first appearance in the "CSI" franchise.
Cudlitz played a murderous State Trooper in Season 2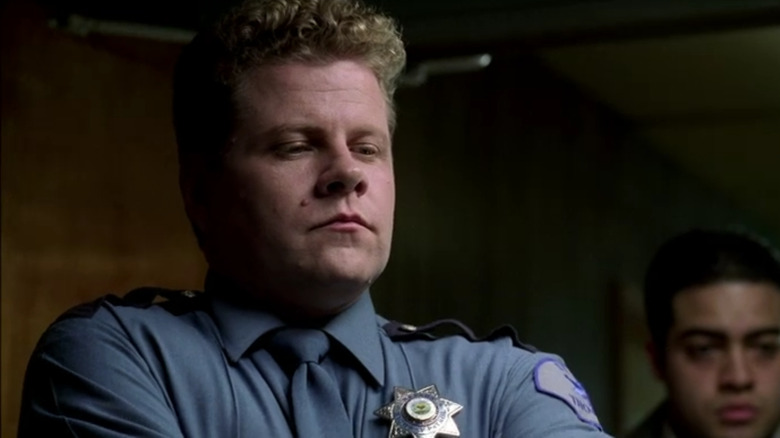 CBS
In the 2001 "CSI" episode "And Then There Were None" Grissom (William Petersen) and team investigate a casino heist that resulted in the deaths of five security guards and one of the robbers. Evidence soon ties the crime to a seemingly unrelated murder of a convenience store clerk apparently shot during a hold-up. Michael Cudlitz plays state trooper William Spencer, a local deputy who introduces the CSI agents to the convenience store crime scene.  
The CSI team then goes on the hunt for the two surviving members of the criminal gang, a "Bonnie and Clyde"-style fugitive couple. However, when both robbers turn up dead, the investigation grinds to a halt with no suspects left alive and a great deal of money missing. Catherine (Marg Helgenberger) pieces together the clues to unveil the guilty party: Officer Spencer. It seems the career cop, tired of never catching a break, had interrupted the gang after their casino heist and took a bribe to stay silent. He later assassinated the remaining gang member and kept the haul for himself.
Cudlitz made his second "CSI" appearance in the Season 9 episode "The Grave Shift." It's a historic moment in "CSI" history as the first episode to star Laurence Fishburne as Raymond Langston, following the departure of William Petersen's Bill Grissom. When the team investigates a case of murder-by-arson, they discover building contractor Josh Barston (Cudlitz) taking photos of the scene. Surveillance footage reveals Barston and the victim's wife kissing prior to the explosion, and during interrogation, Barston confesses to rigging a homemade bomb to dispense with his lover's husband. 
Cudlitz has appeared elsewhere in the "CSI" franchise; in the "CSI: NY" episode titled "Super Men," and in "CSI: Miami" episode "Nothing to Lose."