1883's Gratiela Brancusi Confirms What We Suspected About Faith Hill's On-Set Behavior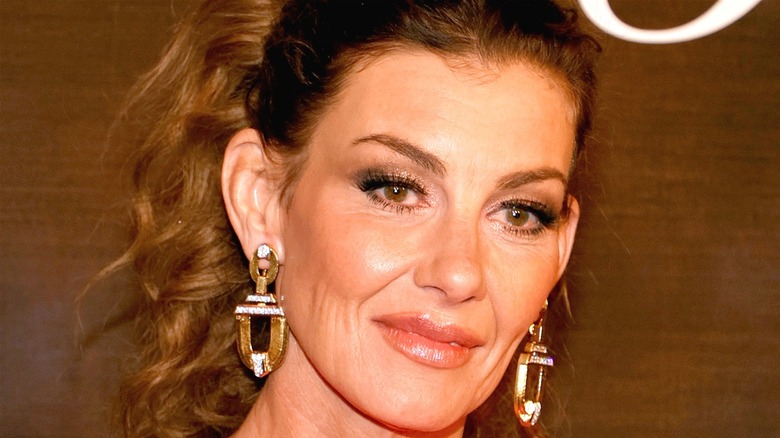 Ethan Miller/Getty
Traveling out West and staking a land claim is part of the American zeitgeist of the 1800s. Images of the Wild West and settlers crossing the vast unknown have laid the basis of many stories, movies, and TV shows. "1883" is one such show, and it is a direct prequel to the popular drama "Yellowstone." Both series are created by Taylor Sheridan, and "1883" stars Tim McGraw, Faith Hill, and Isabel May as the Dutton family — the ancestors of the characters in "Yellowstone" — who cross the undeveloped wilderness of late 19th century America in search of a new place to call home.
Gratiela Brancusi plays the role of Noemi, a widowed Romani woman with two children who becomes romantically involved with Thomas (LaMonica Garrett), a Pinkerton Agent who acts as a guide to a group of settlers moving West, working alongside Shea Brennan (Sam Elliott). Recently, Brancusi sat down and spoke about what it was like working with the great cast. In particular, she described how it is to act alongside legendary country music star Hill, and it looks like Brancusi has a rather strong opinion.
Brancusi said that Hill has a 'mother spirit' on set
Paramount+
Speaking with Taste of Country, Brancusi said of working with Faith Hill, "I so love Faith. I became close with Faith. This is the one common thread that I blame Taylor, ('1883' creator Taylor Sheridan), is that he's managed to put this cast together and everyone is so kind." 
Going even further, Brancusi described the cast as "the most kind people I've met." Brancusi said that despite this being one of Hill's first major acting roles, "she was just always there, sort of making sure that people are taken care of ... it was like her mother spirit." The actress added that working with Tim McGraw, another famous country musician and husband of Hill, is also an enjoyable experience.
Hill plays Margaret Dutton in "1883," who is the great-grandmother of Kevin Costner's John Dutton from "Yellowstone." Hill is primarily known for her extensive, award-wining work in music, with a few of her hits being "The Kiss," "Breathe," and "The Way You Love Me," and she's won a total of five Grammys so far (via IMDb). "1883" has been a huge hit with both critics and fans, with the show currently maintaining around an 86% score on Rotten Tomatoes, so it looks like we can likely expect much more Hill and Brancusi in the future.