1883's Gratiela Brancusi Admits Why Her Love Scene Was So Hard To Film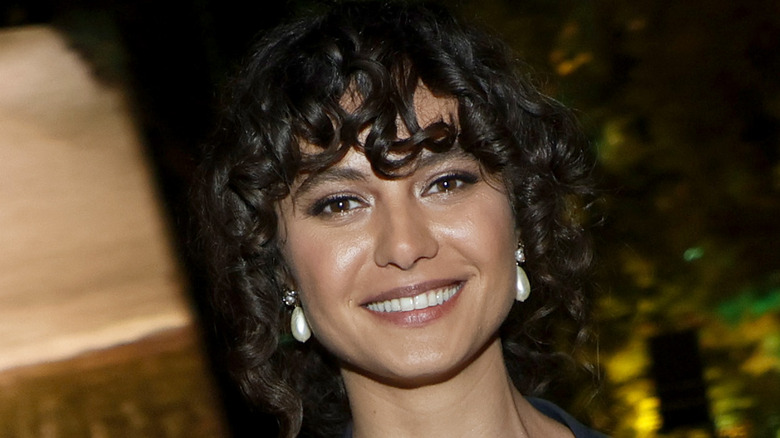 Ethan Miller/Getty Images
The heyday of the Western genre is long gone, but that doesn't mean that it's dead by any means. Take "Yellowstone," for example, which arrived on Paramount in 2018 and took over the small screen landscape in no time. Viewers immediately got invested in the trials and tribulations of the Dutton family, hence why the show has already amassed four seasons and is rapidly approaching the 50 episode mark. However, ahead of a Season 5 drop, "Yellowstone" fans are getting a glimpse at where its story really began via "1883" on the Paramount+ streaming service.
"1883" kicked off on December 19, 2021, taking viewers back in time to the titular year to see how the Duttons came to possess what we now know as Yellowstone Ranch. As one could imagine, the series centers on a brand new story full of fresh faces — most notable among them being Tim McGraw's James Dutton, Faith Hill's Margaret Dutton, and Sam Elliott's Shea Brennan. It also boasts a cast of minor franchise newcomers, including Gratiela Brancusi's Noemi: a Romani widow doing her best to raise her two young sons in the wake of her husband's death.
Though not necessarily the focal point of "1883," Noemi has had the chance to grow as a character and engage in meaningful relationships with others. Arguably the most prominent is her romantic connection to Thomas (LaMonica Garrett), which led the two to share an intimate moment in the episode "Boring the Devil." According to Gratiela Brancusi, however, this scene presented more than a few issues behind the scenes.
The weather didn't make filming the scene an easy task
Paramount+
Gratiela Brancusi recently spoke to Taste of Country about her experience on "1883," specifically touching on Noemi and Thomas' evening together. As she recalls, when they first arrived on set, it was pretty warm, but this didn't last. "40 minutes later, it was all gone, and I was sorry I spoke too early," she said, and sadly for her, the temperature was just the start of her problems. The wind soon kicked up, so the crew had to scramble to try and keep the tent from blowing away. Undeterred by the strong gusts and out-of-frame struggles, Brancusi kept the scene alive.
"I had already dropped the dress. I just kept going. I was like, 'I am not sacrificing this...we made it this far, we are doing this take,'" she told Taste of Country, noting that even if the weather hadn't worked against them, she still had her reservations about the overall scene. Standing around naked in front of a crowd of people is a daunting task, even for an experienced actor. Thankfully, the cast and crew made sure that Brancusi was as comfortable as possible. "It was really the scene that I felt the most comfortable in...because of how everyone was there to take care of me and protect me. It was such a generous experience."
Four episodes remain in "1883" Season 1, giving Noemi and Thomas' relationship plenty more time to flourish. Hopefully, to do so, Gratiela Brancusi didn't have to suffer through any more uneasy shoots like the one she did for Episode 6.