30 Best Bob's Burgers Episodes Ranked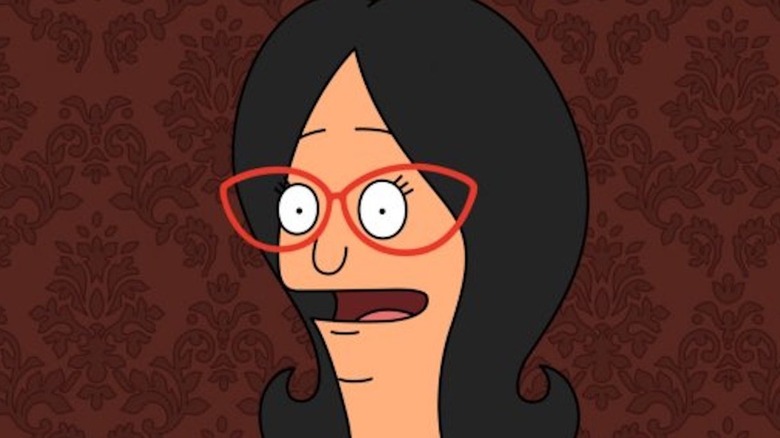 Fox
A beautiful and hilarious portrait of a working-class family, "Bob's Burgers" has dominated the airwaves on Fox's Sunday night schedule for over a decade, with no end in sight. The show, which surprisingly was first pitched as being about a family of cannibals, underwent quite the transition,  becoming effortlessly charming family television. Fans love "Bob's Burgers" for its charm, wit, burger puns, fun references, and heart-on-its-sleeve approach. The Belchers, unlike many other television families, actually seem to enjoy one another's company, creating an environment that never feels mean-spirited, even when they're teasing each other.
"Bob's Burgers" is showing no signs of slowing down, with a hotly anticipated movie set for 2022. With all this exciting news about "Bob's Burgers," we wanted to celebrate everything that makes the show special, by taking a look at its very best episodes. (Especially since we've already broken down the worst episodes of "Bob's Burgers.") Here are the 30 best "Bob's Burgers" episodes ranked.
30. Vampire Disco Death Dance (Season 11, Episode 22)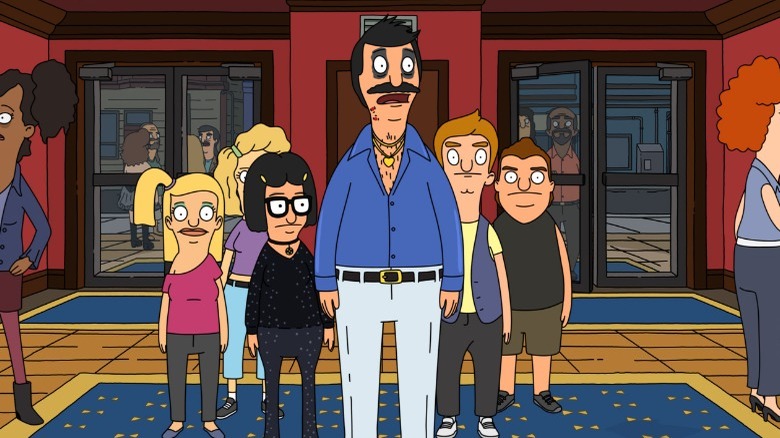 Fox
One of the most recent episodes of "Bob's Burgers" is also one of the best. The episode revolves around Bob's (H. Jon Benjamin) favorite movie, "Vampire Disco Death Dance," which is a glorious cult classic vampire musical in the vein of "Rocky Horror Picture Show." The film is showing at their local movie theater, and Bob is excited to introduce it to his oldest daughter, Tina (Dan Mintz). Tina, however, isn't as excited and invites all of her friends in an attempt to bond with them. The episode has a poignant message, and its B-story, where Louise (Kristen Schaal), Gene (Eugene Mirman), and Linda (John Roberts) make a restaurant for the raccoons in an alley, is as funny as it is ridiculous.
29. The Gene Mile (Season 9, Episode 20)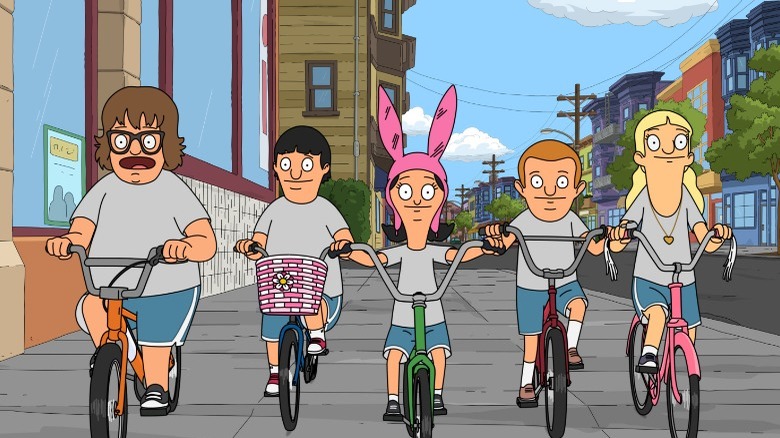 Fox
Running is hard — especially if you're Gene, who would rather make music on his keyboard and eat delicious snacks than do any sort of physical activity. In "The Gene Mile," the Wagstaff School is holding a mandatory one-mile run, but it's on the same day as the hallowed free ice-cream day at the local ice-cream parlor. The kids' plan is so amusingly intricate that it might as well be a diamond heist, and they actually accomplish their mission, but along the way, Gene has an epiphany. Despite being the middle child, Gene has always seemed like the youngest of the three Belcher children, and "The Gene Mile" offers a genuine moment of maturity from the youngster.
28. Bob Actually (Season 7, Episode 9)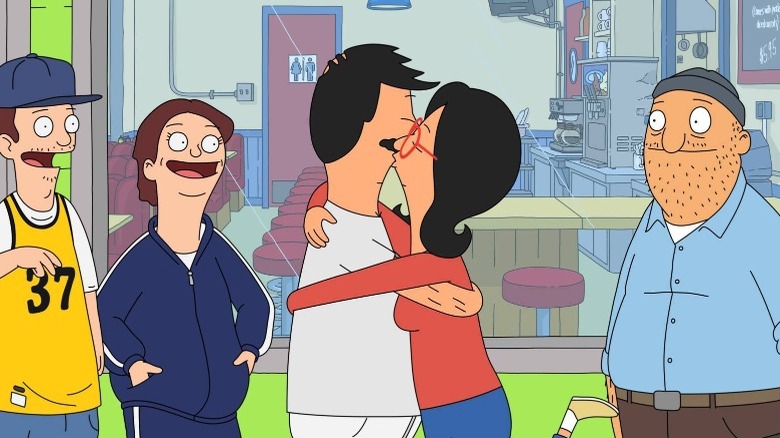 Fox
Love is in the air in "Bob Actually": As Valentine's Day looms, everyone experiences love-related madness, and it's incredibly charming to watch each story unfold. Louise thinks Regular-Sized Rudy (Brian Huskey) is preparing to declare his love for her, Tina is nervous about an impending sky-kiss (on a trampoline) with her on-again-off-again beau Jimmy Jr. (H. Jon Benjamin), and Gene falls wildly in love with one of the school's lunch ladies. Meanwhile, Bob wants to impress Linda with a grand gesture, and Teddy (Larry Murphy) enlists him in ... hip hop dance classes. "Bob Actually" has all the elements of a great episode of "Bob's Burgers" — big character moments, laughs, genuine heart, and a healthy dose of chaos.
27. Something Old, Something New, Something Bob Caters for You (Season 8, Episode 21)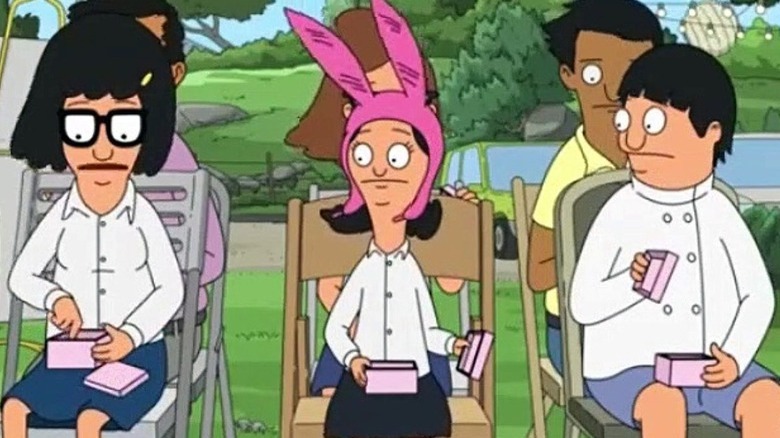 Fox
Bob is always looking for opportunities to increase the reach of his beloved burger restaurant, which is how we get the events of "Something Old, Something New, Something Bob Caters for You." A couple who fell in love at his burger joint are getting married, and to celebrate the birth of their relationship, they want Bob to cater the wedding. Bob is thrilled, but in true "Bob's Burgers" fashion, things quickly turn chaotic as the outdoor wedding seems to have more problems with each passing moment. It starts off promising enough, but the elements — particularly, a brutal wind — make the ceremony a rough one, sending Bob into overdrive to try and give them the perfect day. The episode is a delight, and it is punctuated with a brilliant song from Linda and Bob: "I Do."
26. Slumber Party (Season 4, Episode 9)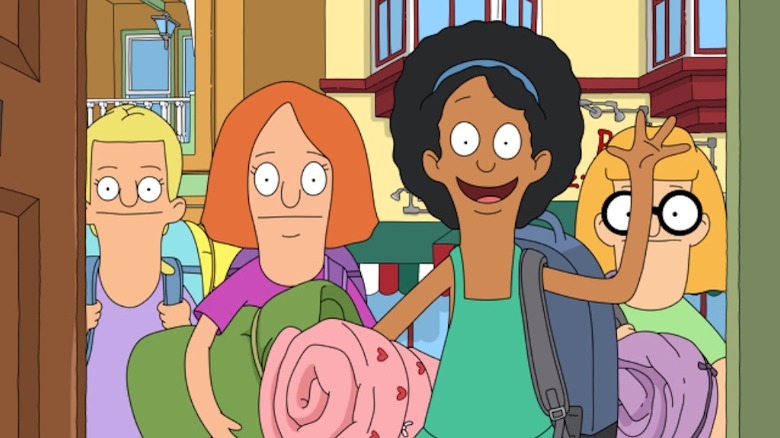 Fox
Louise Belcher is one of the most compelling kids on TV: She's sinister, lives for chaos, and has a wonderfully free spirit. But underneath a sometimes vicious facade lies a sweet young girl who can struggle to form relationships, and she regularly clashes with her mother Linda. In a classic Linda vs. Louise episode, "Slumber Party" features Linda basically forcing Louise to hold a sleepover for some of the girls at school, much to Louise's complete and utter dismay. Louise, however, is a schemer, and she concocts a plan to send all the girls home before the night ends, and they all leave except for Jessica (guest star Kathryn Hahn), a seemingly dull girl who is more than meets the eye. "Slumber Party" is a heartwarming episode that unravels Louise's prickly exterior, and it's wonderful to watch two kids facing off in a battle of wits that turns into a genuine bond.
25. Hamburger Dinner Theater (Season 1, Episode 5)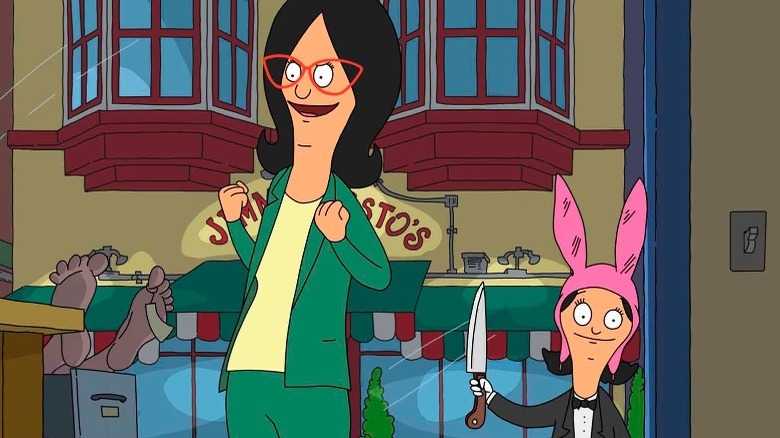 Fox
One of the earliest episodes of "Bob's Burgers" makes a big impact — "Hamburger Dinner Theatre" is an utter joy to watch. The show is well known for its songs, and this episode gives us some insight into Linda's endless joy in singing everything, stemming from her love of musical theater. It also inspires her to turn their own restaurant into a dinner theatre experience, using the Belcher kids to round out the cast. The episode features what might just be the best gag in the entire series, as Mort (Andy Kindler), the next-door neighbor and funeral home director, supplies far too realistic props, resulting in shock, horror, anguish, and one of the best laughs you'll ever have watching TV.
24. Housetrap (Season 5, Episode 19)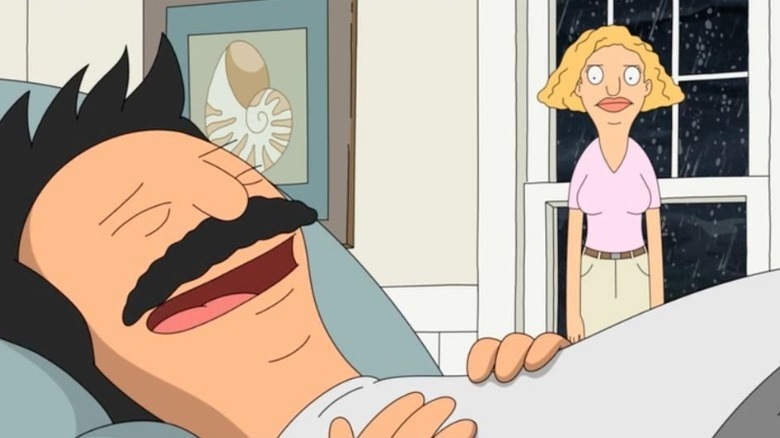 Fox
Most "Bob's Burgers" episodes take place at the restaurant, the Belcher home upstairs, or the kids' school, but "Housetrap" takes us to an entirely new location. The Belchers really can't catch a break: A getaway leaves them stranded when an ominous storm rolls in, and they are forced to stay put with the mysterious homeowner. A typically comedic show shifts into an exciting murder mystery, as the Belcher family suspects the beach house owner, Helen (Kaitlin Olson), of murdering her husband. A delightful surprise of an episode, "Housetrap" keeps the twists and turns coming.
23. Mazel-Tina (Season 4, Episode 13)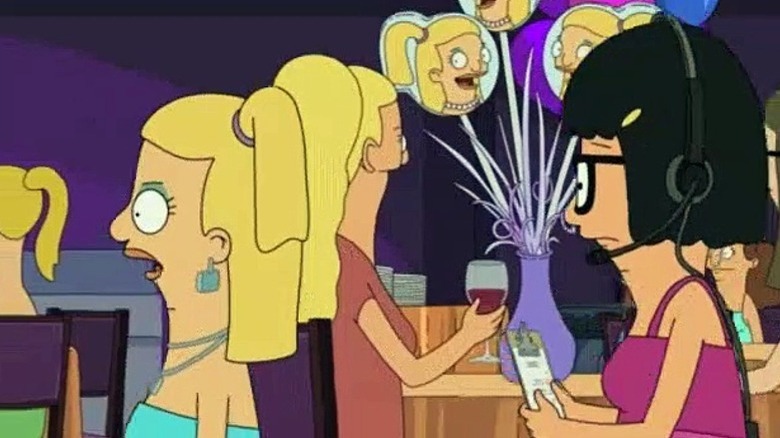 Fox
Tammy (Jenny Slate) is something of a nightmare — she's rude, self-absorbed, and Tina's number one frenemy. Most of the brilliantly named "Mazel-Tina" takes place at Tammy's Bat Mitzvah party, and even though Tina wasn't invited and all her friends were, Tina still attends, as Bob's Burgers is one of the many restaurants catering the extravagant event. The episode is full of hilarious details, including a giant paper-mache Tammy head floating in lieu of a chandelier, and it goes a long way towards humanizing Tammy, whose Bat Mitzvah has turned her into a "terrible Bat-zilla," as Louise lovingly puts it.
22. Boyz 4 Now (Season 3, Episode 21)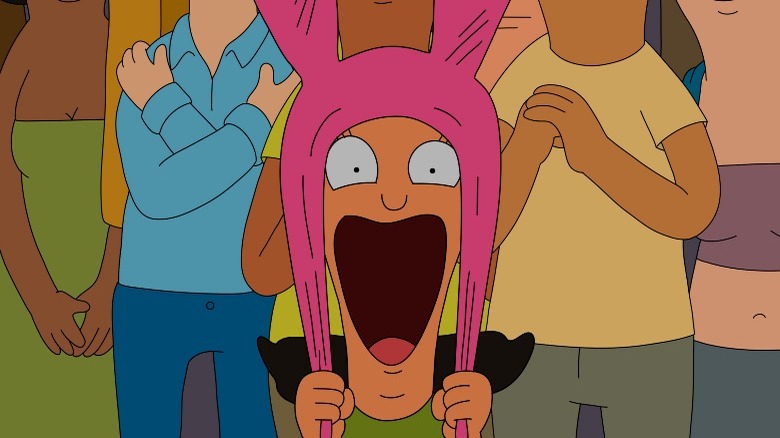 Fox
One of Tina Belcher's defining traits is that she is absolutely, positively boy crazy — she is a 13-year-old girl, after all. While she has a unique affinity for horses and zombies, she's not averse to the undeniable pull of the boy band, which gets a brilliant send-up in "Boyz 4 Now." Tina adores the band and was supposed to go with Louise and their Aunt Gayle (Megan Mullaly), but Gayle ends up pepper-spraying one of her cats, mistaking it for an intruder. The girls go without her, and the episode delivers a delectable surprise — the extremely hesitant Louise experiences a crush for the first time, falling head over heels with the youngest member of Boyz 4 Now, Boo Boo. Watching Louise fall in love is both charming and funny, but seeing her love manifest into a desire to slap Boo Boo across his face with all her might? That's simply irresistible.
21. Dawn of the Peck (Season 5, Episode 4)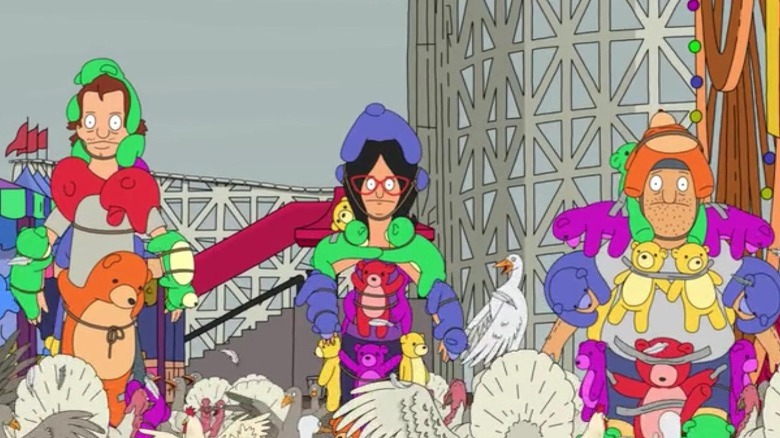 Fox
"Bob's Burgers" has always excelled when it steps out of the box and plays around with other genres, and the show has had particular success mixing its comedy with horror elements. In "Dawn of the Peck," the show turns Thanksgiving on its head as it celebrates the First Annual Fischoeder Turktacular Turkey Town Festival (the episode deserves its place on the list for that name alone). Bob is fed up with his Thanksgiving plans going up in smoke, so he decides to boycott the festivities (and the holiday altogether) while the rest of the family goes to Wonder Wharf. Things quickly turn to absolute mayhem when the birds start to attack, leading to hilarious chaos that makes "Bob's Burgers" shine.
20. Topsy (Season 3, Episode 16)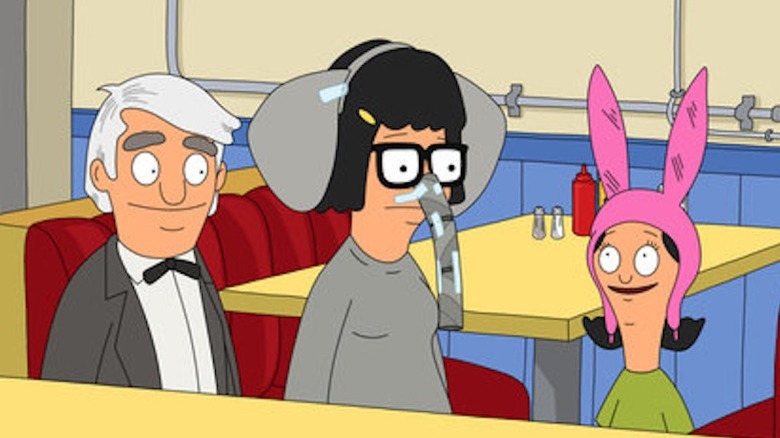 Fox
"They'll sing ah, Topsy at my autopsy" are some of the exquisite lyrics in "Electric Love," one of the best songs to emerge from "Bob's Burgers." Only this show can turn a science fair where the kids are given a strict "No Volcanoes" rule into a musical spectacle, but "Bob's Burgers" pulls it off with terrific spirit and panache. After being forced to make a project about Thomas Edison, the school librarian tips the kids off about a time when Edison electrocuted an elephant (that's right, this is all based on a true story). The kids decide to reveal the truth about Edison, and with Gene involved, you just know songs are going to turn up at some point. "Topsy" is chock-full of brilliant music and tremendous voice acting, making it one of the series' best.
19. O.T.: The Outside Toilet (Season 3, Episode 15)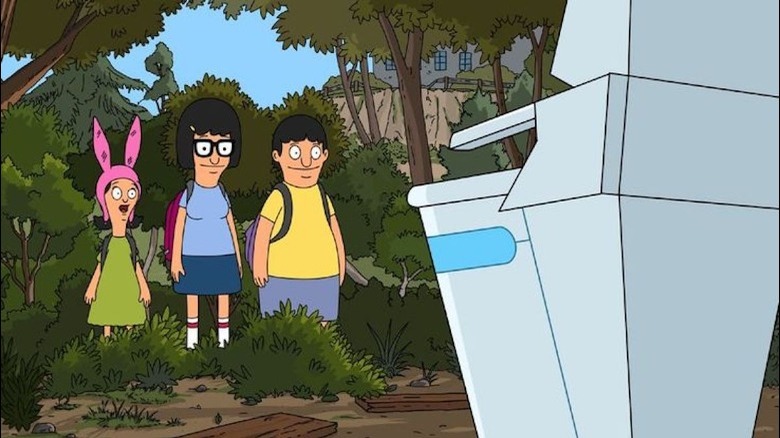 Fox
Have you ever wanted to hear a toilet voiced by Jon Hamm? If the answer is a resounding yes (and we know it is), then "O.T.: The Outside Toilet" is the episode of "Bob's Burgers" for you. In a riff on the 1982 classic "E.T.: The Extra-Terrestrial," Gene strikes up a friendship with a state-of-the-art speaking toilet that appears to be abandoned in the woods. When the toilet's owner comes looking for it, Gene embarks on a mission to save his new best friend — which, again, is a toilet. While it may sound like we're making this up, we are not, and we can assure you that this is a surprisingly heartfelt and humorous Gene-centric episode.
18. Fort Night (Season 4, Episode 2)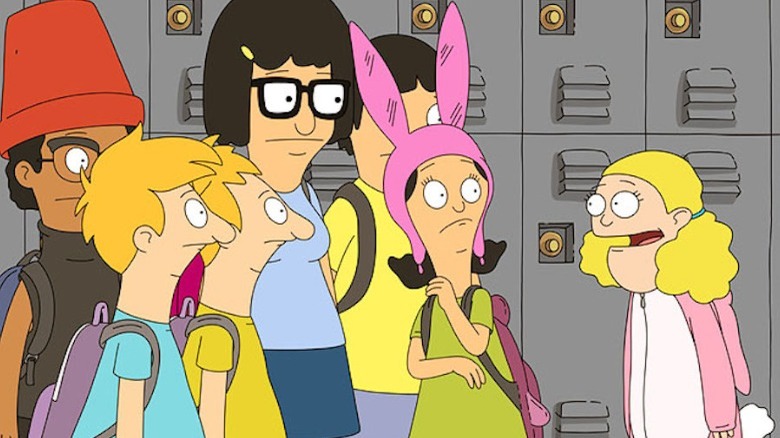 Fox
Kids love candy, and when it comes to celebrating Halloween, it's all about the sweet stuff. In "Fort Night," one of the show's standout Halloween episodes, the Belcher kids team up with twins Andy and Ollie Pesto (Sarah and Lauren Silverman) to wear an elaborate dragon costume, in order to game the system and get more candy than ever before. Things take a turn when Millie (Molly Shannon), Louise's terrifying classmate, refuses to help the Belchers and their friends after they get trapped in their fort. The episode makes ingenious use of limited space and forces the kids to get creative in order to escape the fort to get that sweet, sweet candy.
17. Tina-Rannosaurus Wrecks (Season 3, Episode 7)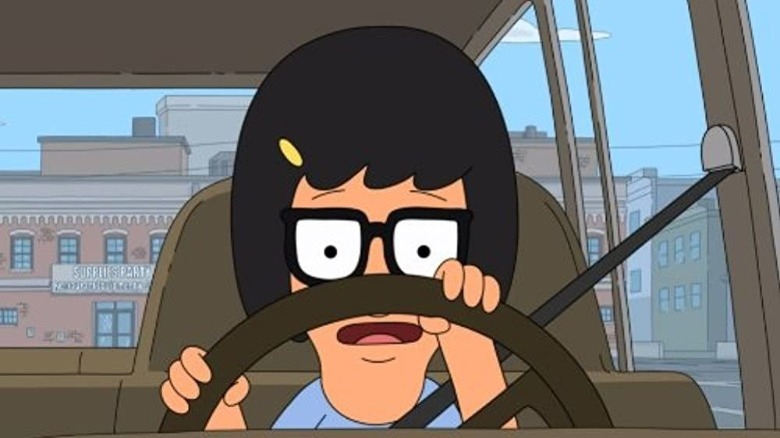 Fox
Mixing its memorable humor and sweetness, "Tina-Rannosaurus Wrecks" is one of "Bob's Burgers" very best episodes. The Season 3 episode features one of the funniest openings in the series, as Bob teaches Tina to drive in an almost completely empty parking lot. Tina gets behind the wheel and manages to drive straight into the only other car in the lot, all while delivering her trademark groan while Bob yells in panic for Tina to turn literally any other way. The other car ends up belonging to Bob's enemy Jimmy Pesto (Jay Johnston), who takes full advantage of the situation. The episode ends up being a fantastic Bob and Tina episode, as Tina struggles with the concept of lying and the pair learn important lessons about honesty. Thanks to the writers' deft hand, it never feels preachy, but rather a genuinely heartfelt family moment.
16. The Oeder Games (Season 5, Episode 21)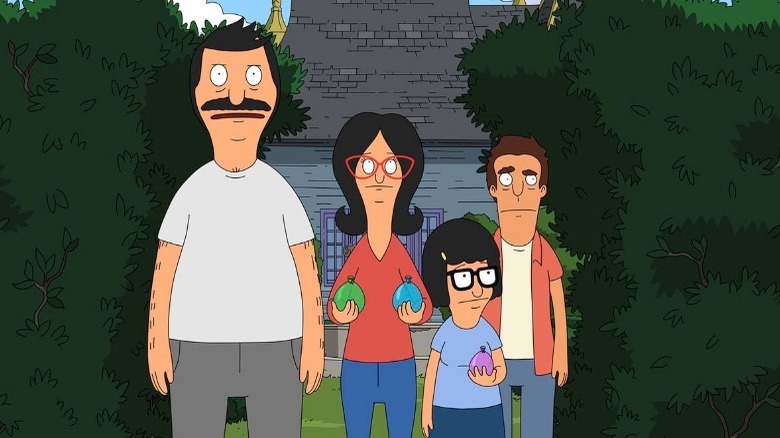 Fox
A hysterical parody of "The Hunger Games," Season 5 finale "The Oeder Games" finds all of Mr. Fischoeder's tenants heading to his estate in the wake of an upcoming rent increase. The eternally scheming Fischoeder offers his tenants an opportunity: If they play his game, the winner will have their rent reduced by half, though everyone else will be saddled with the increase. Though the ever stoic Bob tries to remain steadfast in refusing the increase, everyone else agrees to play, forcing Bob and the rest of his family to participate in an epic water balloon fight. "Bob's Burgers" has a real knack for making good use of its large ensemble cast, and in "The Oeder Games," everyone gets a chance to shine.
15. Legends of the Mall (Season 10, Episode 5)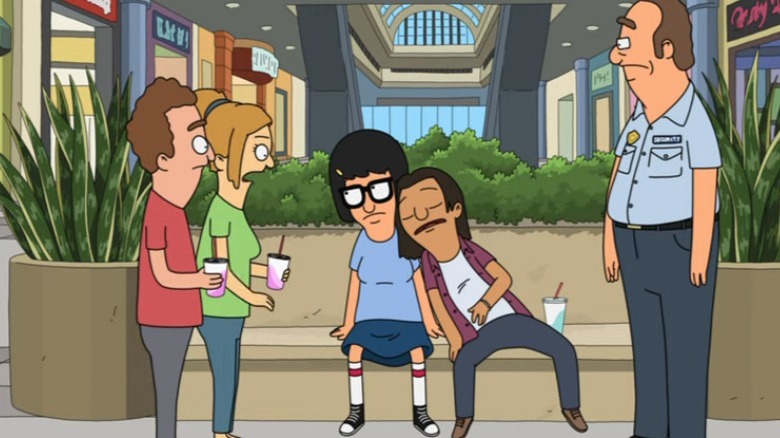 Fox
An outrageous comedy of errors, Season 10's "Legends of the Mall" features more laughs than almost any other episode of "Bob's Burgers." A family trip to a shopping mall turns to complete and utter chaos, as is tradition in the world of "Bob's Burgers." Bob is on a mission to find a good pair of pants, Linda infiltrates a murder mystery book reading, and Gene and Louise venture around the mall on some very cool motorized animals. The real gem of the episode is Tina's story, as she sits next to a sleeping boy on a bench, and his friends appear and assume that Tina is the boy's new girlfriend — a mistake that Tina refuses to correct. This episode is proof that even in the show's 10th season, "Bob's Burgers" hadn't worn out its welcome.
14. Bad Tina (Season 2, Episode 8)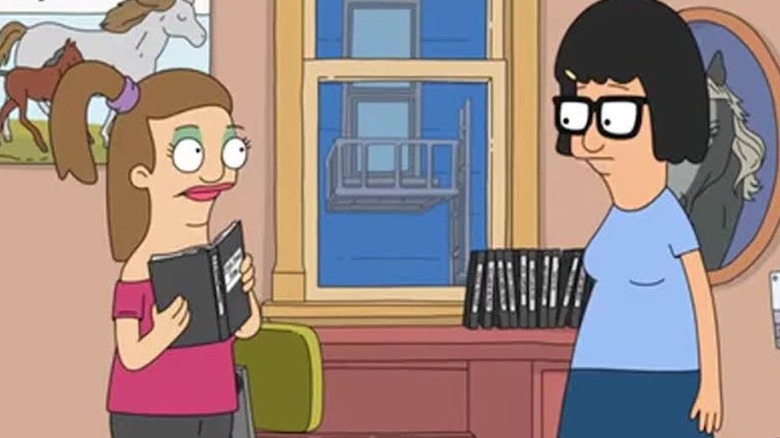 Fox
Sure, Tina has always been a bit awkward, and she has a relentless obsession with butts, but she's nonetheless a diligent rule-follower, and getting into trouble is simply unthinkable for the eldest Belcher. That is, until Season 2's "Bad Tina." The episode deals with every parent's worst nightmare of their sweet, innocent child turning against them. In Tammy's first appearance, she proves to be an especially bad influence, getting Tina into detention and turning her into a genuine rebel. It doesn't last long though, as Tina is quick to realize the impact of her bad behavior, and longs to be good again. Unfortunately for Tina, Tammy has found her erotic friend fiction and threatens to read it out loud at school if she doesn't follow her lead.
13. Turkey in a Can (Season 4, Episode 5)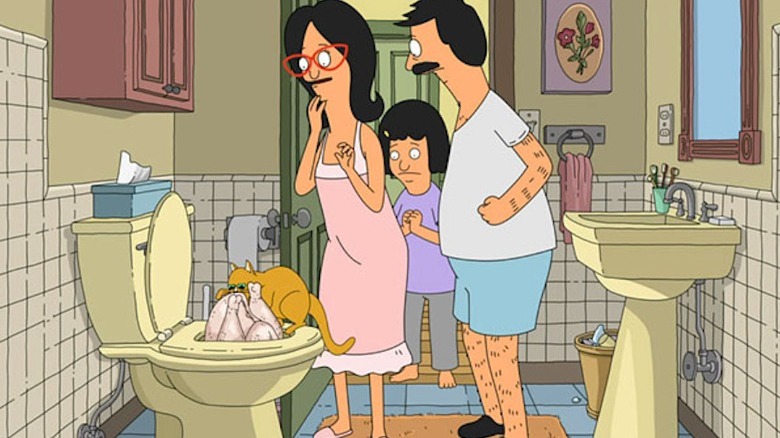 Fox
Bob may just be the single most endearing character in "Bob's Burgers," and he often seems like he's the most normal. That said, like every good Belcher, Bob has his quirks, and his passion for food manifests in the adorable voice he uses as he talks to his food. Despite owning a burger restaurant, Bob's most loved foodstuff seems to be turkey, and in "Turkey in a Can," Bob is determined to pull off a flawless Thanksgiving dinner. But Bob's nightmares become a reality when his turkey is not just ruined but completely desecrated, as someone has dumped the turkey into the toilet. Bob's attempt to solve the mystery of the turkey crime results in some really funny moments, and with the whole family, plus Gayle, Mort, and Teddy all present, everyone's a suspect.
12. Wonder Wharf II: The Wharfening (or How Bob Saves/Destroys the Town) - Part II (Season 4, Episode 22)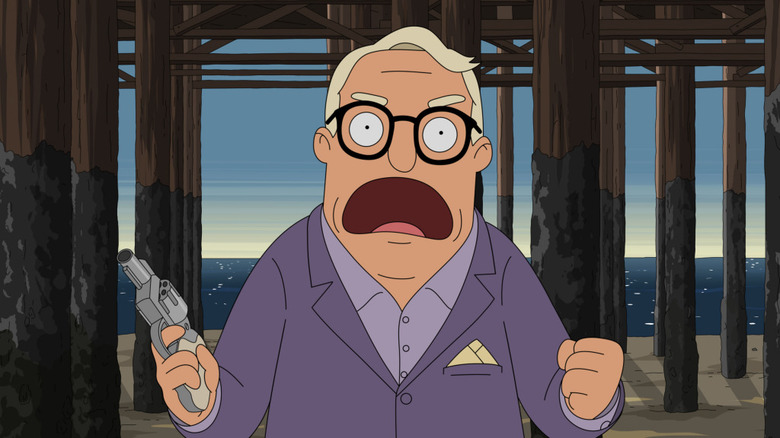 Fox
The conclusion of the epic two-part Wonder Wharf saga, "Wonder Wharf II" is a wild ride. Bob and Mr. Fischoeder have been tied to the bottom of the pier by Fischoeder's vengeful brother Felix (Zach Galifianakis), and the incoming tide threatens to drown them. Thanks to Bob's outdated flip phone, the Belcher family have to hilariously decode his jumbled texts, and Tina's "photographic butt vision" plays a big role in trying to locate Bob. The episode's highlight is the magnificent song "Bad Things Are Bad," which features nearly the entire "Bob's Burgers" ensemble cast. It's a thrilling episode with genuine stakes that still makes time for some memorable jokes.
11. Hawk & Chick (Season 5, Episode 20)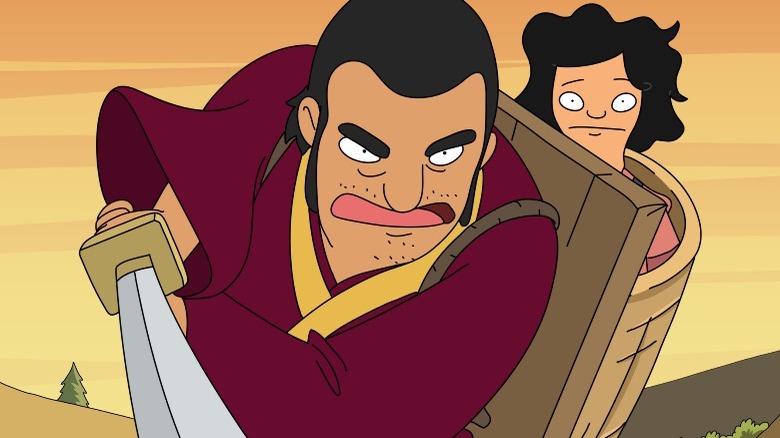 Fox
One of "Bob's Burgers" finest episodes is also one of its most heartfelt, as Season 5's "Hawk & Chick" is both a celebration of Japanese cinema and a touching tribute to father-daughter relationships. The episode follows Bob and Louise, who bond over Hawk & Chick, a series of old Japanese samurai movies where a father-daughter duo takes on various supernatural monsters. At the farmers market, the pair find Hawk (Keisuke Hoashi) and end up making him lunch at their restaurant. They find out that Hawk is actually estranged from his daughter, which terrifies Louise that one day that might happen to her too. Bob and Louise scheme to reunite the father-daughter duo, leading to plenty of laughs, and genuine emotional catharsis.
10. The Taking of Funtime One Two Three (Season 9, Episode 2)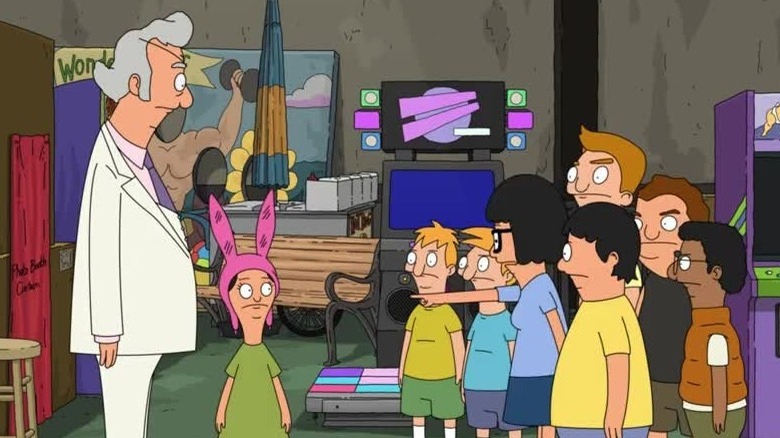 Fox
Mr. Fischoeder (Kevin Kline) is one of the most intriguing characters in "Bob's Burgers." The eye-patch-wearing landlord is also the owner of the Wonder Wharf amusement park near the restaurant. In "The Taking of Funtime One Two Three," Fischoeder and Louise scheme together to take down the Family Funtime Arcade and get the kids the prize of their dreams: a dune buggy. It's always a blast to see the Belcher kids' conspiratorial side, but "The Taking of Funtime One Two Three" really takes things to the next level, and provides a full-blown, multilayered heist full of twists and turns. Plus, the B-story is a delight: You know when Linda sings "Make an egg role from your egg hole" to a chicken, it's going to be an all-time great episode of "Bob's Burgers."
9. Flu-ouise (Season 7, Episode 1)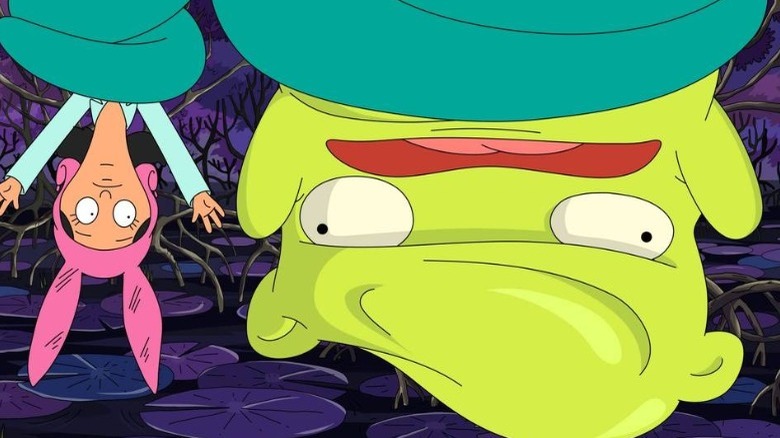 Fox
One of "Bob's Burgers" most visually adventurous episodes, Season 7's "Flu-ouise" features Louise's fever dreams. Louise wants her Kuchi Kopi nightlight to help soothe her while she suffers from the flu, but Linda accidentally drops it in the toilet, leading to permanent damage. Louise is extremely ill, which sets off a music-filled fantasy where Louise and her Kuchi Kopi go on a fantasy adventure. It's all very bizarre and abstract, and at times it feels like a very different show, but the episode is all the better for it. Aside from unique and exciting visuals, the story contains the heartwarming core of the show, and "Flu-ouise" provides some vital characterization for Louise.
8. Mother Daughter Laser Razor (Season 3, Episode 10)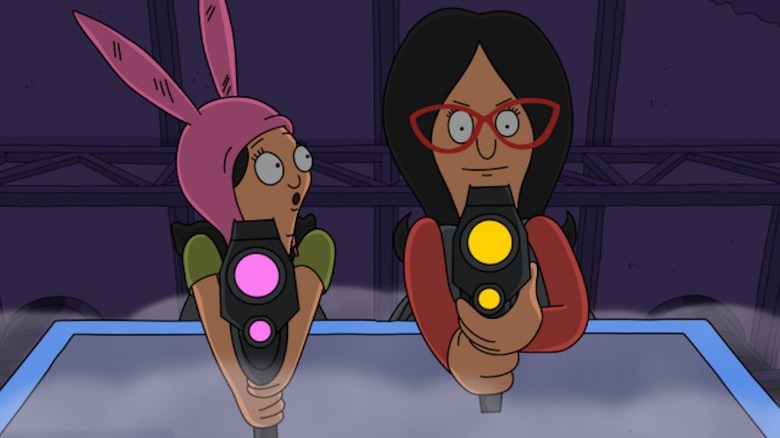 Fox
"You mommed it all up," Louise tells Linda disparagingly, beginning a battle for the ages in "Mother Daughter Laser Razor." Relationships between parents and children are the focus of this hilarious episode, as Linda forces Louise into a seminar run by the blogger Phenomemom, and Tina has Bob take her to get her legs waxed. The episode has some incredibly funny moments, including Linda screaming a bedtime story to Louise that perfectly cuts to the next day at the restaurant, and few images in "Bob's Burgers" are more endearing than Bob and Tina lying side by side, screaming as they get their legs waxed together. Plus, above all, it's the episode that gave us Linda's "Harry Truman Song."
7. Eat, Spray, Linda (Season 5, Episode 18)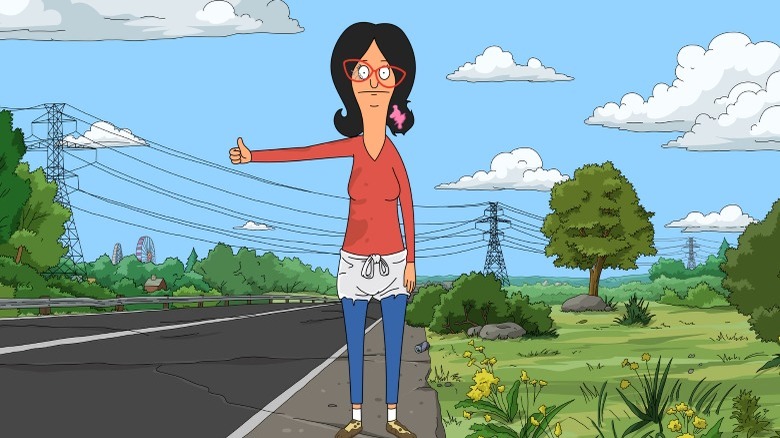 Fox
Linda Belcher is the ultimate all-singing, all-dancing matriarch, and "Eat, Spray, Linda" is a funny and joyful celebration of her charms. The Belcher family plan a big surprise for her birthday, but they're running late, leading Linda to head out of the house as a distraction. After a series of unfortunate events, Linda finds herself without her phone, locked out of her car, and stranded. This sets the rest of the Belcher clan on an epic quest to find Linda, the episode ingeniously layering in hilarious, oddly specific details about her, as they stop at a bakery where Linda ate too many free samples once and a fancy hotel that she frequently uses to poop. While Linda is floundering, her family's efforts to find her are a beautiful reminder of how much the Belchers love their matriarch.
6. Sheesh! Cab, Bob? (Season 1, Episode 6)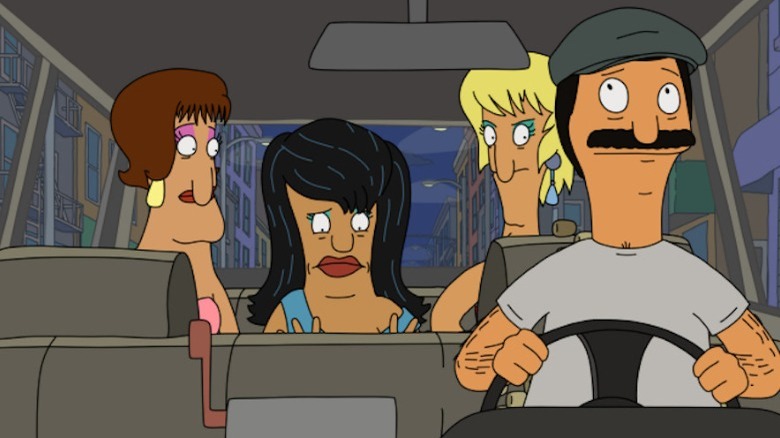 Fox
Business is slow for the Belcher family's burger joint, forcing Bob to pick up a second job to pay for Tina's 13th birthday party. He starts working at night as a cab driver and begins to get regular customers. His best clients by far are a group of charming, effervescent sex workers with whom Bob strikes up an instant rapport, including the fan-favorite character Marshmallow, who has appeared in a number of episodes since "Sheesh! Cab, Bob?" But Bob's late nights cause him to struggle at his day job, and he ends up arriving late to Tina's party out of sheer exhaustion. The party is going terribly, but Marshmallow and her friends save the day, reminding Tina that Bob worked tirelessly so she could have a party and firming up a beautiful father-daughter relationship early in the first season.
5. Bob Day Afternoon (Season 2, Episode 2)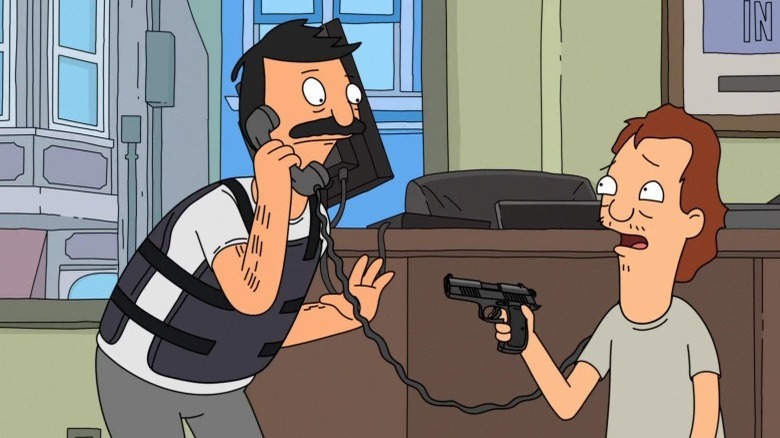 Fox
"Bob's Burgers" loves an elaborate scheme: The more twists and turns, the better. This penchant seems to have begun in season two's aptly-titled "Bob Day Afternoon," which follows a bank robber named Mickey (Bill Hader). Mickey is holding up the bank across the street from the family restaurant, leading the cops to use their restaurant as their police response headquarters. The show is at its funniest when it's knee-deep in mixed communication, and Bob's complete and utter despondency over Mickey ordering the hostages pizza from his rival instead of burgers is hilarious. When Mickey hates the pizza and orders burgers instead, it's a glorious moment of vindication for Bob, which is even funnier when you realize this pettiness is happening with an actual hostage situation in the background.
4. Work Hard or Die Trying, Girl (Season 5, Episode 1)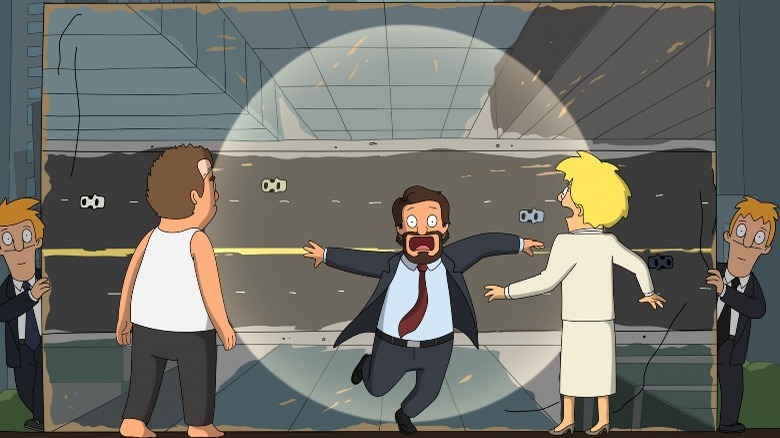 Fox
A genuinely ambitious celebration of the musical, "Work Hard or Die Trying Girl" starts Season 5 off with a smash hit. The episode is a suitably ridiculous yet completely believable story about competing musicals at Wagstaff School — one about "Working Girl," and the other about "Die Hard." The "Die Hard" musical is created by Gene, while "Working Girl" is from his ex-girlfriend Courtney (David Wain) and her father. The heated rivalry results in some legitimate earworms and provides more great character moments as the two rivals agree to work together to create a super-musical that combines both films. It's one of the most accomplished episodes of "Bob's Burgers," one that manages the difficult feat of including just about every character and bringing them together in a deeply satisfying way.
3. Glued, Where's My Bob? (Season 6, Episode 19)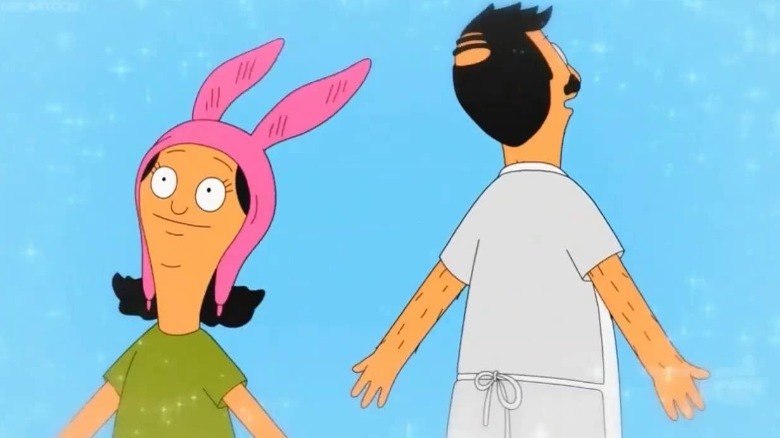 Fox
An amazing opportunity turns into a nightmare when Bob finds himself stuck to the restaurant toilet in "Glued, Where's My Bob?" Big-time chef Skip Marooch (Kumail Nanjiani) informs Bob that "Coasters," a local food magazine, wants to interview him. It's a dream come true for Bob, but things escalate wildly out of control when he becomes embroiled in his children's pranking and winds up glued to the toilet seat. As word breaks out, the entire town ends up involved, and the "Bob's Burgers" trademark chaos ensues. What could be brushed off as silly and ridiculous is actually a heartfelt meditation on guilt, and we get the best "Bob's Burgers" song ever, the whimsically titled "Bad Stuff Happens in the Bathroom."
2. Broadcast Wagstaff School News (Season 3, Episode 12)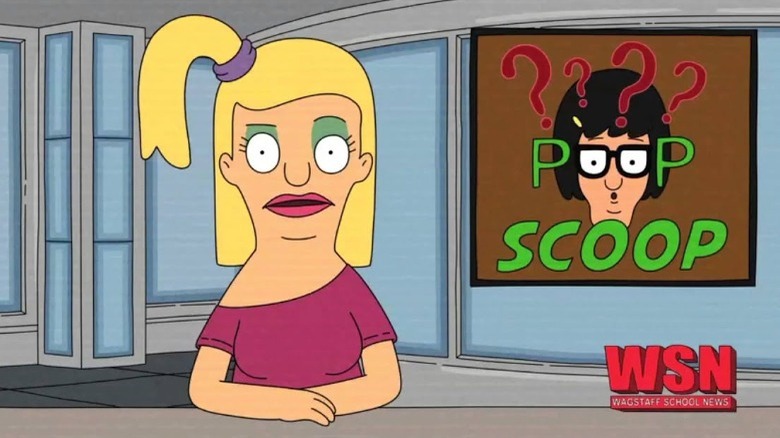 Fox
Who in the world is the Mad Pooper? That's the question running through the sensational Season 3 episode, in which the school scrambles to find a student who has been ... pooping all over the school. Filled with journalistic intrigue, suspense, and a genuine moral quandary, few "Bob's Burgers" episodes are as exciting as this one. "Broadcast Wagstaff School News" also features an absolutely spectacular scene where Louise helps Gene dress up as Bob, who ends up being a dead ringer for his father and delivers a formidable impression as the family gathers in the bathroom. It's a scene that understands the Belcher family dynamics intuitively, and one that stands up to a rewatch.
1. The Hauntening (Season 6, Episode 3)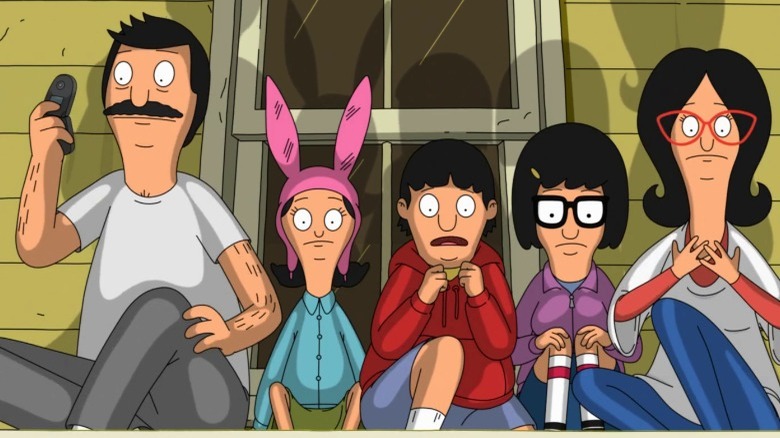 Fox
There's no two ways about it: Season 6's "The Hauntening" is the best episode "Bob's Burgers" has ever made. The show always shines in its holiday episodes, and "The Hauntening" is the perfect Halloween episode, as it manages to be funny and heartfelt, but also genuinely scary. The episode follows a frustrated Louise, who says she's never been even remotely scared. In an effort to change this, Bob and Linda take the kids to a special haunted house they've been working on. Initially, the house seems downright cheesy, but things start to get legitimately frightening, and it seems like they might just terrify Louise after all. "The Hauntening" is special for the way it is able to really dig into the relationships between the Belchers, and specifically the psyche of Louise. It manages the difficult feat of turning horror into a heartwarming moment. Plus, it all culminates in a goofy Boyz 4 Now music video.