The Real Reason Connie Britton Left 9-1-1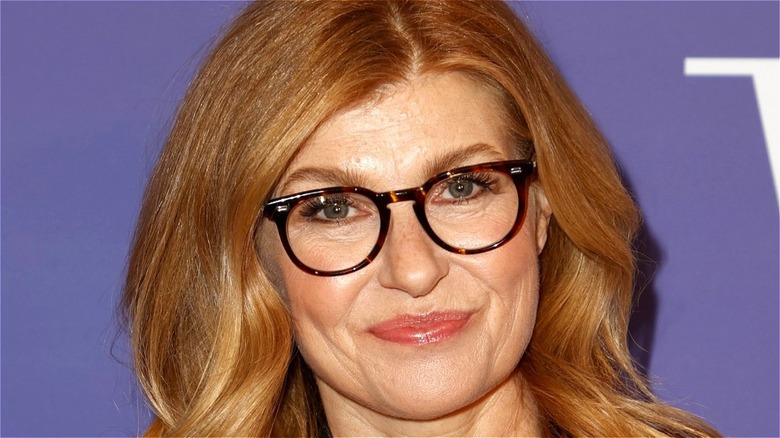 Frazer Harrison/Getty
Connie Britton has been a well-known actor for several decades now. That's because Britton has been working fairly consistently and earning acclaim for her screen performances ever since she scored her breakthrough role in 1996 as Nikki Faber on the Michael J. Fox-led ABC sitcom, "Spin City." In the six years after her time on that series came to an end, Britton managed to remain a recognizable TV figure by giving memorable guest turns in shows like "The West Wing" and "24."
Meanwhile, in 2006, Britton began appearing as Tami Taylor in the acclaimed drama series, "Friday Night Lights." Over the course of the show's five seasons, Britton earned two Primetime Emmy Award nominations (via IMDb) and received consistent praise for her performance as Tami. When "Friday Night Lights" eventually concluded in 2011, Britton went on to score leading roles in the first season of "American Horror Story" and in "Nashville," which ran for six seasons.
All of this is to say that, throughout her career, Britton has given more than her fair share of memorable TV performances. She's become so revered and beloved by TV audiences, in fact, that many are still confused to this day about her abrupt exit from "9-1-1." Unfortunately, those fans may not be happy to learn why Britton really left the Fox drama after just one season.
Connie Britton was only meant to star in one season of 9-1-1
As much as it may disappoint fans to hear it, Connie Britton was only ever meant to star in the first season of "9-1-1." The actor captured viewers' hearts with her turn as 911 operator Abigail "Abby" Clark, which only made it that much more heartbreaking when she didn't return as the character in the show's sophomore season. However, during an appearance at the 2018 TCA summer press tour, Fox's then co-chairman, Gary Newman, revealed (via TVLine) that the show's creative team was aware the entire time that Britton would be leaving "9-1-1" at the end of its first season.
"We love Connie Britton, [but] it was always envisioned to be a one-year role," Newman said. "So it wasn't a surprise [that she left]. If Connie expressed interest and had time in the future, I know [executive producer] Ryan [Murphy] would be thrilled to bring her back to the show."
Of course, learning that Britton's departure was a foregone conclusion behind the scenes likely won't make her character's exit any easier for certain "9-1-1" fans to come to terms with. That said, they can take solace in knowing that the actor's relationship with the show's writers and producers seems to still be strong. Additionally, the series did eventually find time to catch back up with Abby after her Season 1 departure, when Britton returned (via IMDb) to reprise the role in two episodes of "9-1-1" Season 3.