Who Plays Tamerlane In Raised By Wolves Season 2?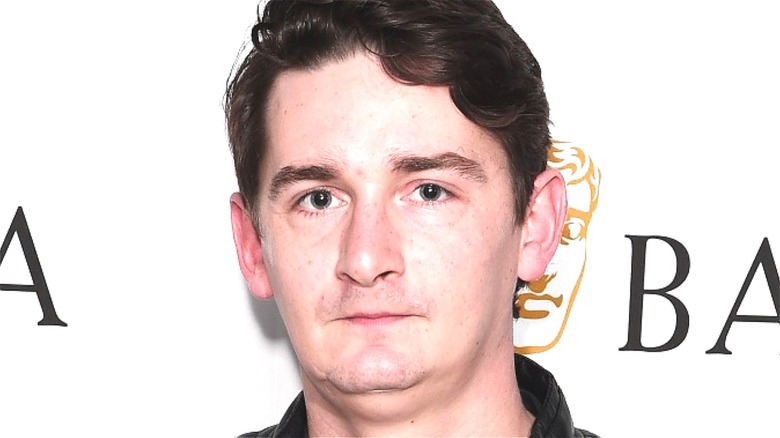 Eamonn M. Mccormack/Getty
Contains spoilers for Season 2, Episodes 1 and 2 of "Raised by Wolves"
Season 2 of "Raised by Wolves" has finally premiered on HBO Max, and with it has come some fresh faces. Marcus (Travis Fimmel) is now leading a violent Mithraic cult and there's a new Atheist threat on the rise, which has shaken up the show's entire dynamic between man and machines. At the start of Episode 1, there's an appearance from a debuting character named Tamerlane, who serves as one of Marcus' new Atheist goons. He winds up stumbling upon Lamia (Amanda Collins) and, along with other soldiers, brings her deactivated android body to the group's settlement in Kepler-22b's Tropical Zone. It's here where they meet the new Atheist threat, the Trust — described perfectly by Decider as "an omnipotent supercomputer responsible for controlling the lives of the Atheists." 
As viewers later learn, Tamerlane is not happy with having to serve and worship a machine like The Trust, so he ends up smiting the supercomputer, and the Atheists altogether, by burning a symbol of Sol within colony grounds during Episode 2 (per The Cineamaholic). When his blasphemous act is discovered, the Trust attempts to get Lamia aka Mother to punish Tamerlane, but he eventually escapes and takes refuge with Marcus and Decima (Kim Engelbrecht). With Tamerlane not being brought to his demise, it appears that the character may possibly be showing up again on "Raised by Wolves" in the future. So, let's get to know the man who's playing him.
Tamerlane is played by Scottish actor James Harkness
With an acting career that reaches back to 2012, James Harkness is a name that may be more familiar to those in the UK and Europe. Harkness has starred in numerous BBC miniseries, as well as other projects that have been popular across the pond, including recurring roles on Netflix's "The English Game," BBC's "The Nest" and the Scottish thriller "The Victim." While climbing his way up the entertainment ladder, Harkness also took on small character roles in bigger productions. You may recognize him from his portrayal of Private Basteren of the Rebel Alliance in "Rogue One: A Star Wars Story." He wound up being turned into a Lego figure as a result, which is a major credit in and of itself. 
Harkness' IMDb page doesn't list him for any additional episodes of "Raised by Wolves" at this time, though keep in mind, it may have just not been updated yet. His most recent role was a small part in the Princess Diana biopic "Spencer."