Tales Of The Walking Dead Just Added This Brooklyn Nine-Nine Star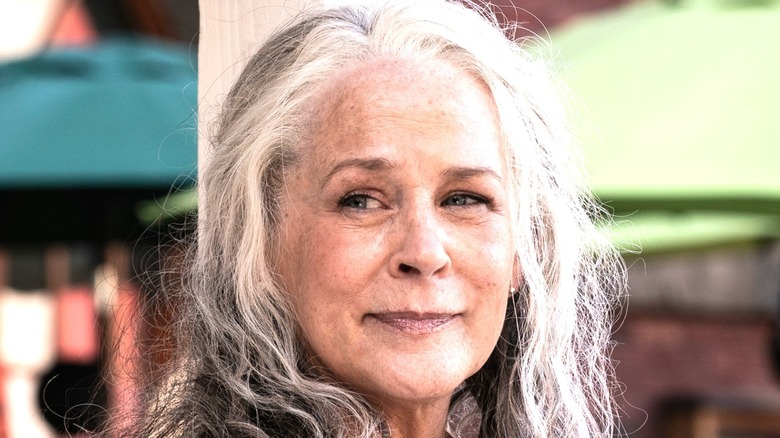 Josh Stringer/AMC
"Tales of the Walking Dead" is shaping up to be quite an interesting series. An anthology show set within "The Walking Dead" universe, per Deadline, the forthcoming show already boasts the talents of "ER" vet Anthony Edwards, indie cinema queen Parker Posey, and genre stars Poppy Liu ("Hacks") and Jillian Bell ("22 Jump Street"). 
Deadline also reports that each episode will span the length of an hour and each episode is a standalone story. Characters who previously appeared in "The Walking Dead" will appear on the program in addition to those characters who are new to the series. "Tales of the Walking Dead" will be headed by a variety of different directors, including Haifaa al-Mansour ("Archive 81"), Deborah Kampmeier ("Clarice"), and Tara Nicole Weyr ("Fear The Walking Dead"). According to Deadline, the anthology will debut on AMC and AMC+ sometime in the summer.
There's one more actor who's signed on to appear on "Tales of the Walking Dead," and for fans of "Brooklyn Nine-Nine," he will likely be a familiar and beloved face.
Terry Crews will fight the walking dead
Per Insider, Terry Crews — perhaps best known as Terry Jeffords on "Brooklyn Nine-Nine" — will join "Tales of the Walking Dead." If you've ever wanted to watch the muscular actor tear into an undead horde, it looks like you'll be in luck. Unfortunately, no details about the character Crews will play or the zombie-filled story he will find himself in were included in Insider's report.
"Anthony [Edwards], Jillian [Bell], Terry [Crews], Parker [Posey], and Poppy [Liu] are the first wave of singular talents who will further expand the 'Walking Dead' universe into harrowing, hilarious, heartfelt, and horrifying new realms and we couldn't be happier to welcome them to the family, along with these terrific directors," declared "The Walking Dead" universe chief content officer Scott M. Gimple in a statement quoted by Insider.
Per his IMDb page, Crews is also known for essaying memorable supporting roles in films such as "White Chicks," the "Expendables" film series, and "Idiocracy." He has hosted NBC's reality competition show "America's Got Talent" since 2019 and played Julius Rock in "Everybody Hates Chris." The actor has also worked as a spokesman for Old Spice and Amazon.