White Chicks 2 Is Happening, Says Terry Crews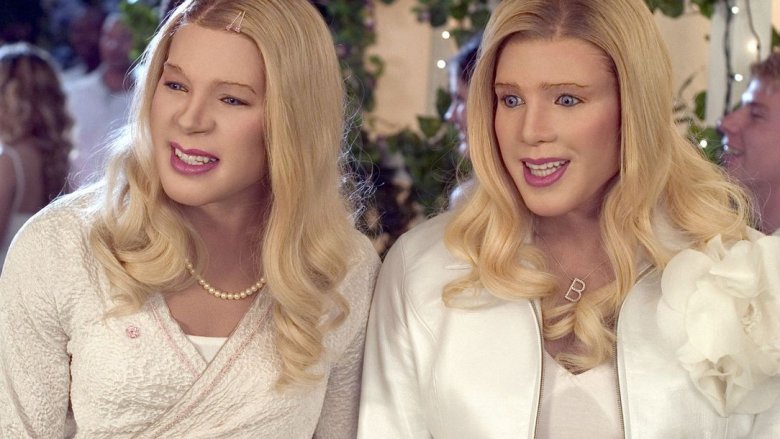 Tell your best friend to hold your poodle — a White Chicks sequel is happening. 
Sitting down with late night talk show host Andy Cohen for an episode of Bravo's Watch What Happens Live, Terry Crews, who starred in the original White Chicks flick from 2004, revealed that White Chicks 2 is a go. 
He and his co-star Shawn Wayans, who portrayed the agent named Kevin Copeland who disguised himself as a rich socialite named Brittany Wilson to bring down a ring of kidnappers, recently met up for a conversation about the project, and Wayans confirmed that things are moving forward. 
"You know what, I actually got with Shawn, and he was like, 'Man, we doing it, we getting it going,'" Crews shared.
Cohen noted that the post-release popularity of White Chicks, also starring Marlon Wayans as Marcus Anthony Copeland II who dons a blonde wig and a full face of makeup to become a different race and gender in the film, might contribute to the success of the sequel. Crews then joked that he's keeping up with his fitness regime to maintain his physique specifically for White Chicks 2.
"Fifteen years ago, you have to understand. Fifteen years ago as of this month, 15 years. I'm staying in shape just for that movie," he said with a laugh. "I've been working out for 15 years so we could do White Chicks 2, y'all."
As for what might happen in White Chicks 2, Crews didn't divulge any potential plot details when he was chatting with Cohen, but he did offer up his own ideas when he grabbed a seat at the table on The Talk. 
The star shared that he would love the White Chicks sequel to pay homage to the original and feature his character — the professional basketball player Latrell Spencer who falls in lust with Tiffany Wilson, not knowing that it's actually Marcus wearing prosthetics, contact lenses, thick makeup, and padding to help him achieve a feminine appearance — belting out the lyrics to a modern pop song. Fans of White Chicks and people who have never seen the movie in full know the famous scene from the film in which Crews' Latrell is in his convertible, singing the words to Vanessa Carlton's "A Thousand Miles" while Wayans' Marcus (as Tiffany) looks on in horror.
"I think the modern-day equivalent of that might be Carly Rae Jepsen's 'Call Me Maybe' ... But I would definitely do the whitest white girl song you would ever see," Crews said. "But white girls singers are gangster right now, you know what I mean? So it might be a little different, it might have a little rap thing in there. How ever we would do it, it would be great." 
Despite going on to become a memorable comedy from the mid-2000s and a mainstay on cable television networks, White Chicks bombed with critics when it debuted, with many slamming it as unfunny, low-brow, "very racist," and "banshee-howlingly awful." That said, the demand for a White Chicks sequel might not be all that high, but at the very least, Crews is incredibly enthusiastic about it coming to fruition — particularly since the project was announced in 2009 and then cancelled a few years later. 
There are few details about who could be returning from the original cast of White Chicks outside of the Wayans Brothers and Crews. However, Busy Phillips has reportedly expressed an interest in reprising her role as Karen Googlestein (via ScreenRant).
Whether you are keen for it or think it's totally unnecessary, another White Chicks movie is on the way. Start memorizing the words to "Call Me Maybe" until more information about the film becomes available. 
In the meantime, you can watch White Chicks on a number of online streaming platforms.