The Law And Order: Criminal Intent Character Everyone Likely Forgot Jim Gaffigan Played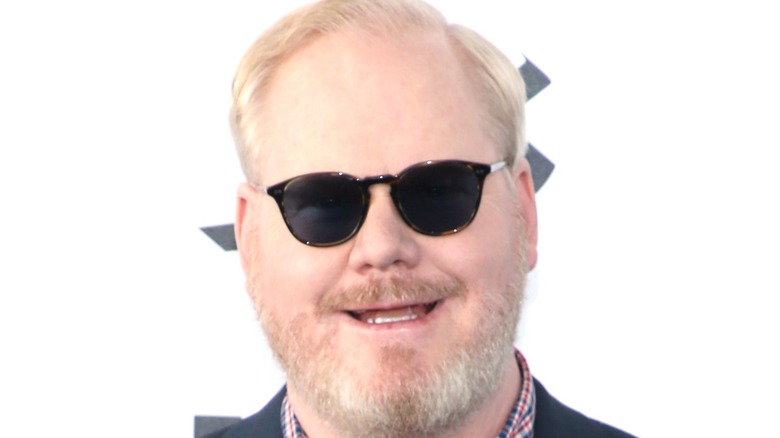 Phillip Faraone/Getty
Comedian Jim Gaffigan is almost certainly best known for his unique stand-up persona: The "clean" comedian who shares observations about family life, a life-long love affair with food, and his trademark creepy inner voice. Since getting his big break with a 1999 appearance on "The Late Show with David Letterman," Gaffigan has become a comedy powerhouse, racking up two Emmy wins, six Grammy nominations, two appearances on the New York Times bestseller list, a hit sitcom with "The Jim Gaffigan Show," and nine Netflix comedy specials (via IMDB). The prolific performer has also made comedic appearances in, among others, "Flight of the Conchords," "The Daily Show," "Portlandia," "Unbreakable Kimmy Schmidt," "Bob's Burgers," and "Rick and Morty." 
While everybody knows Gaffigan as a comedian, not everyone knows he's a dramatic actor. Even as a struggling stand-up during the '90s, he was serious enough to take acting classes in between gigs and his day job (via NPR). His more serious on-screen filmography includes David O. Russell's Gulf War movie "Three Kings," historical drama "Chappaquiddick," and a well-received lead role in the 2018 neo-noir "American Dreamer." In 2019, Gaffigan was involved in three films premiering at the Sundance Film Festival, including "Troop Zero" with Viola Davis and Allison Janney, "Them That Follow" with Olivia Coleman and Walton Goggins, and "Light From Light." 
Even those acquainted with Gaffigan's dramatic acting career may not recall his performance in a rather ghoulish episode of "Law and Order: Criminal Intent."
Gaffigan played a crooked crematorium owner in Season 2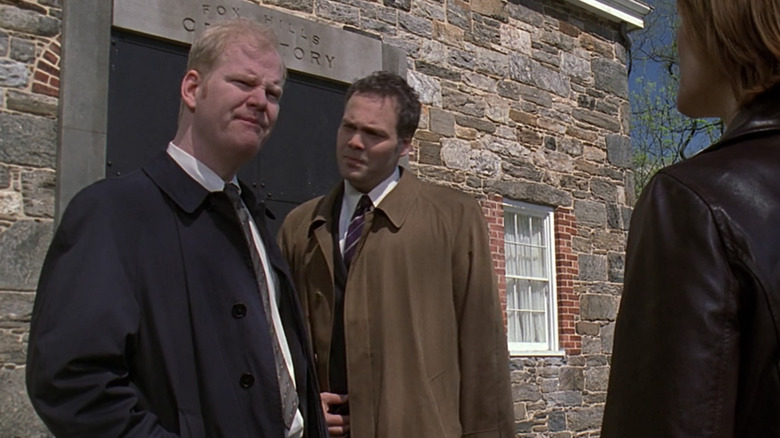 NBC
On "Dead," the opening episode of Season 2 of "Law and Order: Criminal Intent," Detectives Goren (Vincent D'Onofrio) and Eames (Kathryn Erbe) investigate the murder of a funeral parlor owner whose body, left in a crucifix pose, is found in his embalming room. Goren and Eames determine the religious component is a red herring, leading them to a suspicious crematorium owner. 
Jim Gaffigan plays Russell Matthews, the cagey proprietor of a Staten Island crematorium who has received complaints from bereaved families looking for the missing ashes of their loved ones. The detectives immediately suspect something is amiss when the crematorium appears strangely dormant. Despite Russell claiming there was a cremation one day prior to his interview, they notice the surrounding atmosphere is too clear; there's even a bird nesting downwind from the chimney. Russell watches helplessly as the police, search warrant in hand, excavate 100 corpses from the crematorium grounds.
Although Gaffigan's hapless crematorium owner doesn't cave under interrogation, Detective Goren shrewdly concludes he is too inexperienced to be solely responsible for the killings. The investigation soon homes in on Russell's cousin, a mafia hitman who runs the crematorium's accounts. He involved Gaffigan's character in a scam to fake cremations so he can use DNA materials to deter police.
Turns out, "Dead" is not the only "Criminal Intent" episode to feature Gaffigan as a guest star. Five years after his Season 2 appearance, Gaffigan played a character named Marty Palin on the Season 7 episode "Smile."