The Surprising Connection Jim Gaffigan Has With Disney And Pixar's Luca - Exclusive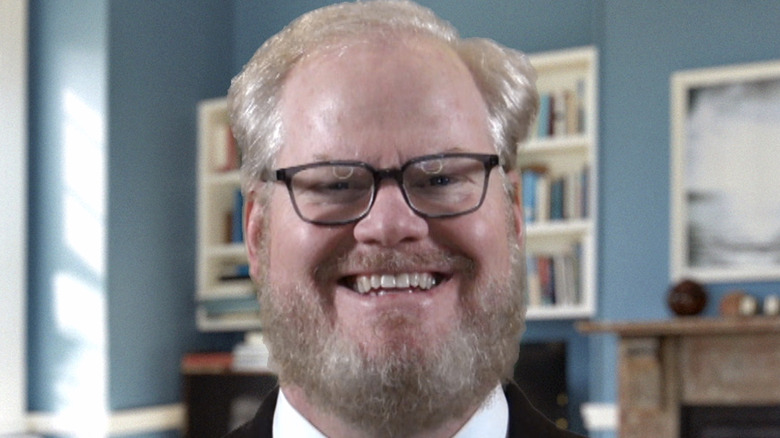 Getty Images/Getty Images
The latest Disney-Pixar movie, "Luca," is a cute, sweet coming-of-age of age film that follows the title character as he and his newfound best friend go on a summer adventure in the fictional town of Portorosso on the Italian Riviera. Together, they explore new food, a new culture, and the importance of friendship as they prepare for a local race that could help them achieve their dream of buying a Vespa. But the pair is also hiding a secret — they are both shape-shifting sea monsters from an underwater world.
"Luca," which is now available on Disney+, is loosely based on director Enrico Casarosa's real-life childhood experiences growing up in Genoa and stars Jacob Tremblay ("Room") as Luca and Jack Dylan Grazer ("It," "Shazam") as best friend Alberto. The film also includes comedian Jim Gaffigan, who plays Luca's distracted dad Lorenzo.
Known as a "clean" comedian for dad humor and a love of food, Gaffigan is a perfect fit for the role of a preoccupied parent who must chase after his intrepid child. In fact, Gaffigan — who has starred in such fare as "The Ellen Show," "That '70s Show," and "Super Troopers" — sees a bit of his own childhood reflected in some of Luca's adventures. He shared his own youthful experience with Looper during an exclusive interview.
Jim Gaffigan believes everyone can relate to Luca's 'splendid summer'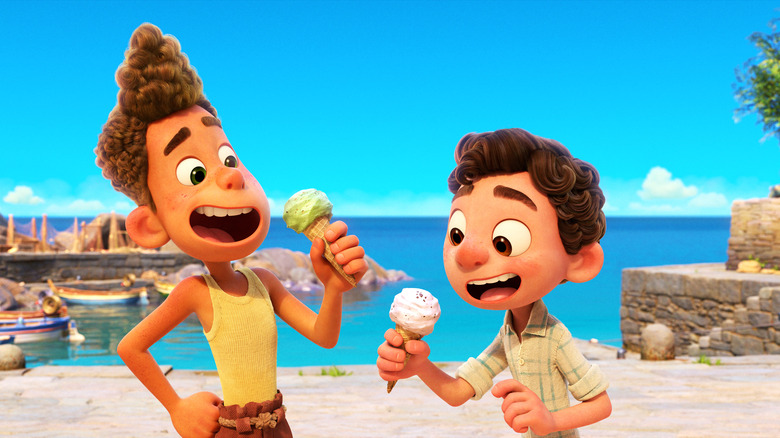 Disney/Pixar
While Jim Gaffigan doesn't think his own adolescent upbringing is worthy of a movie, á la "Luca," he does see some similarities between himself and the title character. "I grew up in a small town in Indiana, and I felt like what we mostly did was complain about how bored we were, whether that was true or not," Gaffigan said. "But I did have a friend that we would kind of complain together and we had great designs for life, which I was reminded of in 'Luca' with Luca and Alberto kind of finding their path and beginning life together. But, yeah, in my childhood there was no adventure like the Portorosso Cup or anything like that."
Still, Gaffigan thinks that most people can see themselves in Luca's prepubescent caper. "There are so many things, and everyone's going to have a different experience, which is a real compliment to the movie," Gaffigan said. "But I think what will probably resonate, I would imagine, is that kind of attachment to these youthful summer memories. As adults, we kind of approach summers with a certain amount of pressure, like we have to accomplish something. Whereas when you're a kid, the summer just kinds of lays itself out and then every summer after that is compared to it. And so that's really captured, this kind of splendid summer that Luca had."
"Luca" is currently available on Disney+.