The Real Reason Ririka Wears A Mask In Kakegurui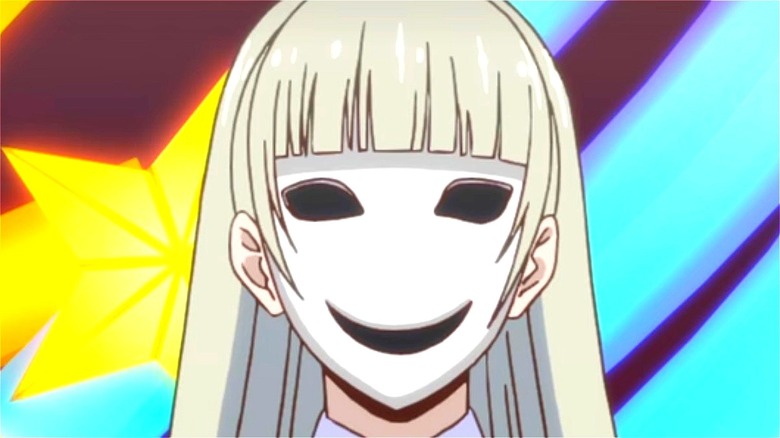 Netflix
The anime series "Kakegurui" may be stuck in developmental limbo at the moment, but that doesn't mean we have to stop talking about it. For today's discussion, let's delve into the world of Ririka Momobami and what makes the masked character tick — along with why she wears that thing in the first place. 
For those who aren't aware, "Kakegurui" is an anime that focuses on the students at Hyakkou Private Academy. Instead of ranking the kids in a typical, academic-based fashion, the institution operates as a gambling boarding school. Skilled players are greatly rewarded, while those who lose suffer humiliating consequences. There have so far been two seasons, with the series airing on Netflix. 
When it comes to Ririka, there's not much that stands out more than the character's iconic, vocal distorting mask. While it may seem like a meaningless television gag, the writers of "Kakegurui" have taken great care in establishing a backstory for the theatrical coverup. 
Ririka's mask helps deal with her shyness and self-confidence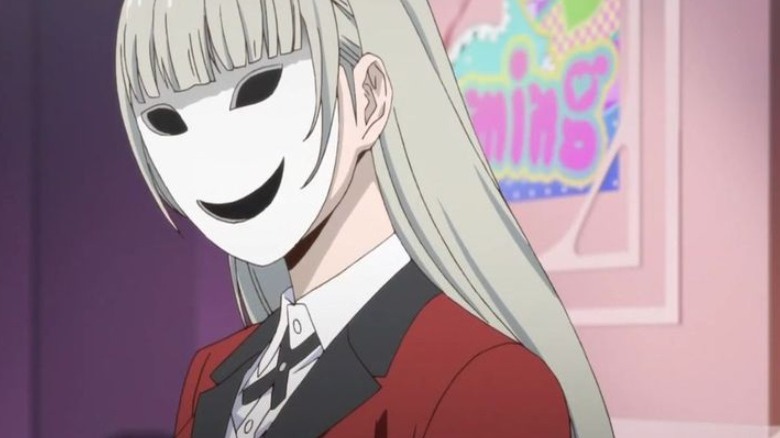 Netflix
According to the "Kakegurui" Fandom page, Ririka's mask serves as an emotional protector and support mask of sorts. When she was a child, Ririka's parents tried "erasing" her existence by forcing her to wear a mask around her twin sister, Kirari. 
"When she doesn't have her mask on, Ririka is an incredibly shy and somewhat socially awkward person, who visibly has a lack of self-confidence, which makes her a complete opposite of Kirari," the Fandom page explains. But while Ririka's mask — which is fitted with ominous black eyes and a smile — is meant to hide and shun the character, many fans have grown extremely fond of it over the years. 
"Ririka's mask makes me laugh so hard," tweeted @Bakabami. Back in December, user @RellFGC noted how relatable Ririka's behavior was while donning the facial covering. "Ririka gets knocked down, has her face revealed, puts the mask back on and goes right back to being a mystery like nothing happened," the user said. "This is me. Light flashes of vulnerability, you see who I am for a moment, then back to thug mode."
It's currently unclear when Season 3 of "Kakegurui" is expected to drop on Netflix, or if it's even be renewed for an another run.