Kakegurui Season 3 - Will It Ever Happen?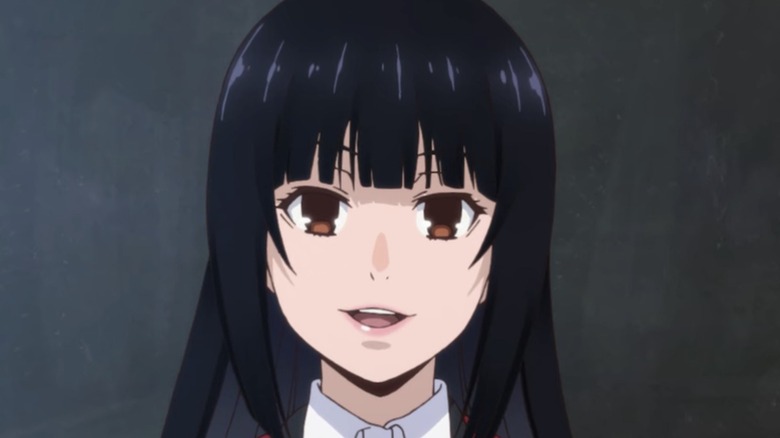 Netflix
"Kakegurui" is an anime series that follows the fortunes of students at Hyakkou Private Academy, an elite institution which, instead of ranking their students based on academic ability or even performance in sports, encourages them to refine their skills at gambling. The worst players suffer pretty deep humiliations, until transfer student and compulsive gambler Yumeko Jabami enters the scene. The anime was first released in 2017 (it came to Netflix in 2018), and currently has two seasons of 12 episodes under its belt. The second season, which was called "Kakegurui xx," aired in 2019 — which means it's about time for a third season to debut now that it's been a few years. Right?
Fans have been waiting for a renewal of "Kakegurui" for a long time, even allowing for production delays caused by the COVID-19 pandemic. However, it hasn't happened yet. Here's what we know so far about a new potential set of episodes for this popular shonen anime.
It doesn't look like Kakegurui Season 3 is in the cards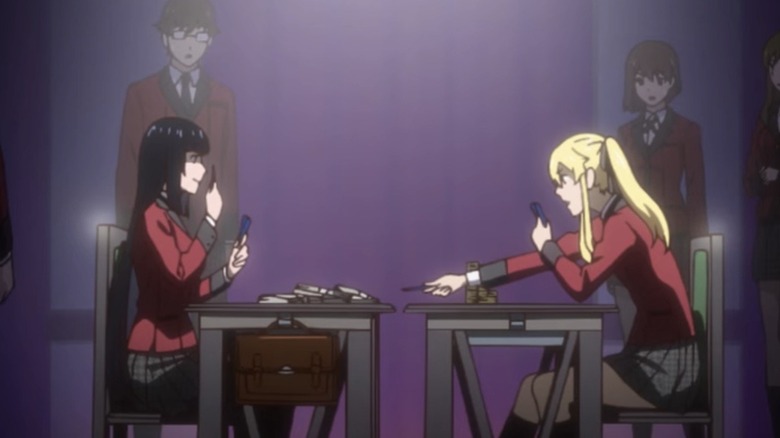 Netflix
Without a solid renewal announcement either from anime studio Mappa or distributor Netflix, which is licensed to stream the series outside of Japan, there's no way of knowing if "Kakegurui" is coming back for Season 3.
Renewals are often based on popularity as well as how much source material there is. "Kakegurui" is based on a Japanese manga series written by Homura Kawamoto and illustrated by Tooru Naomura, which now makes up 14 volumes of 82 chapters (via Fandom). There are some differences between the manga and the anime, but for the most part, the anime has covered around 56 episodes. That means there's almost enough for one more season. The first season actually ended on an original episode, and the end of the second season also diverged (in both cases, a conclusion of sorts was created, possibly in case the show wasn't renewed). If that might happen again, there would definitely be three seasons worth of material left. 
However, it's uncertain how popular the series actually is. Netflix does not release viewing numbers to the public (and has been making some high-profile cancellations lately). And good reviews and ratings don't necessarily reflect actual statistics when it comes to who and how many people are watching. Should Mappa announce a renewal today, the show would still have to go through the process of production, meaning we'd have to wait a while longer for it to premiere.