Zoe Saldana Confirms What We Suspected All Along About Chris Pratt's Off-Set Behavior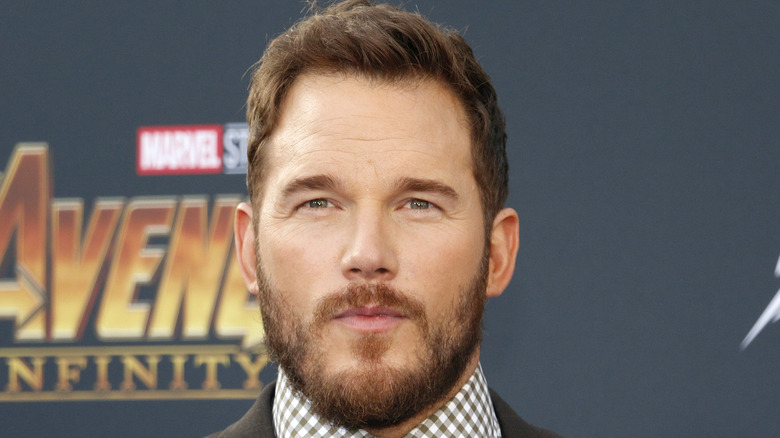 Tinseltown/Shutterstock
With four turns as Peter Quill under his belt (and a third on the way), it's impossible to imagine anyone other than Chris Pratt playing the Marvel Cinematic Universe's most rakish intergalactic outlaw. As soon as audiences watched him dance along to Redbone's "Come and Get Your Love" in the opening scene of 2014's "Guardians of the Galaxy," it was clear that a Star-Lord was born. It was also very clear that he had great chemistry with the rest of the "Guardians" cast, which includes Zoe Saldana, Dave Bautista, Vin Diesel, and Bradley Cooper. That lively onscreen collaboration proved to be even more entertaining to watch when they all reunited for "Guardians of the Galaxy Vol. 2," which arrived in theaters back in 2017. 
Before the premiere of the first "Guardians" movie, Pratt wasn't always an A-lister who headlined blockbuster franchises that forever changed the face of pop culture. Prior to becoming a guardian of the galaxy, he was mainly known for his supporting roles in movies like "Zero Dark Thirty" and "Moneyball," as well as his stint in the beloved workplace sitcom "Parks and Recreation." If you go back even further on his resumé, you'll be reminded that his breakout role was in a supporting part on The CW's "Everwood." Truly, if Pratt's recent success in blockbusters tells us anything, it's that, sometimes, big gambles do pay off in Hollywood.
Even though he was a known thief behind the scenes on "Guardians of the Galaxy," Pratt has used his Star-Lord fame to do some good. For example, he has a history of visiting children's hospitals dressed as the character, making it impossible not to support his tendency to steal props. However, what do Pratt's co-stars have to say about his off-set behavior? Saldana has some thoughts.
Zoe Saldana was full of praise for Chris Pratt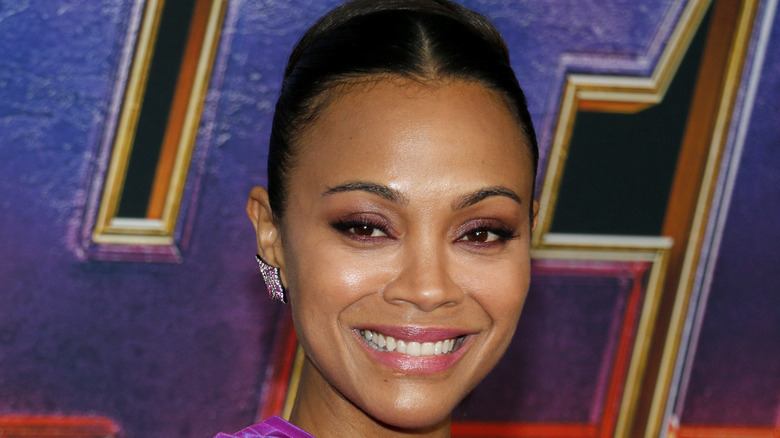 Tinseltown/Shutterstock
On the screen, "Guardians of the Galaxy" characters Gamora and Star-Lord have a lot of affection for one another. She's a prickly assassin with a complex past, and he's an Earthling with a heart of gold who grew up with a group of alien criminals. What's not to love about that? The charm and eminent watchability of Gamora and Star-Lord every time they share the screen comes down to the wonderful performances from Zoe Saldana and Chris Pratt's performances as the respective partners-in-shenanigans. Thanks to their work, MCU fans have grown fond of the relationship between Gamora and Star-Lord. But does the bond between their characters spring from a genuine friendship off-screen?
It turns out that, when the cameras aren't rolling, Saldana is a big fan of Pratt, especially when it comes to his work ethic. After presenting the "Guardians" star with the Guy of the Year award during the Spike TV Guys Choice Awards back in 2015, she spoke to MTV about why her Marvel co-star deserved the prestigious honor. "He's a talented actor; he's been having a couple of great moments here and there on the big screen, we're not gonna lie. So it's only fair for investors to invest in him," she explained.
Saldana went on to state that Pratt had paid his due for years before being cast in the 2014 James Gunn-directed MCU movie, so it was only fair that he got to enjoy the fruits of his labor. "You put in your time, your energy, your jokes for many, many years, and now you're reaping those benefits."
Saldana has spoken highly of Pratt more than once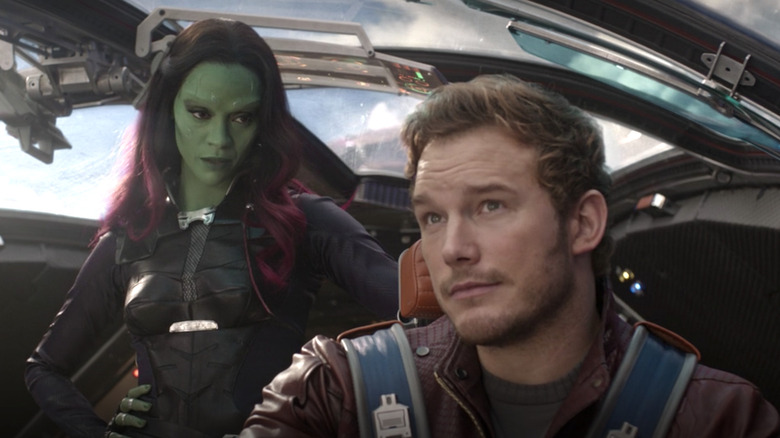 Marvel Studios/Disney
"Guardians of the Galaxy" star Zoe Saldana has shown her support for and appreciation of Chris Pratt more than once, further driving home the sentiment that she truly appreciates her MCU co-star. In October 2020, People reported on a viral tweet asking which Hollywood Chris fans would not pick as their favorite (be it Pine, Hemsworth, Evans, or Pratt). The tweet received an overwhelmingly high number of responses naming Pratt as the one that would get cut from the line-up, spurring on a number of the actor's MCU co-stars to voice their true feelings about the actor and explain why they disagreed with the tweet.
Saldana was one of the first of Pratt's co-stars to share her praise as a way to counteract the original tweet. She wrote, in part, "You got this @prattprattpratt. Your family, friends, colleagues & everyone who's ever crossed paths with you knows your heart and your worth!" Her tweet was then retweeted by "Guardians" franchise star Karen Gillan, who co-signed Saldana's tweet by adding, "That's right!!!"
Even Robert Downey Jr. weighed in on the conversation, rejecting any negativity said about Pratt related to the tweet in a lengthy Instagram post. At one point in his post, the "Iron Man" star wrote that Pratt "lives by principle," and he "has never demonstrated anything but positivity and gratitude."