It's Time To Talk About Quinn From How I Met Your Mother
With the long-awaited spin-off "How I Met Your Father" finally here, it's easy to romanticize the now-nostalgic "How I Met Your Mother." The original series follows Ted Mosby (Josh Radnor) as he tells his children the long-winded story of how he met their mother. The finale was admittedly disappointing to fans, but the show is widely regarded as a success anyway.
Across its nine seasons, "How I Met Your Mother" introduced various love interests for most of its main characters — including a scorned receptionist played by Britney Spears. While Ted is looking for something serious, his womanizing best friend, Barney Stinson (Neil Patrick Harris), spends most of the show's run looking for one-night stands. Despite this, he manages to lock down a few genuine relationships.
His ex-fiancé Quinn Garvey (Becki Newton) is a favorite among "How I Met Your Mother" fans, with some calling her "the girl version of Barney." However, in retrospect, the show veers into questionable territory when it comes to handling her job at the Lusty Leopard.
Quinn's job revealed how hypocritical Barney was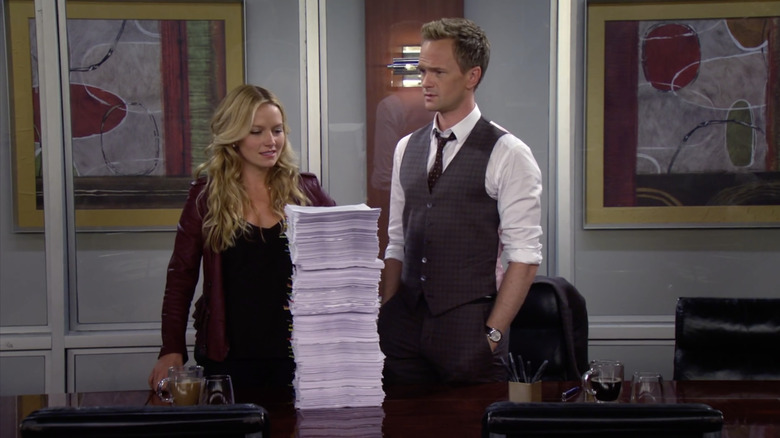 CBS
Hindsight is 20/20, and revisiting TV shows of the aughts with a modern perspective is bound to expose content that would be rife for Twitter discourse in 2022. While most "How I Met Your Mother" fans would agree that Barney Stinson has always been problematic, the way he treated Quinn Garvey exposed that he's also a hypocrite.
Quinn, also known as Karma, is a stripper at the Lusty Leopard. Barney falls for her before realizing that she works there, which is ironic because he frequents the club. He's equally impressed and intimidated by how much she challenges him, and they make a strong duo. When they start a relationship, though, he refuses to accept her job and tries convincing her to quit.
"I like my job, and I do not need to be rescued, so don't be that guy," she tells him. Although she eventually quits, and they get engaged, they break things off because they don't trust one another. Barney's friends aren't particularly surprised, as they were rooting for a breakup because they didn't accept Quinn, either.
"How I Met Your Mother" isn't trying to be a beacon of political correctness, but it's undeniable that this storyline made all of the characters look bad because they always put up with Barney's promiscuity and shady antics while condemning Quinn for being a stripper.