The Character Everyone Forgets Britney Spears Played In How I Met Your Mother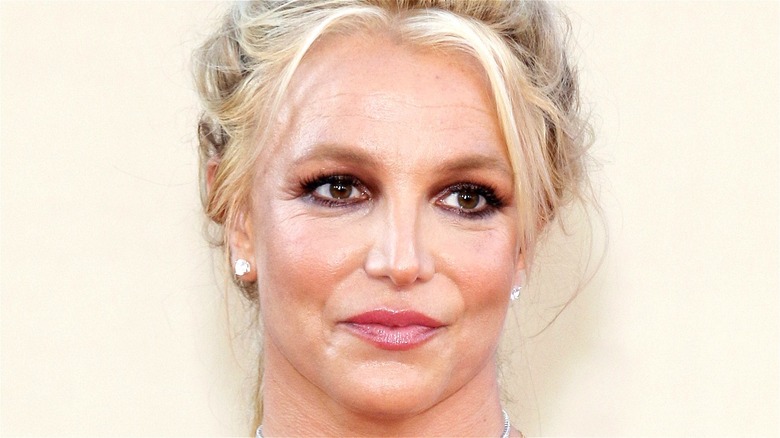 Tinseltown/Shutterstock
While Britney Spears might be better known for her work as a singer, she's definitely dipped her toes into the acting pool a few times during her long career. Of course, there was her starring role in the notorious 2002 coming-of-age road trip movie "Crossroads," which, according to the Los Angeles Times, raked in eight Razzie nominations and won Spears the 2003 Worst Actress trophy (per Variety). Spears shared the honor with Madonna, her "Me Against the Music" duet partner, who was nominated for "Swept Away." 
Spears also had a 2006 guest spot on "Will & Grace" as Amber-Louise, appeared in numerous commercials, and portrayed herself in "Sabrina the Teenage Witch," "Glee," "Austin Powers in Goldmember," "Kenan and Kel," and "Jane the Virgin." On top of that, she's one of many notable performers who voiced a version of herself for Fox's long-running animated series "The Simpsons." But what many fans of the singer might not know is that Spears once had a two-episode stint on CBS' hit sitcom "How I Met Your Mother." Who did she play, and what did she do during her time in the series?
Britney's Abby came in close contact with Barney
Britney Spears played Abby, a receptionist at a hospital where Dr. Stella Zinman (Sarah Chalke) maintains a dermatology office, during the third season of "How I Met Your Mother." She appears in both Episodes 18 and 19, titled "Ten Sessions" and "Everything Must Go," respectively. 
In the episodes, Ted (Josh Radnor) is smitten with Stella and becomes convinced that she might be his "Ms. Right" as he attends 10 tattoo removal sessions in her office. But the emotional Abby misreads Ted's signals and believes that he's trying to flirt with her, not her boss. Ted tries to let Abby down easy, but she becomes enraged and plans to enact revenge on him. 
To that end, Abby uses his best friend, infamous lothario Barney Stinson (Neil Patrick Harris). Abby and Barney — who lies to the receptionist that he doesn't know Ted — team up, pretending they're dating. They go so far as to fake an engagement, which naturally happens right in front of an unimpressed Ted at MacLaren's. Unfortunately for Barney, Abby now thinks their engagement's genuine, which means he must extricate himself from the relationship. 
Spears shows some strong acting chops in this role. The sensitive, nerdy, and completely unreasonable Abby is definitely a departure for the singer, and rewatching her performance on the program leaves viewers hoping that Spears will return to the sitcom world at some point in the future.