Ken Jeong Tells What It's Really Like Working With Mike Myers - Exclusive
DFree/Shutterstock
Ken Jeong won't tell us any life-altering behind-the-scenes stories about his work on the upcoming Netflix series, "The Pentaverate." That's not to say there weren't any. "As the saying of the actual series goes, 'The Pentaverate must never be exposed,'" Jeong quipped during an exclusive interview with Looper's sister site, Mashed. "So, I'll definitely defer to Mike on that question."
Mike Myers, who creates and stars in the much-anticipated comedy series, has also tapped Keegan-Michael Key and Debi Mazar for parts in it, according to Netflix. "Community" might have seen its heyday, but the actor who played the sitcom's Spanish teacher (a Spanish teacher who — Jeong once revealed via tweet – liked writing his name in Korean on the chalkboard) has most definitely not. Along with "The "Pentaverate," which is set to come out later this year, Deadline recently announced that, starting in February 2022, you'll be able to fawn over Jeong (along with Sharon Stone and Kumail Nanjiani) as celebrity guests in Netflix's upcoming improv comedy "Murderville." The Korean-American comedic actor is also working on an Amazon series, produced by Asian American and Asian Canadian teams and writers. "Shoot the Moon" is the kind of project Jeong described as something do "for the rest of my life."
"I'm having the best time in my life right now, because I feel like I've been able to do everything that I've ever wanted to do and then some," Jeong told us. Working on "The Pentaverate?" That was, Jeong revealed, a "career highlight." Here's why.
Ken Jeong calls working with Mike Myers 'impactive'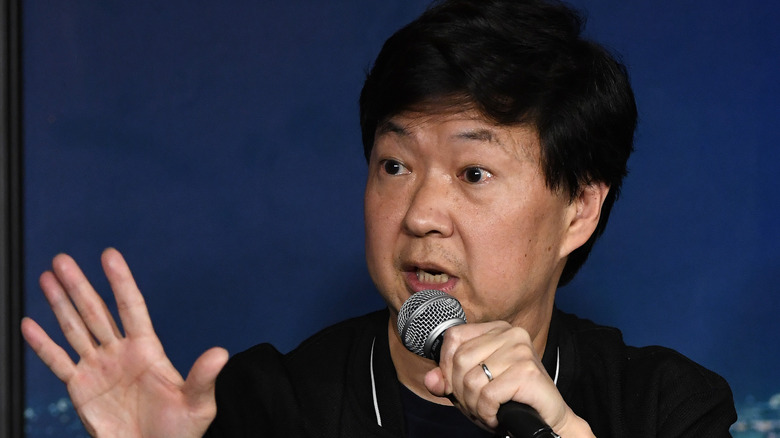 Michael S. Schwartz/Getty Images
Yes, Ken Jeong and Mike Myers are tight. "Working on 'The Pentaverate' was a career highlight for me because Mike Myers is not only a friend now, but he is really one of my comedy inspirations," Jeong dished to us. "One of the reasons why I do comedy at all is because of Mike, and a lot of comedic actors would say the same thing." 
"The Pentaverate," according to Variety, has been in the works on Netflix at least since 2019 and follows a secret society of do-gooders as old as the Black Plague. It's been brewing in Myers' mind at least since 1993, the year he mentioned the mysterious organization in the romcom, "So I Married an Axe Murderer." If Jeong's experiences are anything to go by, the six-episode series will be well worth the watch. "Every day was pure joy working with one of my heroes and idols. It was really one hell of an impactive experience," Jeong revealed. "I'm smiling if I think of it right now. Every day, you would go to work with a smile and you would leave with an even bigger smile. I remember me and Keegan, so many times we're pinching ourselves going, 'I can't believe we're actually doing a Mike Myers project together.' It's a lot of fun." 
While you'll have to wait a while to see Ken Jeong in "The Pentaverate," you can catch him and "Community" co-star Joel McHale duking it out over the correct way to eat nuts in their upcoming Planters Super Bowl ad. In the meantime, don't forget to chime into the debate on Twitter with #PlantersAllorOne to tell the world how you eat your nuts!