Ranking Every Couple In The 9-1-1 Universe
The characters from Ryan Murphy's hit show "9-1-1" and its spinoff series, "9-1-1: Lone Star," are some of the most popular on television. The "9-1-1" universe has gone beyond the realm of procedural cop shows and into the intense world of first responders. The typical case of a week formula has been transformed into one outrageous case after another, as we follow how these first responders navigate each situation. While they might be calm, the stakes are high enough that the audience is anything but.
This series is compelling and addictive, in part because it showcases how hard the characters work to ensure that everyone makes it home in one piece. And with stressful jobs like theirs, it's no wonder that the characters' personal relationships are put to the test time and time again, with only the strong left standing. Read on to find out where each "9-1-1" couple ranked from worst to best.
9. Buck and Abby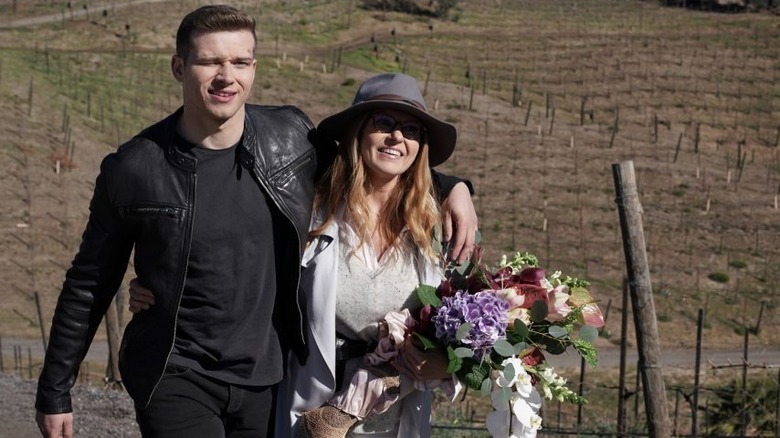 Fox
The relationship between Buck and Abby was short-lived, as actress Connie Britton left "9-1-1" after the first season. Buck was initially introduced as a playboy,  until he developed something more with Abby. Before her, Buck was making some questionable decisions when it came to romance, and audiences were happy to see him settle down in an adult relationship for a change.
Alas, Buck and Abby were doomed from the start, with Abby breaking up with Buck over a message saying that she moved on. The two would later find closure in the third season, with the newly engaged Abby telling Buck that she couldn't be herself around him. Yikes, that's got to hurt. While Abby and Buck were never a fan favorite relationship, they were an important one for Buck's character development. It was their relationship that helped mature Buck, and turn him into the character fans know and love now.
8. Michael and David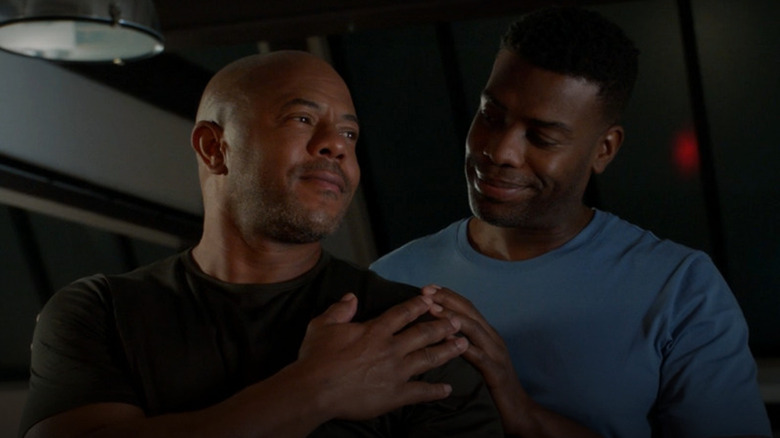 Fox
While these two characters might not get the most screen time, their relationship has been a joy to watch unfold. Audiences introduced to Michael when he comes out as gay to his then-wife Athena. While it was refreshing to see his character authentically be honest with himself, Michael doesn't find true happiness until he meets David (La Monde Byrd) later on in the series.
Rockmond Dunbar portrayed Michael on "9-1-1," however, he was unfortunately written out of the show. At least, for now. According to Deadline, this was because Dunbar wasn't vaccinated against COVID-19, which put him at odds with on-set production safety mandates. He tried and failed to get exemption, and ended up leaving the series. Luckily, audiences were given a nice send-off, with Michael proposing to David before the characters decided to leave in order to help with relief efforts. Whether or not Michael will return to the show remains to be seen, but for now, fans were given a sweet ending to this couple's journey.
7. Hen and Karen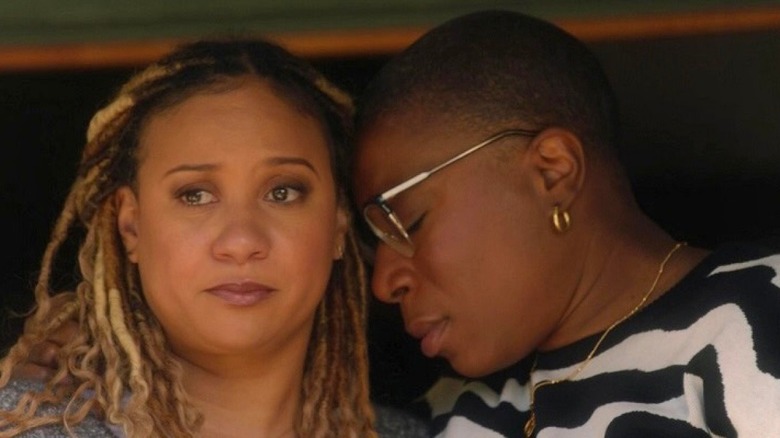 Fox
This relationship is a staple to the "9-1-1" universe, as they began the series as an established couple. However, while both Hen (Aisha Hinds) and Karen (Tracie Thomas) are two of the most lovable characters in the show, their relationship has seen its fair share of turmoil. Throughout much of the first season, audiences watched as Karen struggled with forgiving Hen for her affair with her ex Eva (Abby Brammell).
Luckily, the two were able to work past Hen's indiscretion. "9-1-1" was able to use Hen and Karen as an example of how a married couple with a family works through their struggles to come out stronger. While Hen and Karen continue to face a multitude of problems, they always manage to work through them together, turning this couple into one of the most stable relationships of the series. Their journey might not have been perfect, but it was real.
6. Buck and Taylor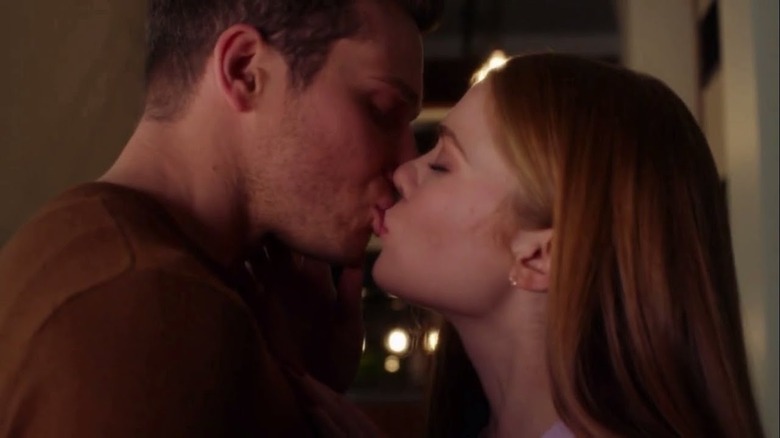 Fox
Buck's found his way back on this list, as his romantic entanglements are an ongoing plot device on "9-1-1." Unfortunately, he just can't seem to catch a break — that is, until he met news reporter Taylor, portrayed by Megan West. Taylor and Buck's relationship started out rocky, as Buck believed that she would do almost anything to get a story for her job. While there is an instant attraction between the two, and they eventually have a romantic fling, she was not seen again until Season 4.
Buck and Taylor slowly began a relationship, with the two developing a deeper connection over time. Due to their start being a slow burn, their inevitable friendship turned romance felt like a natural course between the two. Taylor becomes  more invested in Buck's safety over her pursuit of a good story. Their relationship allowed for them to grow individually and as a couple — which makes them perfect for our list, as their feelings for each other isn't all that defines them.
5. T.K and Carlos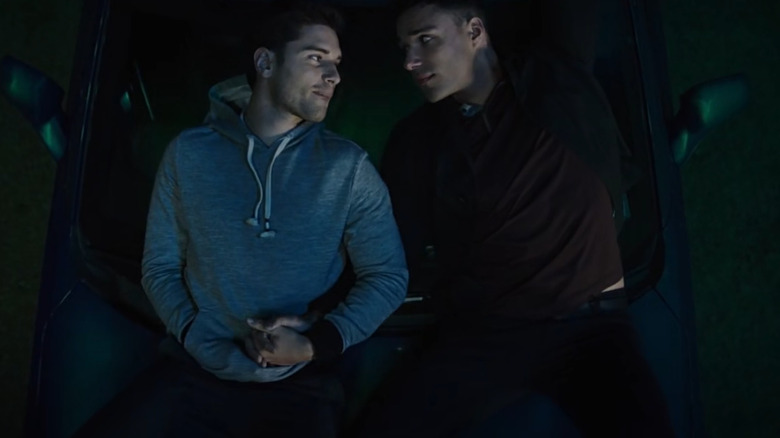 Fox
T.K and Carlos have become favorites from the "9-1-1" spinoff series "9-1-1: Lone Star." So it comes as no surprise that their recent breakup was shocking for audiences, as we were all rooting for them.
Portrayed by Ronen Rubinstein and Rafael Silva, respectively, T.K and Carlos started off with a physical relationship before Carlos realized that he wanted something more. Watching T.K come out of his shell and open up more to Carlos was nothing short of pure romance. Due to his past, T.K was initially afraid to commit to and move forward in their relationship. However, once he made his decision to stay, he and Carlos finally realize that they make a good team. Together, they've made it through a coma, a fire, and everything in between. Something like a breakup can't stop these two. Let's pray that we haven't seen the end of 'Tarlos,' as they were major couple goals.
4. Athena and Bobby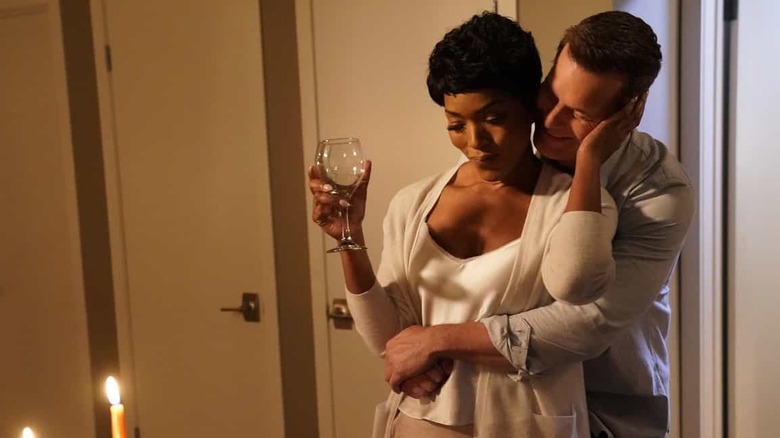 Fox
Athena and Bobby are the couple that we never knew we needed. When the two first get together, audiences never imagined that true love would blossom, with neither looking for anything serious. Athena (Angela Bassett) was recently going through a divorce from her husband Michael, while Bobby (Peter Krause) was finally coming to terms with the death of his family. It had been years, but he was finally allowing himself to date again.
Once the two finally went out, their connection was instant. While it took some time, Bobby was able to cement himself perfectly with Athena's family. His relationship with her was able to give him a family once again — something that he thought he had lost forever with the death of his wife and two children. His relationship with her kids and ex-husband Michael was nothing short of adorable. Bobby and Athena developed a deep understanding of each other, and the two are often seen relying on one another for support through the tough times. 
3. Maddie and Chimney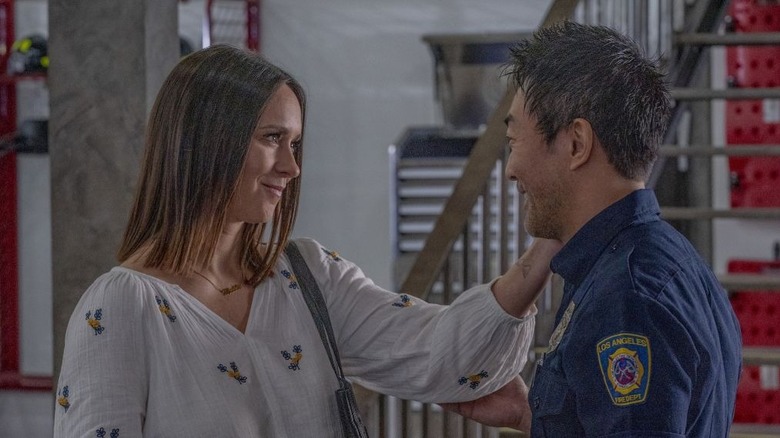 Fox
Ryan Murphy clearly did something right when he cast Jennifer Love Hewitt in Season 2 of "9-1-1" as Maddie. The older sister of Buck, Maddie was clearly hiding from her dark past. Aside from her brother, the one constant light in her life was her blossoming relationship with Chimney (Kenneth Choi). Somehow, these two compliment each other extremely well. 
Maddie was on the run from her abusive ex, and she wasn't looking for anything when — that is, until Chimney came along. While she initially found it difficult to open up and trust someone new, his patience and understanding let her know that he was something special. Maddie seems to be on the run once more — in part because Love Hewitt was on maternity leave – but audiences have yet to give up hope for those two. With Maddie back, they may find a happy ending.
2. Tommy and Charles
Let's start out by saying that the death of Charles (Derek Webster) in the Season 2 finale of "9-1-1: Lone Star" was devastating. While Tommy and Charles may not have been OG characters on the show, their relationship was truly something special. When they were introduced in Season 2, Captain Tommy Vega was forced to go back to work as a first responder once her husband Charles's restaurant closed due to the pandemic. He stepped into the role of a stay-at-home dad and was Tommy's rock while she tried to balance work and family life.
Gina Torres did a wonderful job at portraying how the sudden death of a loved one can completely break a person. While Tommy initially chose to deal with the pain alone, it's a heartbreaking revelation for family and friends when the truth comes out. Surly, Charles's absence will cast a huge shadow on the show.
1. Judd and Grace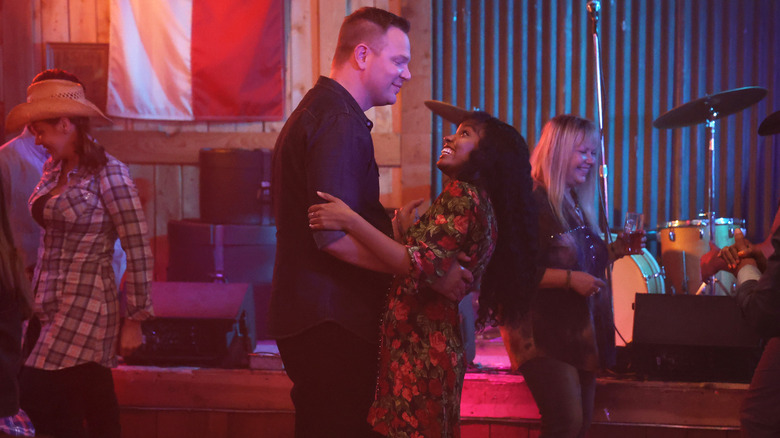 Fox
When you hear about a couple that's fated to be together, Judd (Jim Parrack) and Grace (Sierra McClain) absolutely come to mind. Honestly, their love story is just so perfect! After meeting through a prayer hotline, Judd and Grace instantly fell for one another without ever seeing each other's faces. Luckily, they accidentally met in person at a bar and started their relationship off with a dance.
Like most relationships on this list, Judd and Grace have been put to the test, with Grace's family initially not accepting her relationship with Judd. This caused him to break up with her for a short while. However, they managed to find their way back to each other, proving that their love was strong enough to weather the storm. The relationship between Judd and Grace is a highlight for "9-1-1: Lone Star," as the couple has a dedicated fan base shipping them.