Hocus Pocus 2 Just Hit A Major Production Milestone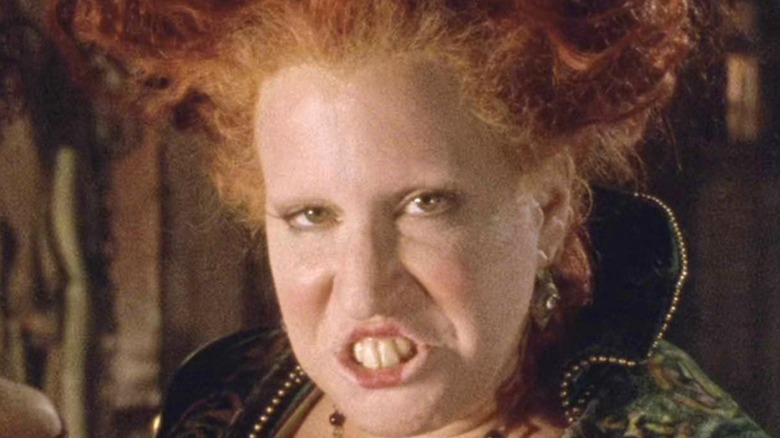 Disney/Buena Vista Pictures
In 1993, Disney released "Hocus Pocus" starring Bette Middler, Sarah Jessica Parker, and Kathy Najimy as a trio of witches known as the Sanderson sisters who eat children to retain their immortal youth. The fantasy-comedy, however, failed to amuse audiences at the time of its release. The movie, which originally hit theaters in July, was shunned by critics and abandoned by theatre-going audiences at the time (per History Daily). While this may have relegated the movie to the cinematic dreg heap, the film went on to gain cult classic status when it became a staple of the October lineup on the Disney Channel and Freeform (formerly ABC Family).
"Hocus Pocus" has all the makings of a classic Halloween watch: three witches resurrected in Salem, Massachusetts on Halloween, a quest to find a child whose life force they can use to live on, a zombie ex-boyfriend, and even a talking black cat. Despite its rocky beginnings, the movie has withstood the test of time. So much so, that now we're getting a sequel to the story of the Sanderson sisters.
After years of speculation and rumors, "Hocus Pocus 2" began filming in October 2021 in Newport, Rhode Island. And just recently, the movie's producer, Adam Shankman, announced a major milestone in the film's production.
Hocus Pocus 2 has officially wrapped and has a release date
Adam Shankman took to Instagram in an elated post to announce that "Hocus Pocus 2" has finished filming. And not just that. At the end of his post, Shankman stated that the movie would debut on October 31, aka Halloween Day 2022, on Disney+. 
Shankman was originally slated to direct the fantasy comedy sequel, but he ended up passing the baton to "The Proposal" director Anne Fletcher. Apart from the original trio, "Hocus Pocus 2" will also see the return of Doug Jones as Winifred's zombie ex-boyfriend, as well as composer John Debney, who did the music for the original film. In other casting news, Whitney Peak, Lilia Buckingham, Belissa Escobedo, and Tony Hale, have been added to the sequel's cast. Sam Richardson, Froy Gutierrez, and "Ted Lasso" actor Hannah Waddingham have also been cast in undisclosed roles in the movie (per Collider).
With a Halloween release date now set, it will be exciting to see whether "Hocus Pocus 2" succeeds on its release.