Justina Machado Talks The Ice Age Adventures Of Buck Wild And A Six Feet Under Revival - Exclusive Interview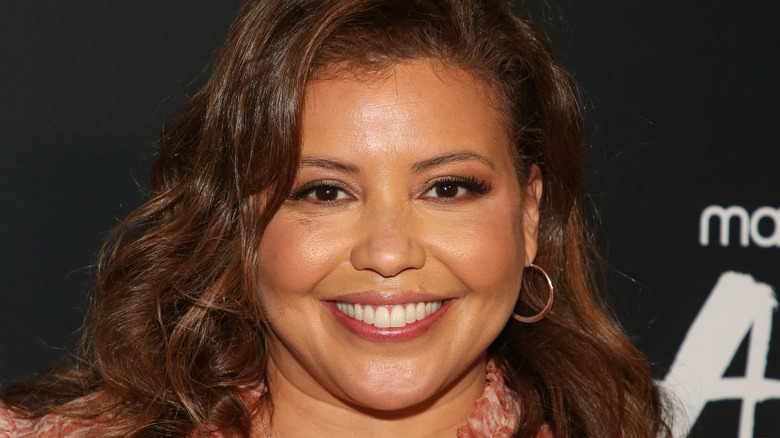 Paul Archuleta/Getty Images
Justina Machado got her big Hollywood break starring in the unconventional HBO series "Six Feet Under," and has since gone on to appear on "ER," "Private Practice," "Jane the Virgin," and the "One Day at a Time" reboot. In her latest project, the animated film "The Ice Age Adventures of Buck Wild," now streaming exclusively on Disney+, she voices the skunk-like adventurer Zee.
As the female counterpart to Buck (voiced by Simon Pegg), Zee embarks on an adventure to help save the thrill-seeking possum brothers Crash and Eddie, who have had enough of living under the watchful eye of their older sister Ellie and set off on a risky journey to the Lost World to find a place of their own.
During an exclusive interview with Looper, Machado dished on what makes Zee so much fun to play and revealed whether she thinks the rumored "Six Feet Under" revival is a good idea.
Justina Machado sees Zee as a 'strong female character'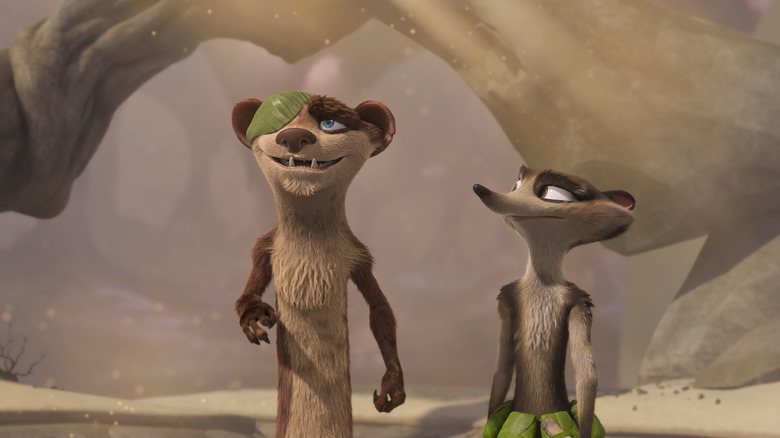 Disney Enterprises, Inc.
One of the things I liked about your character, Zee, was that she wasn't necessarily presented as a love interest, but more as a friend and equal partner in crime. Is that what attracted you to this role? And, if not, what are your feelings on that aspect of the character in general?
Well, I'm a fan of the "Ice Age" movies. I'm a fan of what they stand for, and I love that she is a very strong female character, and she is adventurous, and she is out there solving problems. Like you said, she is a partner with Buck, in this adventure. I didn't even think about the fact that they aren't linked romantically. You're the first one that actually pointed that out. That's a great thing, that it's not a romantic interest, even though we don't know what their past is. We do know that they're buddies, and they're best friends. She even says it in the movie, "You were my best friend." It's great to see a female and a male, fixing the world together.
What was it like working with Simon Pegg? Is he funny in real life?
I just met him yesterday, during a press conference, and he was hilarious in the 30 minutes that I got to meet him. When we were recording, I was here in Los Angeles, and he was in England. I've never had that kind of experience, to record [an animated film] with somebody else. It was the team realizing that we had chemistry, but I never spoke to Simon until yesterday.
You've dabbled in some previous voice roles — like "Scoob" and "Elena of Avalor." What has drawn you to voice acting in recent years, and how does it compare to onscreen acting for you?
It's really great to use another instrument of your body, and just use that one instrument, and relay everything through that. It's such a sweet gig. You get to go dressed up any way you want to [you don't need to be] dressed up crazy-looking in a booth. You don't have to worry about what you look like. You're just there to do the work, and I love it. I've actually had more projects come about, and it's something that I definitely want to continue to do. It's a lot less pressure than live action.
There's still 'a lot of life' left in Six Feet Under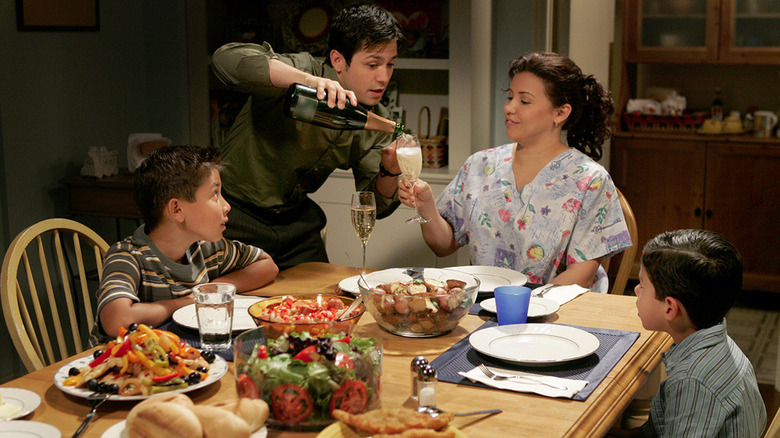 HBO
Your big break came with "Six feet Under," which was, unbelievably, 20 years ago. In recent months, there's been a rumor that there will be some sort of a revival of the series. How do you feel about that? And do you hope to be part of it?
If it's the right kind of revival, I would absolutely want to be a part of it. I think it's great. I did a revival of "One Day at a Time," and it was a big success. I think that there probably are more stories to tell with "Six Feet Under." I know that there are a lot of people that don't want to see it because they're like, "It was the perfect ending," but there's a lot of life in between. I'd support whatever the team wanted to do with "Six Feet Under."
Was there a lesson you learned on "Six Feet Under" that you carry with you to this day, including onto the set of "Ice Age?"
Oh God, that was such a long time ago. It was 20 years ago. I think that one of the things on "Six Feet Under" was knowing your worth. I think I learned that a lot on "Six Feet Under" and have carried it to every job that I've ever had ever since.
You've been in quite a lot of films and TV series over the course of your career, but is there a dream role that you haven't landed yet that you hope comes your way one day?
I'd love to do a musical. I did "In the Heights" on Broadway, and I would love to do a live action [version]. I feel like they're making a comeback, especially with [the recent] "West Side Story," and all of these great things happening. It'd be great to do a musical. That is really something I'd love to do.
"The Ice Age Adventures of Buck Wild" is now streaming exclusively on Disney+.