The Community Character You Probably Forgot Brie Larson Played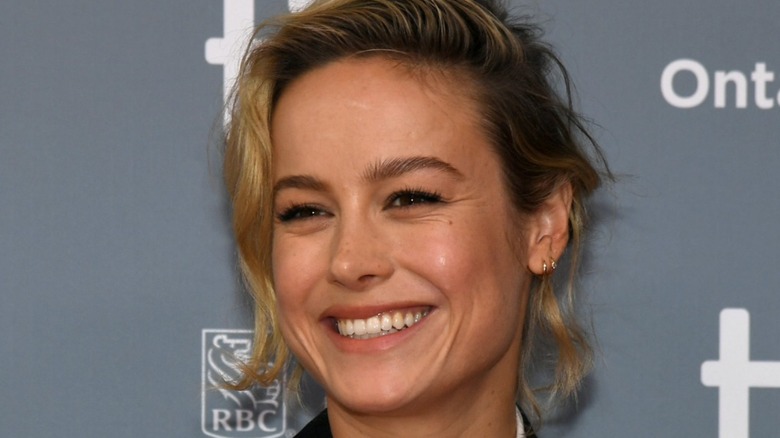 Kevin Winter/Getty Images
Given how much of her career, schedule, and public image have — understandably — been swallowed up in recent years by the whole "being Captain Marvel" thing, it's become all too easy to take Brie Larson for granted as one of the very best breakout actors of the last decade.
A joy to watch since her "United States of Tara" and "Scott Pilgrim vs. the World" days, the Californian actress gained further visibility with supporting roles in films like "21 Jump Street" and "The Spectacular Now," always stealing scenes right from under whomever she happened to be sharing the screen with. In 2013 came her critical breakthrough with the acclaimed teen-group-home drama "Short Term 12," which, even as a low-budget indie, earned Larson enough awards and laurels (via IMDb) to place her in the Oscar conversation. A few years passed, with cinephiles waiting eagerly for the role that would introduce mainstream audiences to the sheer magnitude of Larson's talent, and sure enough, along came "Room," a film that served as a perfect showcase for her ability to embody flawed, vulnerable, complicated characters in a way both empathetic and endlessly enrapturing. This time, she easily won the Academy Award for Best Actress ... which naturally drew the attention of a certain superhero movie studio, and the rest is history.
It was in those years, though, between her indie breakthrough and her explosion into the world stage that Larson found the time to star on the cult NBC sitcom "Community" — and her presence was the highlight of an otherwise controversial season.
Brie Larson played Abed's love interest Rachel on Seasons 4-5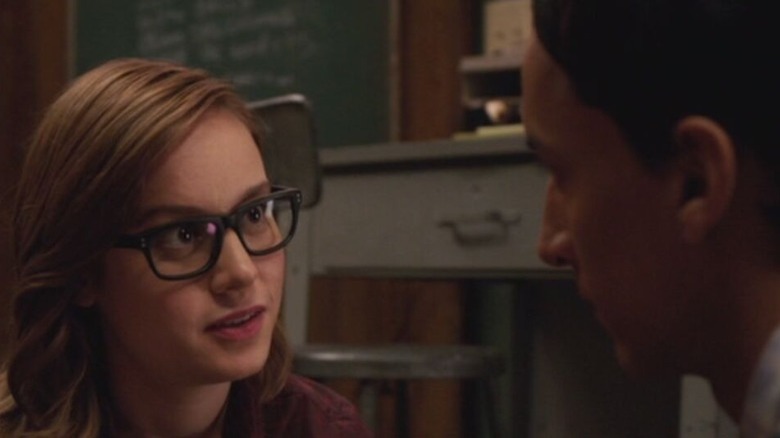 NBC
"Community" is arguably one of the most beloved, influential and envelope-pushing sitcoms of all time, but one thing its fans can agree on is that Season 4 — humorously referred to in-universe as the "gas leak year" — was a bit of a rough patch. With notoriously unruly creator and mastermind Dan Harmon replaced by David Guarascio and Moses Port, the show turned into a messy imitation of its past self. Even though it managed to get back on its feet with Harmon's return on Season 5, a lot of "Community" aficionados will still skip Season 4 on rewatches to this day.
Alternatively, they'll skip it except for "Herstory of Dance," one of the season's few episodes to have been met with a broadly positive reception. And a big reason that episode is able to capture the charm and wit of vintage "Community" is the presence of Brie Larson. She plays Rachel, the geeky coat check girl at Greendale Community College's "Sophie B. Hawkins dance," who helps Abed (Danny Pudi) navigate the two simultaneous dates his friends have arranged for him ... only for sparks to fly between her and Abed.
Rachel was one of the most successful elements of Season 4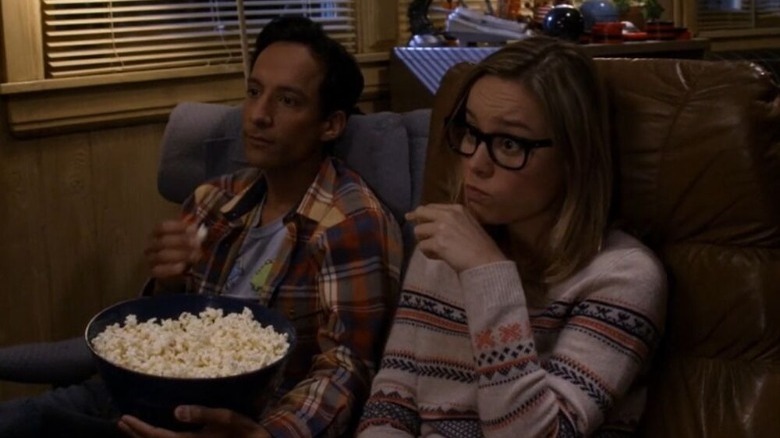 NBC
The sincere romantic plot in "Herstory of Dance" hit the exact sweet spot of world weary yet hopeful sweetness that "Community" was known for at its best, and that some other episodes and plot points in Season 4 struggled to recapture. Brie Larson, meanwhile, turned out to be such a perfect fit for the show's universe that even Dan Harmon himself was gobsmacked. In a 2014 interview, the writer-producer said, "She was magical in her appearance in the fourth season. She doesn't even say anything. She might as well be a pair of glasses and a wig on a mop handle, but it's Brie Larson so she has this humanity, this energy coming off" (via Uproxx). This prompted "Community" to bring Rachel back for Season 5 — one of the only things that got carried over from Season 4 once the original writers came back.
Larson was highly in demand by that point. The writers had to work with very limited screentime for Rachel, and Harmon even noted that the actress "did us a favor probably financially by coming back." But Larson, who'd been eager to come back, still committed to her two tiny guest spots on Season 5 as much as she has to any other project. As she'd told HuffPost the year before, "I loved being [on 'Community']. That was the first thing I did after 'Short Term,' and it was so nice. It's different. It's like the difference between hosting a dinner and getting to be a guest at a family dinner."