The Game Of Thrones Star Who Almost Played Anastasia Steele In Fifty Shades Of Grey
In 2015, Sam Taylor-Johnson's "Fifty Shades of Grey" took the movie world by storm with over half a billion dollars in ticket sales, and a massive marketing campaign that helped launch Dakota Johnson's acting career into the Hollywood stratosphere. But did you know that Anastasia Steele was almost played by another actor entirely? 
Taylor-Johnson, the director, had actually chosen another star to play the 21-year-old love interest of billionaire Christian Grey (Jamie Dornan), but she wound up turning down the role. Dakota would eventually get cast and go on to star in the entire "Fifty Shades" trilogy, which raked in $1.32 billion (via E! News). 
"I wanted to be involved because it's so different," Johnson told Vogue in 2015. "And it's an intense love story." And while Taylor-Johnson may not have picked Dakota to be her lead at first, she was more than happy with the follow-up choice. "She blew us out of the water," the filmmaker said, also speaking to Vogue. "She understood the nuance of that passage and how to play something delicately. Dakota has the ability to play so fragile and vulnerable, but with this underlying strength that makes you feel she is going to triumph."
 But still, what might have been, if Taylor-Johnson had cast this actor instead...
Emilia Clarke was Sam Taylor-Johnson's first choice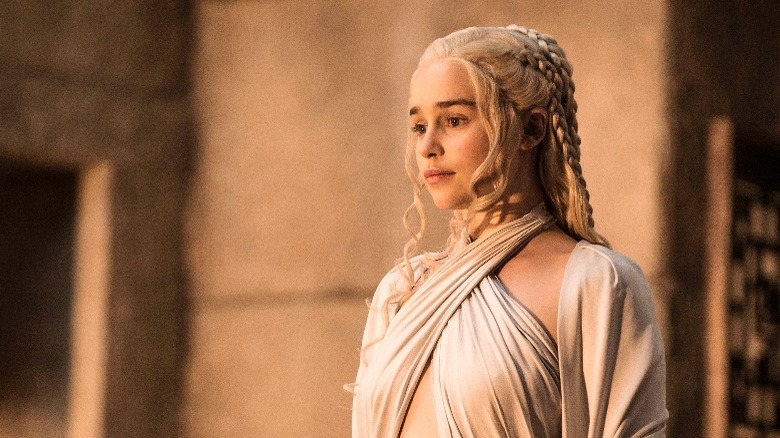 HBO
That's right, folks — Daenerys Stormborn of House Targaryen, aka Emilia Clarke from "Game of Thrones," nearly portrayed Anastasia Steele in the "Fifty Shades" film series, but she wound up turning down the role because of all the nudity. 
"Well, Sam [Taylor-Johnson, the director] is a magician. I love her, and I thought her vision was beautiful," Clarke explained in 2019, speaking to The Hollywood Reporter. "But the last time that I was naked on camera on [Game of Thrones] was a long time ago, and yet it is the only question that I ever get asked because I am a woman. And it's annoying as hell and I'm sick and tired of it because I did it for the character — I didn't do it so some guy could check out my tits, for God's sake. So, that coming up, I was like, 'I can't.'" 
According to Clarke, it felt like the "minimal amount" of nudity she did on "Game of Thrones" over the years had ultimately "pigeonholed" her for life, and if she said yes to "Fifty Shades" things would only get worse. "Me saying yes to that, where the entire thing is about sensuality and sex and being naked and all of that stuff, I was just like, 'No way am I going to voluntarily walk into that situation and then never be able to look someone in the eye and be like, 'No, you can't keep asking me this question.'" 
Clarke would go on to star in 2016's "Terminator Genisys" and 2018's "Solo: A Star Wars Story," along with a number of other films. She will debut in the Marvel Cinematic Universe with the Disney+ series "Secret Invasion." Her run on "Game of Thrones" ended in 2019.