Why Yellowstone Prequel 1883 Already Has Some Fans Divided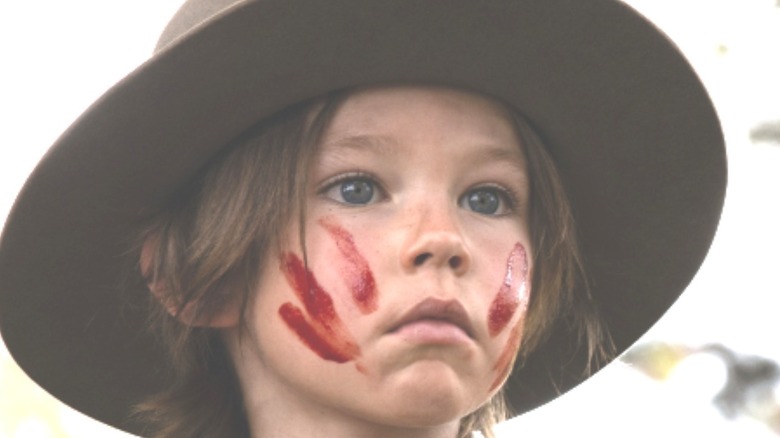 Emerson Miller/Paramount+
With the success of Paramount Network's "Yellowstone" (per Variety, the Season 4 premiere was the most-watched on cable since the Season 8 premiere of "The Walking Dead"), it was only a matter of time before the powers that be began looking at the possibilities of a spin-off. They delivered just that with a prequel series centered around the origins of the Dutton family, titled "1883."
The series follows James Dutton (Tim McGraw) and his family as they undertake a dangerous search for freedom and growth in the American West. They soon discover the journey is perilous as the land of undeveloped towns and dangerous wilderness threaten them at every turn. Together with his wife, Margaret (Faith Hill), and daughter, Elsa (Isabel May), the family follows seasoned cowboy Shea Brennan (Sam Elliott) across the plains to begin their legendary ranching empire in Montana.
Thus far, "1883" appears to be following the lead of "Yellowstone," as it took the title of Paramount+'s most-watched series premiere to date. Even still, four episodes into the initial season, fans are divided on their reception to the spin-off.
The pacing of 1883 is dividing fans
Now that the first four episodes of "1883" are available and the first season of the series is nearly halfway done, some fans have admitted to feeling like the show is taking too much time to move forward. Commenting on a thread about the series' pacing, Redditor u/Acceptable_Tourist_4 wrote, "Lol it's been 4 episodes in 1 state. They haven't even made it as far as a 2 hour car ride yet." User u/Sandspurs_ replied by saying, "Yeah, I feel like the pacing is a bit slow really."
However, other viewers disagreed with those who don't seem to appreciate the concept of a slow burn. The Reddit thread in question was started by u/IAmAnonymousDog, who began by declaring, "I love how this show takes its time. The spaces between dialogue and action. Gives you time to feel and appreciate what's happening and not in your face action all the time. Great storytelling." Redditor u/48ever also expressed their love of the slower pacing by siding with the original poster. They said, "100%. i get so annoyed with the fans of yellowstone that constantly complain about how 'slow' it's going but in my opinion, you really get to take the content in and feel like you're living it in a way."
We'll have to see how the rest of the season plays out before we can determine whether it's for fans of a slow burn or in-your-face western action.