The Chicago P.D. Star You Didn't Know Got Their Start On Supernatural
During its nine-season run on NBC, the crime-busting exploits of the detectives and beat cops of producer Dick Wolf's "Chicago P.D." have been followed weekly by a millions-strong fanbase of loyal Chi-hard viewers (per The Hollywood Reporter). With its long-running presence every Wednesday night on NBC, the ensemble cast of this popular "One Chicago" franchise has featured a long list of by-now highly recognizable personalities. The truth is, it wouldn't be unusual for fans to have seen their favorite CPD actors in other notable TV series or films.
For instance, prior to his role as rogue cop Hank Voight, Jason Beghe guested on Showtime's "Californication." Before he played detective Jay Halstead, Jesse Lee Soffer showed up in "As the World Turns" and Fox's "The Mob Doctor." And preceding her stint as no-nonsense desk sergeant Trudy Platt, Amy Morton was Amanda Harris in "Blue Bloods." All that being said, there's one recurring core character on the series that fans may be surprised to learn got their first showbiz break on a show known mainly for ghosts, demons, angels, and devils. So, who's the "Chicago P.D." star who got their start on the iconic monster-hunting paranormal action hit "Supernatural"?
Supernatural gave Tracy Spiridakos her start on TV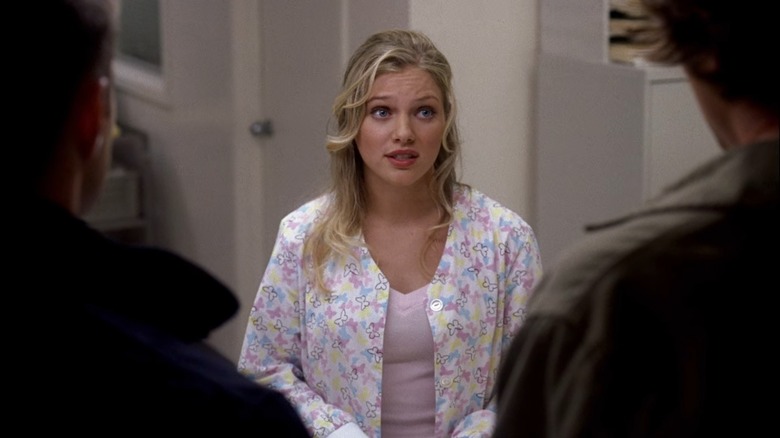 The CW
As detective Hailey Upton on "Chicago P.D.," Tracy Spiridakos has become a genuine fan favorite as a relatable, street-wise colleague for her fellow detectives on the show. That said, fans may not realize the actor made her first appearance on the small screen in the long-running CW series "Supernatural."
Cast as an unnamed nurse in the 2007 "Supernatural" episode "Bedtime Stories," Spiridakos joined the monster-chasing Winchester brothers Sam and Dean (Jared Padalecki and Jensen Ackles) in a chilling story of fairy tales gone bad. As the episode plays out, it becomes clear that a malevolent spirit is forcing unwitting humans to commit terrible crimes that gruesomely mimic childhood bedtime stories from the Three Little Pigs to Cinderella and Red Riding Hood. As a hospital nurse, Spiridakos' character helps direct the brothers to a young girl in a coma who turns out to be vital in solving the grisly fairy tale mystery (per Supernatural Fandom). 
In the following years, Spiridakos would go on to a recurring role in the sci-fi series "Revolution" and a stint on A&E's "Bates Motel" as well as a variety of other TV series (per IMDb). And while her brief appearance on "Supernatural" was a one-off, it was nonetheless the start of a career that would eventually lead to Spiridakos' enduring run as Detective Upton on "Chicago P.D."