The Katy Perry Character We Never Got To See In Get Him To The Greek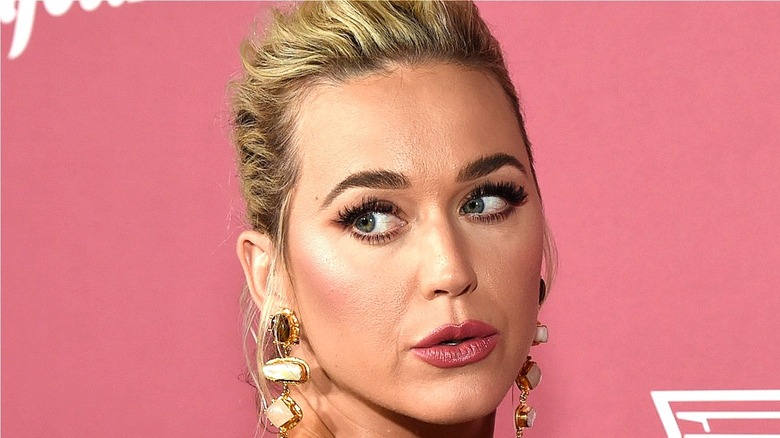 Michael Kovac/Getty
Sometimes in comedies, movie parts have to make way for punchlines. If too much characterization is added to the pot, the humorous momentum can be ruined. One film that was at risk of suffering such a fate was the "Forgetting Sarah Marshall" spin-off, "Get Him to the Greek." The film saw Russell Brand's rock icon, Aldous Snow, pulled along by Jonah Hill's desperate agent trying to get him to a major performance and one final show. Besides the incredible chemistry between Hill and Brand as the mismatched pair on a musical trip across the globe, Sean 'Puff Daddy' Combs also stole the show as record company executive Sergio Roma.
The movie takes plenty of jabs at the record industry, which was the perfect opportunity for various musicians and songwriters — from Pharrell to Pink — to make cameos. However, one name that wasn't on the guest list at the time of release was Brand's then-fiancée, Katy Perry. Sometime after the film wrapped, the songstress explained why she was absent from the film and that while she initially wasn't happy with the choice, she ultimately understood it.
Katy Perry was cut from Get Him to the Greek for the benefit of the audience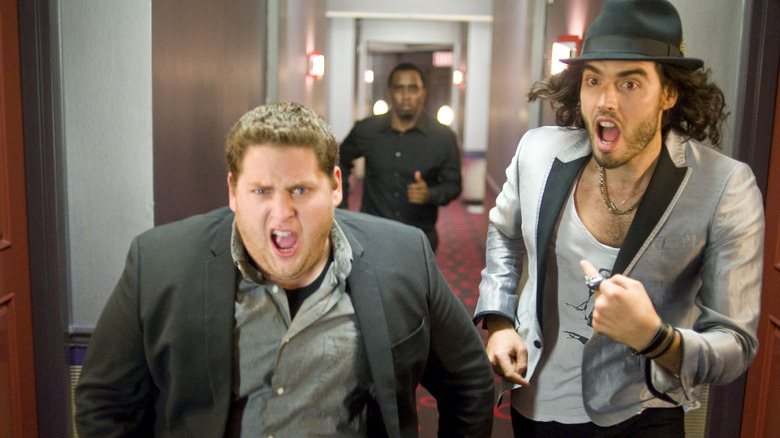 Universal
In an interview with MTV in 2010, Katy Perry revealed that she did film a scene with Brand, which may have felt too on the nose had it got into the final cut. The sequence would've shown Perry and Brand making out, amping up the rock-and-roll nature of Snow's character by showing him having romantic relationships with famous stars. The decision initially didn't sit well with her. As she explained, "I was like, 'I'm sleeping with you, and you're not gonna put me in the movie? That's so messed up!'"
In hindsight, however, the choice was a fair one. Seeing the real-life couple acting out in the scene may have been distracting. Perry admitted, "It seemed too much of a literal movie then, which I totally understand from a director's perspective or from a moviegoer's [perspective]." 
The moment may have been a tad too meta for the film, which would've taken the audience out of the story being told, furry walls and all. As Perry explained, "If you saw me and Russell making out, although it'd be cute to, 'cause that was the first moment we met, [it would feel like,] 'There's Russell Brand in the movie,' not Aldous Snow, and they want it to be Aldous Snow, [so it's] completely understandable."