Betty White's Lowest-Rated Movie You Probably Forgot Existed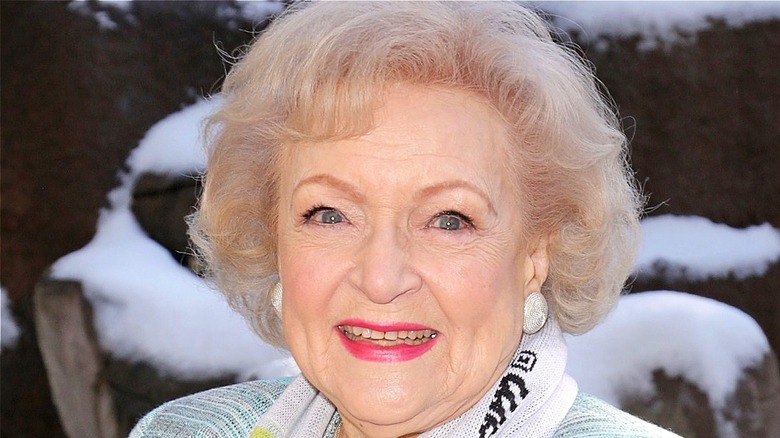 Brian To/Getty
Betty White was one of the most prolific actors of her time, and one of the most iconic performers working in Hollywood. She had 126 acting credits to her name, including 27 feature films (IMDb). She sadly passed away earlier this year, days before celebrating her centennial birthday. Betty White gave the world decades of entertainment in movies and TV, and she will certainly be missed.
Obviously, her passing has a lot of fans going back through her career. She's probably best known for her role as Rose on "The Golden Girls," but she had some fantastic roles in movies like "The Proposal" and "Lake Placid," just to name a few. Like most actors who have such a long and storied career, you can't take on that many acting roles without ending up in some duds. So let's take a look at the worst movie Betty White ever had a role in.
Betty White played Irene in the critically panned Love N' Dancing
"Love N' Dancing" is a 2009 romantic movie about an engaged woman (Amy Smart) who falls in love with her dance instructor (Tom Malloy) while trying to learn how to swing dance for her upcoming wedding to her emotionally neglectful husband (Billy Zane). The reviews from professional movie critics were so bad that it led to Rotten Tomatoes giving it a 17% approval rating and a 43/100 on Metacritic. You can't really blame Betty White for its poor performance though, as she played a very small but comical role in the film.
If critics had to judge the movie for her appearance alone, it's doubtful it would have gotten such a low rating. Although she only had 43 seconds of screen time, she danced beautifully with Malloy's character and blatantly hit on him after the dance was done. Then again, this wasn't her first time being flirtatious and unapologetically sexual in an acting role, either. It's one of the reasons she's regarded as not just a talented actor, but a feminist icon as well.