The Brooklyn Nine-Nine Episode You Didn't Know Stephanie Beatriz Directed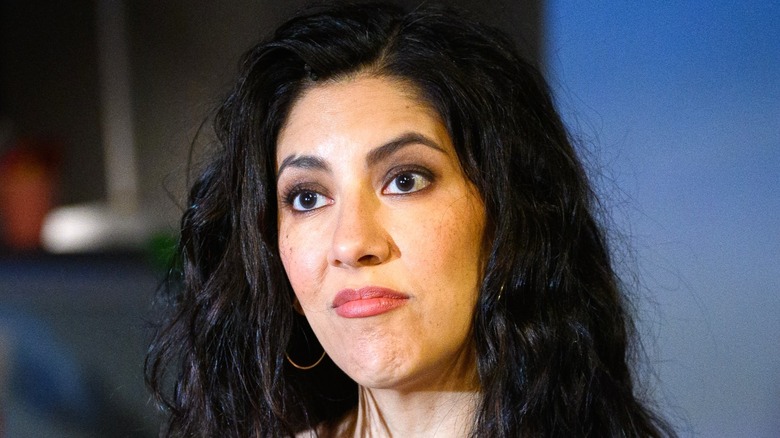 Joe Maher/Getty
Performer Stephanie Beatriz has drawn in many fans and earned acclaim for her work in movies such as "In The Heights," as well as voicing the character of Mirabel in the 2021 film "Encanto" and a number of characters in the animated Fox series "Bob's Burgers" (via IMDb). She was even rumored to join the Marvel Cinematic Universe in a major role. However, her most prominent role to date has been that of Detective Rosa Diaz in the show "Brooklyn Nine-Nine."
While Diaz is a mainstay over the course of the show's eight seasons, becoming one of the most likable characters in the process, her work in front of the camera is not the only contribution Beatriz made to the series. Beatriz also took over directing duties for a major episode in the series' run, a fact that not many fans of the show are aware of. Here's the "Brooklyn Nine-Nine" episode you didn't know Beatriz directed.
Beatriz made the jump for a Season 6 episode despite having doubts
In Season 6 of "Brooklyn Nine-Nine," Stephanie Beatriz stepped behind the camera for Episode 8, titled "He Said, She Said" (via IMDb). The episode revolves around Detectives Amy Santiago (Melissa Fumero) and Jake Peralta (Andy Samberg) investigating a case of sexual assault with conflicting stories, while Captain Holt (Andre Braugher) goes after his old nemesis, the Yo-Yo Strangler, after not believing a report about the latter's death in a prison transport accident.
In an interview with Variety, Beatriz spoke about how her time on the show gave her the confidence to step forward and ask to direct an episode. Being able to observe how the show worked behind the scenes for an extended period of time eventually got her to a place where she felt ready to direct an episode, despite her lack of formal training. Beatriz went on to speak about how being able to direct Fumero helped her because of the close relationship the two performers have. "Not only do we have a shorthand where I just have to say two words to her and she knows what I mean, but we trust each other implicitly, and I'm a huge fan of her work," Beatriz said.
In an article she guest wrote for Glamour, Beatriz also said she drew inspiration from filmmaker Ava DuVernay. "But then I asked myself, 'What would Ava DuVernay do?' I decided that she would trust herself. I also decided she would go to the bathroom and do a silent scream of frustration in a stall (again, highly recommended)."