The Best Henry Reagan Episode Of Blue Bloods Ever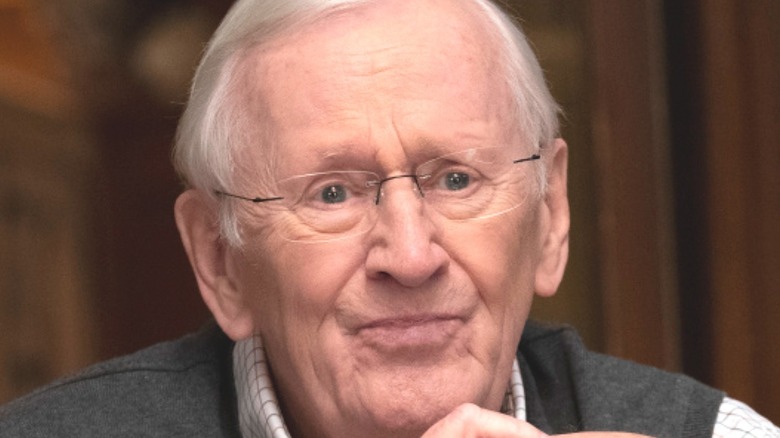 Patrick Harbron/CBS
As the eldest and bearer of the NYPD legacy to the Reagan family, Henry Reagan (Len Cariou) has a long and honor-filled history. He grew up in the 1930s with a tough childhood due to his father's alcoholism and inability to hold down a job. Henry joined the marines (a tradition passed on to his son and grandson) and served in WWII and Korea. After his service, he joined the NYPD, where he rose first to a detective, then eventually to Police commissioner, a role he also was followed in by his son.
While not a lot is known about his time as an officer or the commissioner, comments are made (or anecdotes are told) that give a glimpse into his time. Sometimes, "Blue Bloods" will provide us with a Henry-centric episode where we get to know the eldest Reagan by diving into his past. He is always ready to be involved, from making comments about police brutality unknowingly on camera to involving himself with Danny's (Donnie Wahlberg) investigations.
However, one episode stands above the rest that gave us the best peek into Henry Reagan and who he is. Here is the best Henry Reagan episode on "Blue Bloods."
Henry investigates his old partner
In Season 4, Episode 9, "Bad Blood," we get our most profound look into Henry Reagan's career. It starts with him attending a funeral for an old friend and former cop. During the reception, he speaks to the widow, revealed to be his former partner. Later at the reception, the widow's daughter approaches Henry and tells him that she believed her mother killed her father.
The episode had Henry wrestling with the fact that the woman he spent so much time with in a patrol car could be responsible for the death of her husband — his friend. A conversation with Frank eludes to the knowledge that feelings existed between the partners. This is important for multiple reasons. The first is that it raises the stakes of his actions in the present, and the second is because it makes Henry a person. He was a cop, but he was a man, one who made mistakes. The audience found a hole in his armor of duty and honor. He faced the temptation on the job and overcame it to stay faithful to his wife. These traits and qualities echo through the decades and create the Reagan family we see on the screen today.
In the end, Henry investigates his old partner. He decides that his life as an enforcer of the law can't sway because he knows the subject. His son and grandsons follow his lead and do the same thing multiple times. Henry set the example in this episode.