The AHS: Apocalypse Character That Has Fans Divided
Season 8 of "American Horror Story" may have been the most controversial ever. Not just because the Ryan Murphy universe is full of graphic content and disturbing imagery, but because the season was so divisive. "American Horror Story: Apocalypse" was a crossover event, notable for melding two previous seasons of the series. "Murder House" and "Coven" were early seasons of the show and the worlds were combined to make up the conflict in "Apocalypse" (via The Hollywood Reporter).
In the first episode, the entire world ends due to a vague missile strike. The most important people of society are taken to an outpost, which is essentially a fallout shelter. It is only revealed later that many of these characters are witches who are on one side of an ancient battle between good and evil. This was not necessarily a hit with fans. Some viewers found plot holes in "American Horror Story: Apocalypse," citing inconsistencies with the lore from earlier seasons. And that is only one of the complaints fans found with the crossover — many also could just not agree on how to feel about one particular character.
Some fans thought Mallory was underdeveloped
Billie Lourd has become a Ryan Murphy mainstay, appearing in many seasons of "American Horror Story." In "Apocalypse," her character Mallory seems unremarkable as Coco's (Leslie Grossman) assistant until her true nature is revealed. She eventually becomes the Supreme witch, her powers erupting out of nowhere and making her one of the most powerful people in the season. Many fans on Reddit thought that this happened too quickly with little development.
"I love Billie. But I think they didn't develop the character enough. They were just like SHES SPECIAL LOOK and here we go. I didn't hate her by any means, just needed more," posted one Redditor. "That was my feeling," agreed u/ktelizabeth1123. "There was really no reason to care about Mallory until boom, heroine. The lack of character development combined with the almost disconnected(?) air Billie gives some of her roles made it hard for me to be invested in Mallory."
Much of Mallory's use comes out of nowhere. "How she defeated Michael was just trash. I get that it was kind of funny, but after 6 episodes of build up, it just wasn't satisfying," u/MisterBri07 posted. Even though it is established that she is a powerful witch, this isn't how she defeats the Antichrist. Instead she hits him with her car and he dies in the street. There was no need for a Supreme at all if it is that easy to get rid of him.
But some did not understand the hate towards Mallory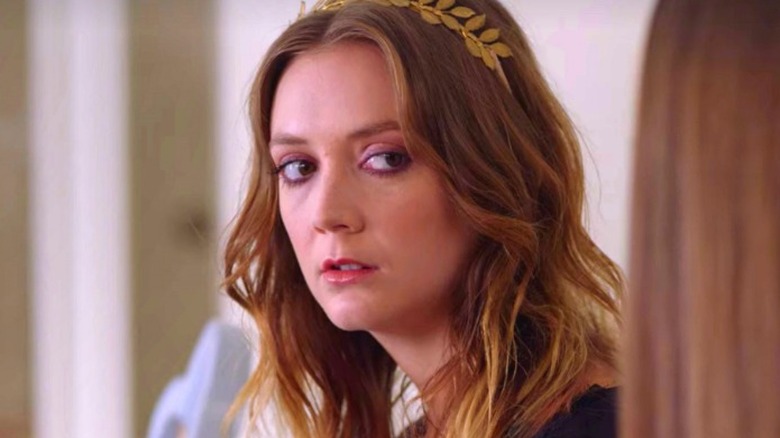 FX
"American Horror Story" often inspires differing opinions, and the same goes for Mallory. In the first few episodes, Mallory has no recollection of who she is and what she is capable of. Later on, she gets her sense of self back and discovers her talent for witchcraft. That is what other fans love about her, even if it came out of nowhere for some. "I absolutely loved Mallory. She had an incredible energy surrounding her when she wasn't under the identity spell," stated u/tangerinexsky. 
Another Redditor was shocked that Mallory was hated so much. "I did not [know] she was overhated," posted DarKnight972. "I liked her and she is probably my favorite Billie [Lourd] character in the show." This is a tall order, as Lourd has played many characters in the span of the entire series. Each time she appears onscreen, she brings a different element to the table. Many fans appreciate her presence and how she came into her own in Season 8.