AHS Fans Agree That This Is Their Favorite Billie Lourd Character
David Livingston/Getty
"American Horror Story" is a beloved horror and camp series from creators Ryan Murphy and Brad Falchuk. The show has captured the attention of both critics and fans alike and currently holds a 77% critic score across all seasons on Rotten Tomatoes. "American Horror Story" has also been nominated for 389 awards and has earned a staggering 128 wins for its endeavors (via IMDb). This of course is buoyed by the exceptional talents of the ensemble cast, like Sarah Paulson, Evan Peters, Jessica Lange, Kathy Bates, and Billie Lourd. This acting skill is often set upon different themes, time frames, and settings which keep the FX series fresh and exciting, but these differences often interconnect for an overall story arc.
"American Horror Story" has graced haunted houses, insane asylums, hell-spawned hotels, and doomed summer camps, and one of the most recent additions to the cast is Billie Lourd. Lourd is the only daughter of Carrie Fisher, best known for her role as Princess Leia in "Star Wars." Her family pedigree doesn't stop there, because Lourd's grandparents are Debbie Reynolds and Eddie Fisher, and her godmother is the legendary Meryl Streep. It is no wonder why Lourd is so popular on "American Horror Story," and fans have recently started to discuss her best role.
Which Billie Lourd character is the most popular in American Horror Story?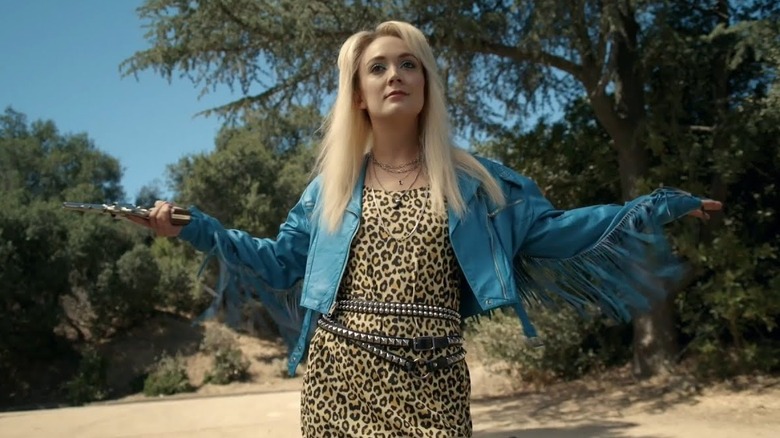 FX
Taking to Reddit, followers of "American Horror Story" hosted an informal poll as to which of Lourd's characters so far is her best performance. The options were Montana Duke, Winter Anderson, and Mallory. Montana Duke is the hard-rocking, slightly murderous Billy Idol fan from "American Horror Story: 1984" who has an encounter with a well-known serial killer, while Winter Anderson is the sister of a cult leader in "Cult," and Mallory is a time-twisting and powerful witch in "Apocalypse."
Once voting concluded, it was exceptionally clear who fans enjoyed the most, with it being Lourd's performance in "1984." The role netted 52% of the votes, with the runner-up being Winter, and finally Mallory. One Reddit user commented, "Honestly I never really realized how much I like Billie's characters and acting until I saw this because I normally focus on other characters but seeing this made me realize how every one of her characters is incredibly detailed and interesting. I genuinely had a hard time choosing." Many others agreed, but also mentioned her role in Ryan Murphy's other vessel, "Scream Queens." Either way, fans should be prepared for more aerobics from the popular actor.