Do You Need To Watch Breaking Bad To Understand Better Call Saul?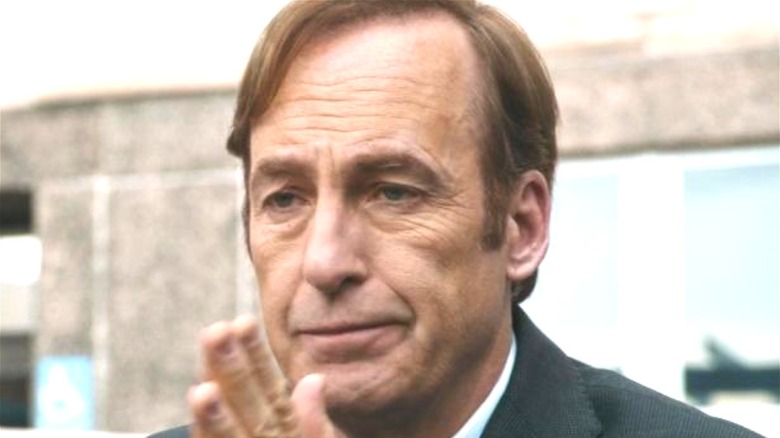 AMC
In the time-honored annals of television history, you'd be hard-pressed to find a show as lauded — and obsessed over — as "Breaking Bad." As it is, the iconic series has been off the air now longer than it was on. But even after almost a decade away, fans talk about "Breaking Bad" like it's still dropping new episodes every Sunday.
Part of the reason for that is, of course, that "Breaking Bad" mastermind Vince Gilligan returned to New Mexico's criminal underworld with the spin-off series "Better Call Saul." If you're unfamiliar with "Better Call Saul," it's a sort of origin story for "Breaking Bad" regular Saul Goodman (Bob Odenkirk), the shady-and-then-some attorney who regularly assists Walt (Bryan Cranston) and Jesse (Aaron Paul) in their criminal endeavors.
With five seasons already under its belt, and a final season on the way, "Better Call Saul" will actually air more episodes than the famed series that inspired it before leaving the airwaves. In the eyes of many, it may even outshine the original series in terms of both narrative ambition and emotional impact. And if you're among the precious few who skipped "Breaking Bad" but are still eager to get to know the man who would become Saul Goodman, you should indeed be able to do so sans a major "Breaking Bad" binge.
Some Breaking Bad knowledge makes Better Call Saul a lot more interesting, but it's very much its own series
Even though you can enjoy "Better Call Saul" if you know nothing about "Breaking Bad," your "Saul" experience would be infinitely enhanced with at least a little bit of "Breaking Bad" knowledge. The titular character did, after all, originate in the meth-addled world of Walter White and eventually became a key player in all the "Breaking Bad" insanity. So too did several other characters central to the "Better Call Saul" narrative, including Jonathan Banks' Mike Ehrmantraut, Michael Mando's Nacho Varga, Mark Margolis' Hector Salamanca, and Giancarlo Esposito's Gus Fring, among others.
While the "Better Call Saul" creative team has done a truly brilliant job of fleshing out those characters for folks in the dark about how things turned out for them once Walter White entered their lives, knowing what fates lie ahead for them bolsters their "Saul" dramas in ways that simply cannot be explained. Likewise, you'll have a much greater understanding of those black-and-white flashes of Jimmy that open every episode of "Better Call Saul" if you know where his "Breaking Bad" story leaves off.
For the record, there's also a treasure trove of "Breaking Bad" Easter eggs to be found and obsessed over in the telling of Saul Goodman's formative years. Still, "Better Call Saul" is so beautifully scripted, acted, and executed, you really don't need to know a thing about 'Breaking Bad" to revel in every slippery moment.