The Book Of Boba Fett's Rory Ross Reveals His Emotional Childhood Connection To Star Wars - Exclusive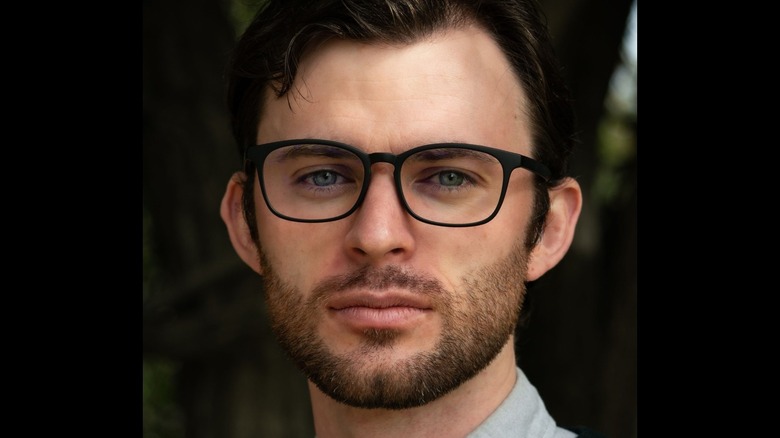 October Coast
Perhaps the biggest reason "Star Wars" is as popular as it was when "Episode IV" came out in 1977 is the emotional bond that was forged between franchise creator George Lucas' story and its audiences. Appropriately subtitled "A New Hope," it didn't matter the first film in the saga was set "a long time ago, in a galaxy far, far away" — the promise of hope is a relatable theme no matter where you are in the universe or how small you deem your existence to be. After all, for Luke Skywalker (Mark Hamill), the hope of good conquering evil by becoming a Jedi Knight began as a farm boy on the distant desert planet of Tatooine.
Naturally, every person is different in real life, and some are beset with more obstacles to conquer than others. One such person is Rory Ross, who was born in Arkansas and grew up on a farm, appropriately, in Iowa, bonding with the themes of "Star Wars" while going through the biggest battle of his life. The amazing thing is, not only did Ross rise to the challenge of defeating adversity, the strength he gained from "A New Hope" propelled him to live out his dream of not only becoming an actor, but ultimately, to be cast in a "Star Wars" project.
As such, Ross said he put his wishes out to the universe to manifest his destiny, and not long after, he was cast to play one of the band of Tusken Raiders who Boba Fett (Temuera Morrison) bonds with in "The Book of Boba Fett." That's not all: There's another "Star Wars" role in the actor's near future.
Star Wars helped Ross through a rare disease in childhood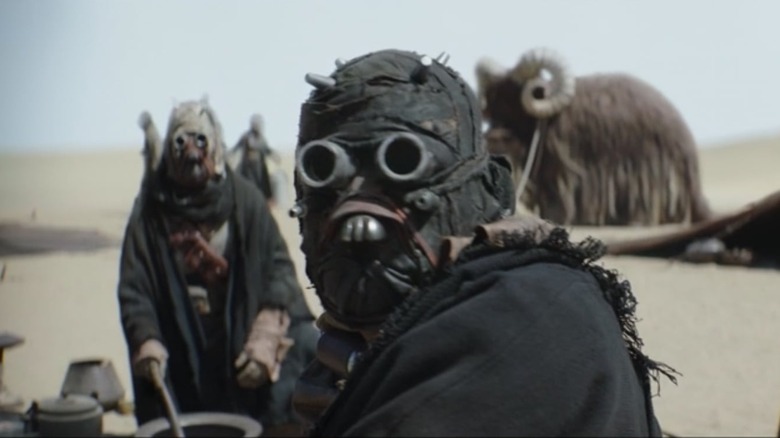 Lucasfilm/Disney+
In an exclusive interview with Looper to talk about his work on "The Book of Boba Fett," Ross said his introduction to "Star Wars" came in a most unusual way, as a rare disease affecting his scalp found him undergoing treatment at a hospital in Iowa City.
When I was 6 years old, growing up on a farm, I unfortunately had this rare fungus that got on the back of my head, and it literally destroyed my scalp. It was falling off, so, I went to the Iowa City's Children's Hospital. I was there for about a month going through different procedures as they tried to figure out what's going on," Ross recalled for Looper. "That first day I was there, my mom introduced me to 'Star Wars: A New Hope,' and that was my first time ever seeing 'Star Wars.' It was the first time understanding and seen this amazing journey of Luke Skywalker, who we've come to love throughout the series."
Ross' life was immediately transformed, and he credits it all to "Star Wars" and the immeasurable power of The Force that audiences discovered.
"It gave me the hope and inspiration that I needed that I was going to be okay, and that was so important at that time because at 6 years old, you're feeling like your life is full and nothing's going to happen, but there were kids that got better that were in the same pediatric ward with me," Ross said. 
The actor's incredible path to "Star Wars" and taking part in "The Book of Boba Fett" as a Tusken Raider is only the beginning. While he can't talk about the series yet, Ross confirmed that he is suiting up as a Stormtrooper for the upcoming prequel series "Obi-Wan Kenobi," starring Ewan McGregor and Hayden Christensen.
Ross is paying it forward with the 'Born to be a Jedi' campaign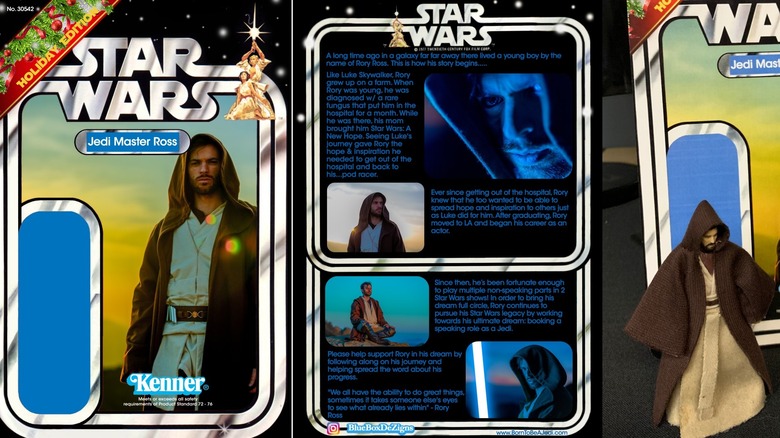 October Coast/Rory Ross
As Ross awaits the release of the "Obi-Wan Kenobi" series, he is keeping himself busy with a special project to help others.
"I created this 'Born to be a Jedi' campaign, the manifestation that we're talking about, and this," Ross said, holding up a personalized action figure, "was given to me for Christmas, where I am now a figurine as a Jedi, which is amazing. It has this story on the back of what kept me going as an actor and the hope and inspiration that I have and the chance of [something special happening]. Since we saw Luke in 'The Mandalorian' Season 2, we know that he's around, so it is possible and plausible [to live] my ultimate dream: to be a Luke Skywalker student at his Jedi academy."
"The Born to be a Jedi" campaign, Ross explained, connects the influence of "Star Wars" in his life and his desire to play a Jedi, it also involves his role as a Tusken Raider in "The Book of Boba Fett."
"I don't have the specific dates as of yet, but myself, another friend of mine that was a Tusken and my buddy, Warren Proulx, who actually got me on "Kenobi" ... we will be doing commentary on the episodes of "The Book of Boba Fett" when they've all come out and telling behind-the scenes stories and all this kind of stuff," Ross enthused. "Then, all the proceeds from the tickets will be going to Iowa City's Children's Hospital, which is where my story began ... It's a way of being able to pay it forward and give it back and to say, 'Thank you' to the universe that gave me everything that I could ever ask for."
New episodes of "The Book of Boba Fett" premiere on Wednesdays exclusively on Disney+.