Tusken Raider Rory Ross Reveals What It Was Like Working With Temuera Morrison On The Book Of Boba Fett - Exclusive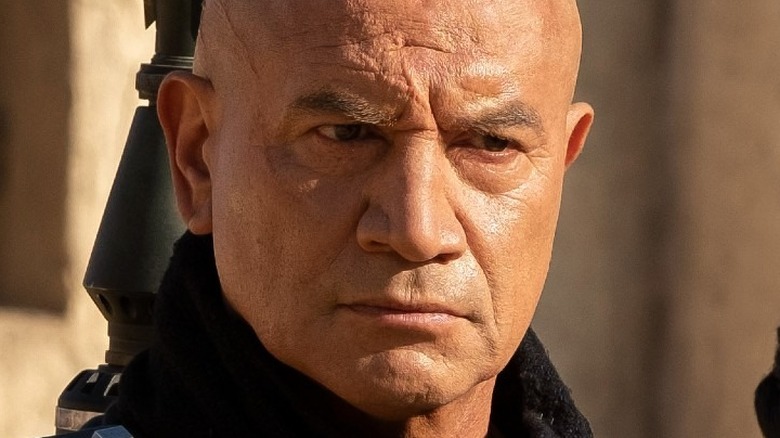 Lucasfilm/Disney+
"The Book of Boba Fett" marks a major career step for actor Rory Ross, who kicked off his stint in Hollywood in 2014 in the web series "Siblings." Since then, Ross has appeared in such TV series as TNT's "The Librarians" and "Mom" on CBS, and played infamous presidential assassin Lee Harvey Oswald in re-enacted scenes in the reality-based A&E and History series "JFK Declassified: Tracking Oswald."
At the tail end of 2021, however, Ross' lifelong dream of venturing to the "Star Wars" universe came to fruition when he joined the Tusken Raider tribe Boba Fett (Temuera Morrison) encounters in the Disney+ series "The Book of Boba Fett." Ross plays a couple of different Tuskens in the first three episodes of the streaming series — including that of a tribal elder, a role that he shares with his friend, Greg Kufera — which gave him the opportunity to be in different scenes with Morrison.
Bringing the Tuskens up to speed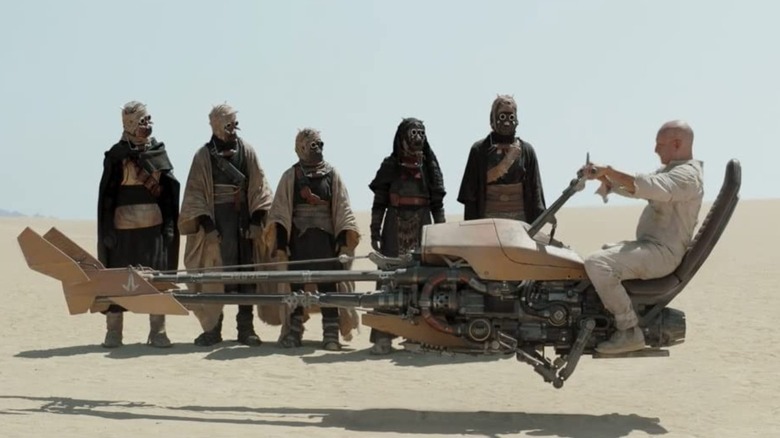 Lucasfilm/Disney+
A large part of the initial chapters of "The Book of Boba Fett" concentrates on the title character's travails after he fell into the Sarlacc Pit in the 1983 "Star Wars" film "Return of the Jedi." Recounted in flashback dream sequences while Boba is healing in a Bacta tank, the scenes show how the bounty hunter escaped the Sarlacc creature, only to be captured by a band of Tusken Raiders. First a prisoner, Boba proves his worth to the Tuskens by slaying a massive sand monster, earning a reprieve and rare opportunity to be trained by them. Later, Boba aids the Tuskens by devising a plan to derail a train of bandits who are threatening them. Part of that plan, however, is to teach the Tuskens how to drive speeder bikes, but the communication barrier between him and his new allies tests his patience.
"I feel like he did get quite annoyed when we were doing this scene where he brings in the speeders and he's trying to talk to us and saying, 'These speeders, they're for us.' We're not paying him any mind, we're just throwing the pieces of this speeder away and thinking, 'Oh, we need to take these parts and scavenge them,'" Ross recalled for Looper in an exclusive interview. "There were a few takes where he's still talking to us and we're waiting for the chief to give us the signal, and we're literally just throwing things away and he was like, 'Stop! Stop!' I think after a while he was like, 'Okay, how long we going to let them go?' [It was a] 'Let's move on' sort of thing."
Ross loved how Morrison took ownership of his role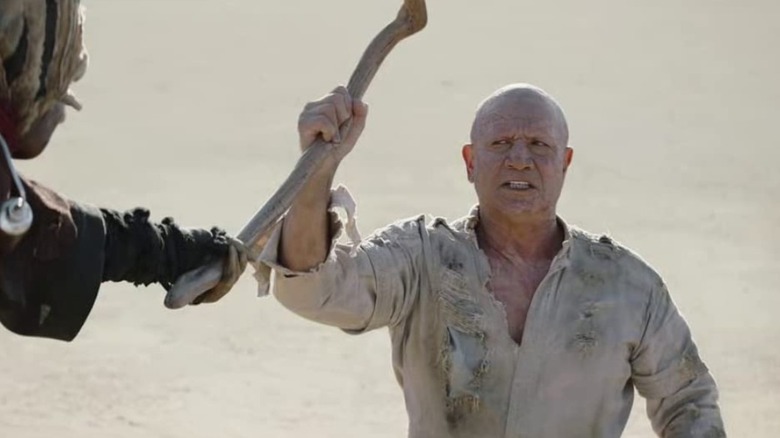 Lucasfilm/Disney+
Ross said he admired seeing Morrison work because the veteran actor plowed through any potential setbacks by taking on tasks original meant for his stunt double.
"I didn't get to be a part of it, but they called us to set. It's the fight between Joanna Bennett — her Tusken warrior — who takes on Tem," Ross shared with Looper. "If I remember correctly, his stunt double was actually the one doing the scene at the very beginning, but then his double got hurt and then Tem was like, 'Screw it, I'll do it.' He gets in there and he's ruffling and tussling with Joanna. Tem's a beast, but he's so humble, so gentle of heart and mind, and was very kind and making sure that he was letting everyone [know], "Thank you so much for being on set," and just making sure that we felt welcome. I can't speak highly enough of Tem. It was really fun."
On top of that, Ross admired Morrison for taking the heat, quite literally, since a lot of the scenes were shot outdoors.
"That sun — the California sun is no joke, no matter what time of the year — and he was tough, he stayed in [the scene]." Ross said. "Oftentimes, usually you'll bring in your stand-in, but he would be like, 'No, I'm just going to do it because this is my role. This is the ownership I want to take up.'"
"The Book of Boba Fett" is streaming exclusively on Disney+, with new episodes dropping every Wednesday.