Shawn Ashmore's Surprising Connection Between The Boys And X-Men - Exclusive
Twentieth Century Fox
The release of "X-Men" in 2000 ushered in a new era of blockbuster superhero films that's still going strong today. Among the members of the critically acclaimed film's ensemble cast was Shawn Ashmore, who originated the character of ice-powered mutant Bobby Drake, AKA Iceman, a role he reprised in 2003's "X2: X-Men United," 2006's "X-Men: The Last Stand," and 2014's "X-Men: Days of Future Past." That legacy made Ashmore the ideal choice to play the disgraced fire-powered Supe Lamplighter in Prime Video's series "The Boys," a deconstruction of superhero stories that relies on our knowledge of movie franchises like "X-Men" for its smart — and often extremely violent — commentary.
In discussing his turn as Lamplighter during an exclusive interview with Looper, Ashmore noted he was excited to become part of "The Boys" universe because of the way the show turns our expectations of superhero tropes on their head. His character is a continuation of that trend, which Ashmore captures with all the drama, humor, and action that's made the show so popular. Ashmore continued the conversation by pointing to the connection between Lamplighter in "The Boys" and Bobby Drake in "X-Men" and comparing the costumes designed for the two characters.
'Playing against Iceman'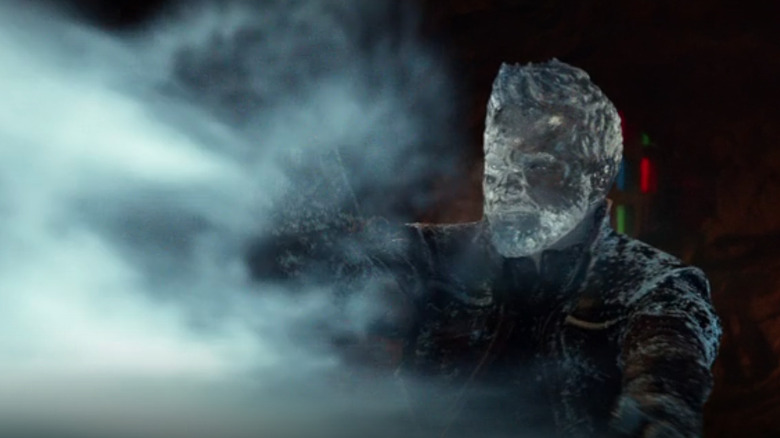 Twentieth Century Fox
Taking on the role of Lamplighter wasn't simply a case of Ashmore returning to his superhero roots, as Lamplighter is much more than fire to Bobby Drake's ice. Where Lamplighter is corrupt and morally conflicted, Iceman is noble and selfless. While Lamplighter was kicked off "The Boys'" core superhero team The Seven, Iceman grows to become a full-fledged member of the X-Men, and whileLamplighter develops an eyebrow-raising superhero porn addiction, Iceman maintains a relationship with fellow mutant Rogue.
When Ashmore was offered the role of Lamplighter, the contrast wasn't lost on him. "I loved the idea of playing against Iceman," he confessed. "I mean, that's why they cast me. That's why they came to me with this role. It was very obvious to me. And I was like, 'Oh, good. We're in on the joke. We all understand what this is.' I'm going to play Pyro [the X-Men's version of a superhero that controls fire] in 'The Boys.' That's fun. I get it. I really want to do this."
Costume comparisons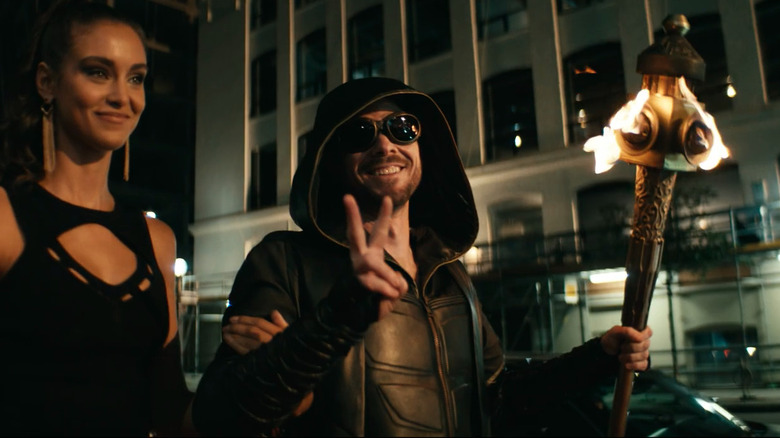 Prime Video
Ashmore's arc on "The Boys" was short but significant. Over just a couple of episodes, Lamplighter made quite an impression. Meanwhile, Ashmore was impressed with Lamplighter's impeccably made superhero suit, a costume he compared to his wardrobe for "X-Men."
"They made this beautiful, insane Lamplighter costume that was crazy. It [took] months to make and to fit, and they do such an incredible job," Ashmore revealed. "[It] rivals the "'X-Men' as far as costumes because I've done a couple of superhero costumes, and the 'X-Men' fittings and the detail and stuff that they did was insane, but 'The Boys' is at that level or higher. I got a cloak and stuff, and a hood, so it's a cooler costume "
Ashmore was so struck by the work put into Lamplighter's supersuit that he wished he could have worn it more. "They put so much effort into making [Lamplighter's costume], I was like, 'That's it?' We only really saw him in it twice," Ashmore observed. "So I joked when I was leaving, 'You got to do like a bottle episode in a season where you go back in time where it's the original Seven or something like that.'"
"The Free Fall" is now playing in select theaters and is available on VOD and digital.