How Eric Andre Really Felt Being On Jackass Forever's Set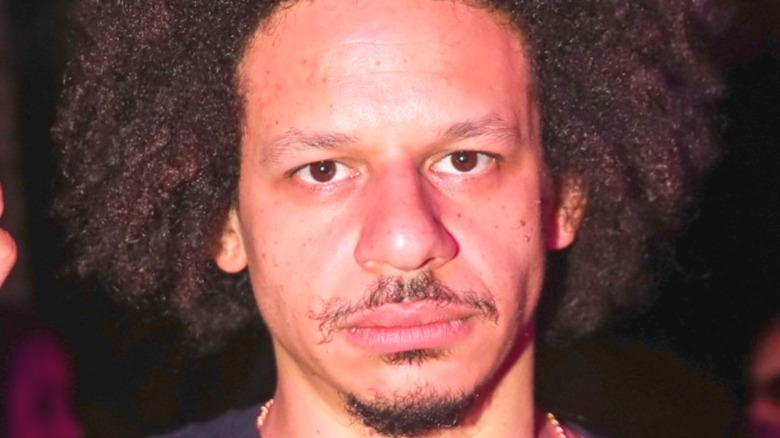 Thaddaeus Mcadams/Getty
Being on the set of a "Jackass" film is a dangerous place for anyone to be. As a franchise, "Jackass" is known for the ludicrous and dangerous pranks and stunts that are carried out by its eccentric cast of real-life performers. Therefore, being involved in the production of a new "Jackass" film automatically means opening yourself up to the kinds of pranks and stunts that have become synonymous with the franchise. For most actors, celebrities, and famous performers, that understandably makes hanging out with the "Jackass" team seem like a daunting idea.
But what about for someone like Eric André? The celebrity and comedian has plenty of experience pulling off and participating in strange pranks on his Adult Swim series, "The Eric Andre Show," as well as in the 2021 comedy film, "Bad Trip." Taking that into account, one could presume that André's pranking experience makes him uniquely well-suited to be on a "Jackass" set. In fact, that's probably why André is one of the celebrities who appears in the upcoming "Jackass" sequel, "Jackass Forever."
With that in mind, it's worth asking: Was being involved in the making of "Jackass Forever" as stressful for André as it likely was for the film's other participants? Or did his history with pranks make the movie's production process a little easier for the comedian?
Eric André was very 'nervous' on the Jackass Forever set
While speaking with Entertainment Weekly about his role in HBO's "The Righteous Gemstones," Eric André opened up about his experience working on "Jackass Forever." As much as it may come as a bit of a surprise to André's fans too, it turns out that his experience working on prank shows and films didn't make being on the "Jackass Forever" set any less stressful for him.
"Godd***, I was so nervous on the 'Jackass' set, because every chair you sit in, every square inch, there could be an explosive or a venomous snake," André revealed. The comedian went on to say that "there's nowhere safe" on a "Jackass" set because " they're constantly filming you and they're constantly f***ing with you."
After looking at the footage in "Jackass Forever," it's easy to see the truth in André's comments. Not only do the film's trailers tease its many ridiculous stunts and pranks, they have even included teases of a time when André went to order a coffee on the "Jackass Forever" set only to end up getting hit in the face for it. But while those kinds of pranks may have made his time on the film's set a nerve-wracking experience for André, his comments here likely come as music to the ears of "Jackass" fans everywhere.