Why Laureline From Valerian Looks So Familiar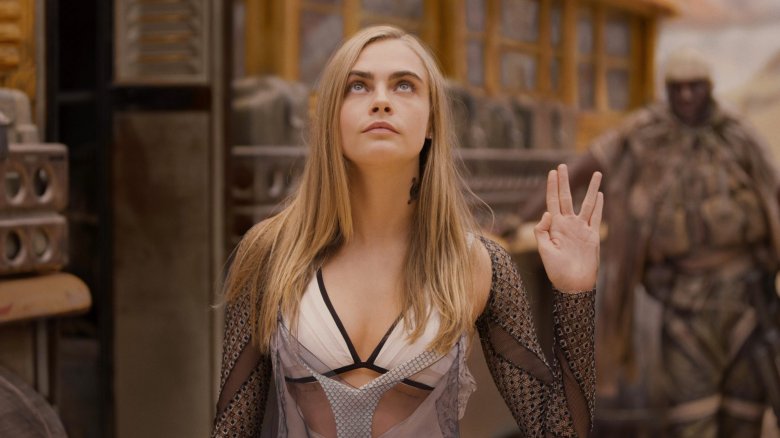 There's no denying Cara Delevingne took an interesting route to Hollywood. Though it eventually landed her the co-starring role of Laureline in Valerian and the City of a Thousand Planets, before she headed to the space station Alpha, Delevingne was strolling the catwalk and casting spells in DC Comics' cinematic universe. Oh, and rocking out with Pharrell. Where might you have seen the Valerian co-star before? Let's take a look.
Her accomplished modeling career
Years before she was an up-and-coming actress landing gigs in summer tentpoles, Delevingne was a major player in Britain's modeling scene. She might just be in her early 20s, but Delevingne has actually been modeling for more than a decade, after getting her start at the age of 10. She made her first catwalk appearance in 2011 at London's Fashion Week, and over the next few years she'd find herself a staple of New York Fashion week as well, walking for fashion labels such as Rag & Bone, Jason Wu, and Oscar de la Renta. 
That landed her the "Model of the Year" award in 2012 and 2014 from the British Fashion Awards. Along with her runway work, Delevingne is also a familiar face on the magazine stands, having been featured on the covers of U.S. and international editions of GQ, Glamour, Cosmopolitan, Vogue, Esquire, and several others. Though she carved out quite a career in modeling, she eventually left the field behind when she decided to take a serious shot at acting, telling London's Times that her tenure as a model made her "feel hollow" and challenged her health. She added that she felt her work "didn't make [her] grow at all as a human being." Lucky for Delevingne, things seem to be going great in Hollywood.
Anna Karenina (2012)
One of Delevingne's first major jobs in Hollywood was a smallish role in the film adaptation of Leo Tolstoy's 1877 novel Anna Karenina, playing the virginal romantic object Princess Sorokina. It wasn't a huge part, but it gave the young actress a chance to share the silver screen with several A-listers, including Keira Knightley and Jude Law, and get her face in front of moviegoers. Delevingne told The Telegraph her role in the film was the perfect introduction to acting and working on a film set, noting she "tried to channel [her] experience of modeling," but found acting to be a very different type of role—she often "found [herself] posing," and had to "really concentrate on the part and the character."
​Her duet with Pharrell Williams (2014)
Along with breaking into Hollywood, Delevingne also leveraged her modeling success and voice talent into a duet with Pharrell Williams on the song "CC the World," used in the short film Reincarnation, developed by Chanel. Both Pharrell and Delevingne star in the short, which was directed by Karl Lagerfeld and focuses on Gabrielle "Coco" Chanel during her 1954 vacation in Salzurg, Austria, telling the story of how she was inspired to create her famous coat and fashion style. 
Delevingne and Pharrell share an explosive dance number, and Delevingne said she was so happy she "screamed down the phone" at Lagerfeld when she was approached about the project. Along with her work in Reincarnation, she's also released some cover songs in her native Britain. Despite her love for music, she apparently has no immediate plans to put out a formal album. Regardless, there are worse ways to start off a music career, right?
The Face of an Angel (2014)
Following her supporting role in Anna Karenina, Delevingne got a chance to flex her acting muscles a bit more in the psychological thriller The Face of an Angel, directed by Michael Winterbottom and starring Kate Beckinsale and Daniel Brühl. The film was critically panned, but Delevingne at least had a meaningful role as the character Melanie, who show's Brühl's Thomas the seedy underbelly of Italy. 
The story was inspired by the real-life murder of Meredith Kercher in 2007, and based on the crime coverage of journalist Barbie Latza Nadeau. Delevingne told Time Out the role gave her a chance to start proving herself as an actress, even if there was some pushback for the model-turned-starlet: "People can call me whatever they want, and put me in whatever category. I just hope I can do good work and make good movies with people who inspire me."
Taylor Swift's 'Bad Blood' (2015)
Taylor Swift's video for her single "Bad Blood" was a butt-kicking smash hit loaded with stars: Delevingne joined Jessica Alba, Cindy Crawford, Selena Gomez, Kendrick Lamar, Zendaya, Lena Dunham and a whole lot more for some epic fight scenes that would make Michael Bay blush. Delevingne plays Mother Chucker, a nunchuck-wielding member of T-Swift's gang. The video is basically its own, explosion-filled sci-fi flick, and also serves as an early indication for the type of action heroine role Delevingne takes on in Valerian as Laureline. Just, you know, with less nunchucks. 
Paper Towns (2015)
One of Delevingne's biggest roles in the U.S. was co-headlining Paper Towns, the 2015 adaptation of John Green's bestselling novel of the same name. She was already on the map (no pun intended), but this one made her a big screen star—she played Margo in the coming-of-age story, alongside Nat Wolff's Quentin "Q" Jacobsen. The film garnered decent reviews from critics and proved a surprise hit at the box office, making $85 million against its conservative $12 million budget. The marketing campaign for the project also gave Delevingne one of her earliest brushes with the insanity of Hollywood, after a bizarre interview with Good Morning Sacramento went viral when she seemed to have a bit of an attitude with the hosts. Green came to her defense, noting she simply "refuses to indulge lazy questions and refuses to turn herself into an automaton to get through long days of junketry." Which, hey, it's hard to blame her. If nothing else, it makes for more entertaining interviews.
​Pan (2015)
This revisionist take on the classic tale of Peter Pan wasn't Delevingne's biggest role, but it certainly was one of her most memorable. There have been more than a few attempts to bring this story to the big screen, and though Pan proved to pretty much be a dud with critics and audiences alike, it did feature one of the coolest mermaid scenes ever put to screen—thanks to Delevingne. She played twin mermaids, jumping in to help rescue young Peter (Levi Miller) after an attack from a giant crocodile (hey, Neverland is a dangerous place). It's a positively gorgeous sequence, and Delevingne brings a mystery to the short scene that really works to set it apart from what fans—of both the actress as well as the story—might have expected.
Kids in Love (2016)
Delevingne has done a good job of balancing her career between smaller dramas and expensive blockbusters, and this 2016 project swung the pendulum back in the indie direction after Pan. She took on the supporting role of Viola in this twisty young adult romance drama set in what's described as an "underground, bohemian London" and focusing on love, loss, and the travails of navigating your early 20s. A review in Movie Talk noted Delevingne was "perfectly at home in this milieu, [adding] her customary boho chic in a supporting role" as part of a cast rounded out by Will Poulter, Alma Jodorowsky, and Sebastian De Souza.
Suicide Squad (2016)
Delevingne picked one heck of a big stage to show she also has the chops to play bad—and she was oh so good at it as June Moon, a.k.a. the Enchantress, in the DC Comics supervillain team-up Suicide Squad. 
The movie made a whole lot of money despite a so-so critical response, and Delevingne helped drive the plot as an archeologist who becomes possessed with an ancient evil which eventually leads her to turn on humanity and try to destroy the world with a giant mess of CGI (or something, that movie admittedly didn't make a lot of sense). Regardless of the film's merits, Delevingne gave it her all. She told W that there still wasn't even a script when she agreed to join the project, but director David Ayer asked her to "go and try and find a forest and, if it was a full moon, get naked and walk through the woods with my feet in the mud"—which she did, helping her channel the intensity needed to bring the Enchantress to life.