The Saddest Moment In Blue Bloods Season 4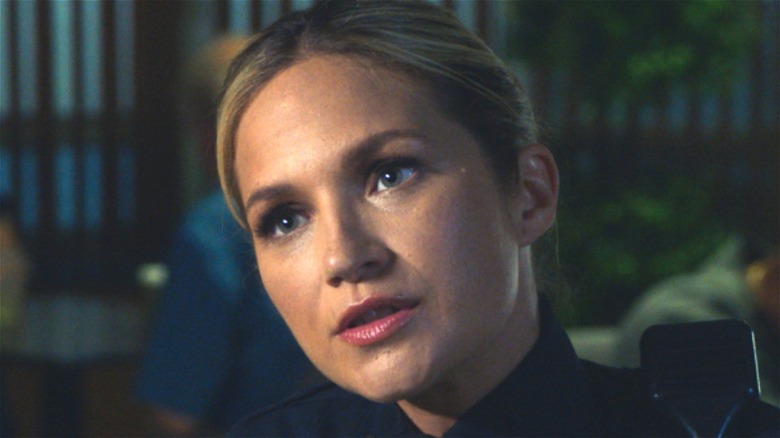 CBS
When you watch a series for over a decade that focuses on the darker themes of humanity, there will inevitably be unbearably sad moments. For a series like "Blue Bloods," those sad moments feel like they happen in every episode. Each character faces people in their jobs daily who need help.
In Season 4, those moments tend to hit hard as they become more personal for each. For example, Frank Reagan (Tom Selleck) comes face to face with a mother (Karen Allen) who is grieving over her daughter murdered years before, believing the killer is still at large. Elsewhere, Danny Reagan (Donnie Wahlberg) gets pulled into a kidnapping case that brings the father of a girl kidnapped seven years prior out to beg for his help again. Both instances show the writers' expert ability to make you feel what the characters feel — the grief of the two parents, the empathy of the Reagans, and the knowledge of the agony those parents felt for years.
By the end of each episode, the Reagans typically find a way to rectify the situation and bring peace to those in pain. However, in one episode, despite how hard they try, one Reagan cannot help someone, and the gravity of the situation hits hard. Here is the saddest moment in Season 4 of "Blue Bloods."
A lesson in futility
Jamie Reagan (Will Estes) may be the purest of the Reagans. He is steadfast in his duty, has an optimism about the difference he can make in his community, and usually follows the rules to the letter. He may also have the biggest heart, often attempting to go above and beyond for many people he encounters on the street.
In Season 4, Episode 5, "Lost and Found," Jamie and his partner Eddie (Vanessa Ray) go undercover in a jewelry store that has seen a lot of illegal activity. A man takes the store hostage when the store can't give him a cash refund for a custom ring. As Jamie tries to talk him down, he discovers the man's fiancée left him; he is at his breaking point. Jamie ultimately talks him down and convinces him to let everyone go, not realizing Jamie is a cop. After making the arrest, Jamie makes a case for Erin (Bridget Moynahan) to give him the benefit of the doubt. Later, Jamie is devastated when the man hangs himself in his cell.
The sadness of this episode is partly the man's story, as his heartbreak and grief drove him to extreme measures when he had no history of violence or criminal behavior. It is also the moment you see a little optimism leave Jamie. This is a moment when he realizes he can't save everyone. It's the first moment you see Jamie Reagan understand the occasional futility of his job.
If you or anyone you know is having suicidal thoughts, please call the National Suicide Prevention Lifeline​ at​ 1-800-273-TALK (8255)​.