What Gretchen Mol From Yellowstone Is Doing Now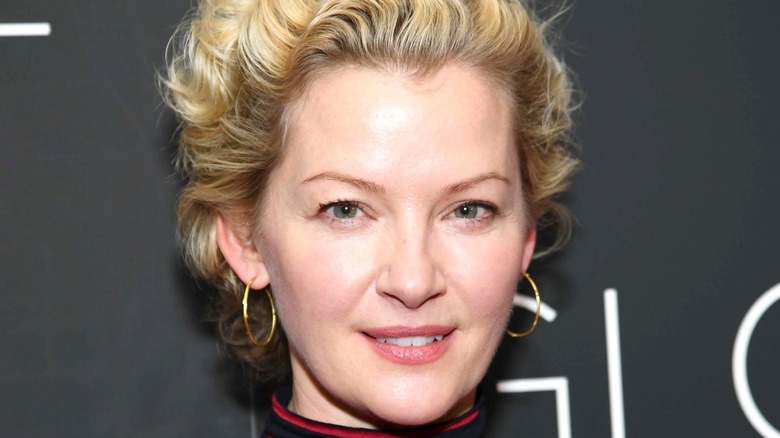 Dimitrios Kambouris/Getty
With a career in film and TV that stretches back to the '90s, Gretchen Mol was hardly an unknown when she was cast to play the deceased wife of John Dutton (Kevin Costner), Evelyn Dutton, during flashback sequences in the 1st season of "Yellowstone." Whether playing pin-up girl Bettie Page in "The Notorious Bettie Page" or madame Gillian Darmody on "Boardwalk Empire," Mol has proven how effortlessly she can move between genres. So, it likely wasn't a surprise for anyone who follows her career to see her saunter onto the neo-Western series as the Dutton matriarch.
But what has Mol been up to since her time at the Yellowstone Ranch? With both her and her husband working in Hollywood and raising two kids, she believes that balance is very important. "I always consider every role I take not just in terms of its value to me as an actor but also in terms of how it will affect my family," she told Imagista. "I have an amazing family and husband who, if there was something amazing that came along, regardless of where it filmed, that I could go do it."
And it does seem that Mol has had a few such offers since appearing on "Yellowstone."
Gretchen Mol has had several prominent roles since Yellowstone
Around the same time she was making "Yellowstone," Gretchen Mol was also filming the Netflix/Syfy series "Nightflyers," a sci-fi horror tale based on a novella by George R. R. Martin. "This was one of the first times that I took everybody and it worked out so beautifully," Mol said of filming the series during her Imagista interview. "Coming from New York City to rural Ireland was like a dream."
The series ran for one season, and following that stint, the actor also made guest appearances on the "Twilight Zone" reboot and HBO's "Perry Mason." As for what's coming up next, Mol has two very different projects coming up. One is the series "American Gigolo," which is based on the 1980 film of the same name that starred Richard Gere. Mol will play the role of Michelle that was originally played by Lauren Hutton, along with a cast that includes Jon Bernthal, Wayne Brady, and Rosie O'Donnell (via The Hollywood Reporter). Her other project is the indie film "Palm Trees and Power Lines," the debut of director Jamie Dack. 
As for whether more "Yellowstone" episodes are also in her future, Mol told TV Insider in 2018 that she's open to coming back should the series incorporate more flashbacks. However, for the time being, it seems that she's keeping busy enough as is.