Here's How Sam Raimi Really Feels About Spider-Man: No Way Home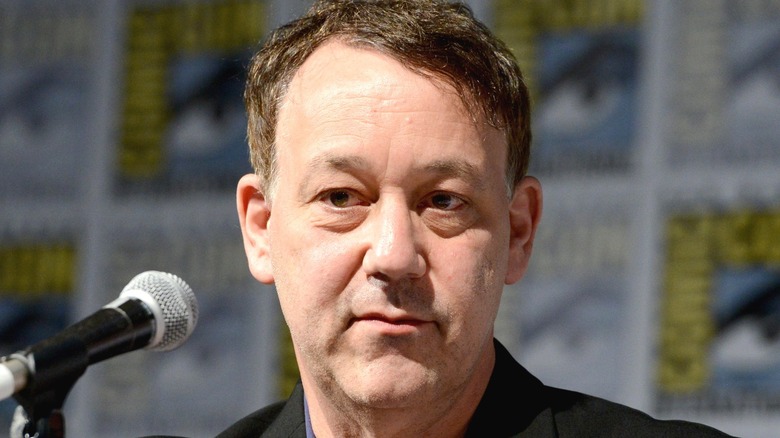 Michael Kovac/Getty
Contains spoilers for "Spider-Man: No Way Home." 
In case you hadn't heard, the Marvel Cinematic Universe has officially gone multi-verse with the arrival of "Spider-Man: No Way Home." And just like the first two films in the Tom Holland-fronted "Spider-Man" franchise, "No Way Home" has proven a big hit with both fans and critics (per Rotten Tomatoes). It's also become one of the highest-grossing films ever, with Box Office Mojo currently slotting it into the number six spot on the all time list.
Since the release of "Spider-Man: No Way Home," much has naturally been made of the return of several villains from "Spider-Man" movies past. It's safe to say, however, considerably more fanfare has heralded the MCU arrival of the Spider-Men those baddies battled in previous films, with both Andrew Garfield and Tobey Maguire suiting up for this multi-versed sequel. The inclusion of the latter actor in particular has fans buzzing as Maguire's "Spider-Man" trilogy remains a favorite for an entire generation of superhero movie lovers.
It's also led to many to question what Sam Raimi (who directed the Maguire trilogy) thinks about not just the new movie, but the return of his own "Spider-Man" actors. Here's how Raimi really feels about "Spider-Man: No Way Home."
Raimi enjoyed seeing his Spidey peeps in No Way Home
Not surprisingly, Sam Raimi has nothing but kind words for "Spider-Man: No Way Home." He admitted as much in a recent interview with Variety, noting of the latest "Spider-Man" movie, "It was so much fun." Raimi went on to offer that the audience he saw it with enjoyed the screening as much as he did: "I love 'No Way Home' and the audience I was with went crazy."
As high praise as that is coming from Raimi, the current "Doctor Strange in the Multi-verse of Madness" helmer spoke even more glowingly of the actors he'd cast in his own "Spidey" flicks, noting, "It was delightful to watch Alfred play his role, and Willem Dafoe, just seeing these guys take it to the next level. And Tobey was awesome as always." Raimi ended his mini "No Way Home" review by summing up his feelings in a single word, stating, "The best word I can say is it was refreshing for me."
Raimi is no doubt hoping his upcoming "Doctor Strange" sequel will leave MCU fans feeling the same way. But even as that film's May 6 release date approaches, Raimi's still not sure if he's finished with its extensive re-shoots, telling Variety, "I think we're done, but we just cut everything... One thing I know about the Marvel team is they won't stop. They'll keep pushing it until it's as close to being great as it could." Here's hoping he's right on all fronts.