Is Julian McMahon Really Leaving FBI: Most Wanted?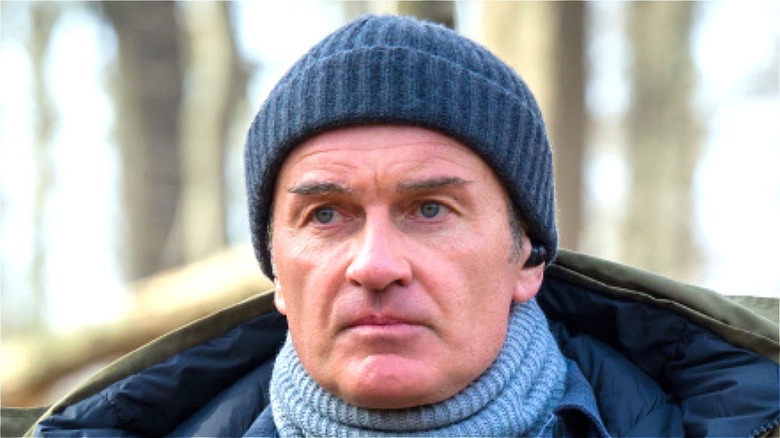 Mark Schafer/CBS
Like the massively successful "Law & Order" and One Chicago franchises before it, the series "FBI" is a Dick Wolf network procedural that has begun to launch its own universe of spin-off shows. 2020 saw the first of these spin-offs, "FBI: Most Wanted," premiere on CBS, and by 2022, the series was already on its third season.
"FBI: Most Wanted" follows its titular federal agents as they hunt down the most dangerous criminals and fugitives from justice. Leading the team is Special Agent Jess LaCroix, played to steely perfection by Julian McMahon. From active shooters to terrorist cells, LaCroix takes these threats on with his team beside him, comprised of Kellan Lutz as Special Agent Ken Crosby, Roxy Sternberg as Special Agent Sheryll Barnes, and more top-tier talent.
But as "FBI: Most Wanted" edges toward the finale of Season 3, it looks like a big casting change may be underway, and the Fugitive Task Force may require new leadership in Season 4.
McMahon says he's leaving FBI: Most Wanted in a 'seamless and productive' way
Fans of "FBI: Most Wanted" are indeed about to see a major shakeup to the cast, as Julian McMahon has confirmed that he's departing the series, according to Variety. Although a precise reason for his departure was not given, the decision seems to have been in the works for some time now, apparently in order to make McMahon's exit from the show less abrupt. In a statement, McMahon told Variety, "Over the past few months, the producers of 'FBI: Most Wanted' and I have had discussions about my departure from the show in favor of additional creative pursuits and the transition of my character Jess LaCroix."
The actor was clear that his decision to leave was made in collaboration with the show's producers to ensure a smooth continuity for viewers, saying, "These ongoing conversations have given us an opportunity to orchestrate a seamless and productive way for me to leave the show."
McMahon expressed his gratitude to executive producers Dick Wolf and Peter Jankowski. In a statement of his own, Wolf returned the sentiment, saying, "We are saddened to see Julian leave. His portrayal of agent Jess LaCroix has been a key factor in the success of FBI: Most Wanted. We will miss him, and we wish him the best in his next chapter."
It's not the first time the crime drama has lost an actor. After losing multiple family members to COVID-19, Kellan Lutz departed from the cast of "FBI: Most Wanted" in 2021.