Is There A New Law & Order: SVU Episode On Tonight? (January 27, 2022)
Season 23 of "Law & Order: Special Victims Unit" is currently in full swing, with its most recent episode, "Tommy Baker's Hardest Fight" (via IMDb) airing last Thursday on January 20. With another Thursday already upon us, fans might be wondering: Is a new episode of "SVU" airing tonight as well? 
As most viewers know, new installments of NBC's popular crime drama tend to air on Thursdays at 9 p.m. ET. But, with the COVID-19 pandemic still going strong (thus affecting production schedules) and sports coverage in high gear around this time of year, there's always a chance of primetime shows being delayed or pushed back for a certain extended period. It's also not uncommon to see a major network series take a hiatus in the wintertime, which is another factor to consider as we prepare for a new episode of "SVU." Regularly scheduled programming ultimately seems to be a thing of the past, and as more time goes on, additional shows and networks continue to take longer between seasons and more breaks.
Knowing all this, it's definitely natural for fans to wonder whether their favorite TV shows like "SVU" are actually airing on the days that they're supposed to. So, is it? 
There will be no new episode of Law & Order: SVU on Thursday, January 27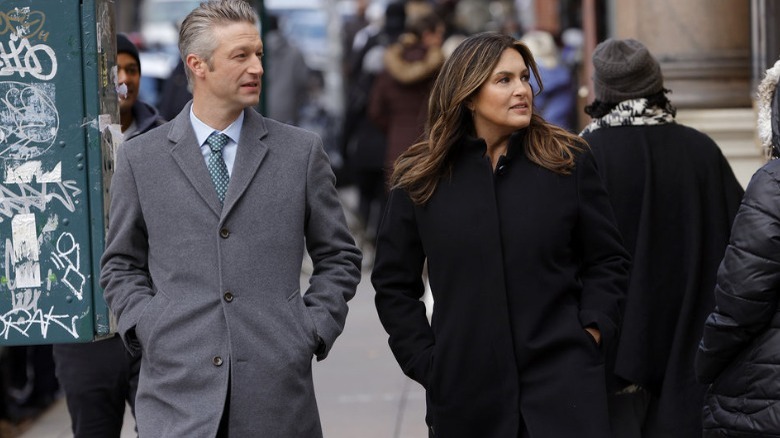 NBC
Sorry to break your hearts, "Law & Order" fans, but there won't be another episode of "SVU" for a few more weeks. It looks like the next episode of "SVU" Season 12 is coming out on Thursday, February 24, with a delay due to the Winter Olympics. The break was announced in a television preview that aired last week and is posted on YouTube. "The world is changing," Mariska Hargitay's Olivia Benson tells her colleagues in the preview clip. "Asking for help, there's no shame in that." A message, meanwhile, comes across the screen that reads, "After the Olympics ... SVU returns." Additionally, if you check the NBC schedule for this week, you'll see a rerun of the "SVU" Season 22 finale, "Wolves Sheep's Clothing" (via IMDb), is airing in its regular 9 p.m. ET slot. 
According to CBS News, the 2022 Winter Games in Beijing are set to begin on Friday, February 4, and will air live on both NBC and Peacock. Primetime coverage is slated to begin each night at 8 p.m. ET and will run until the closing ceremony is conducted on February 20, per USA Today. So, at least "SVU" viewers will have something to hold them over until the show makes its triumphant return on the 24th.