How Criminal Minds Fans Really Felt About Rossi In The Beginning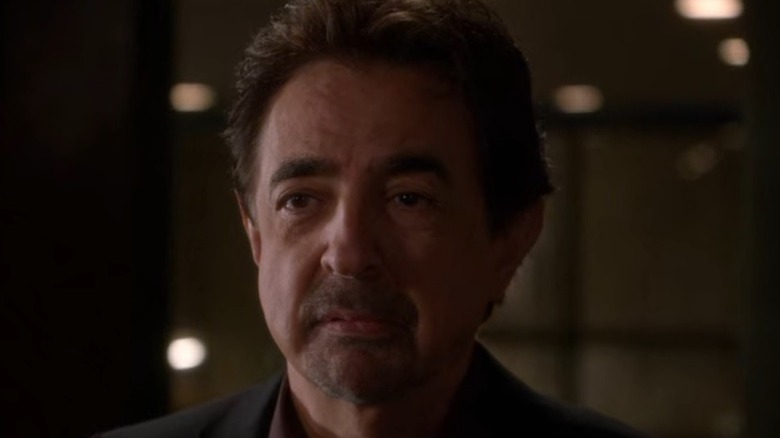 CBS
With a team of whip-smart FBI profilers at the helm, "Criminal Minds" scooped out its niche in the world of TV crime procedurals thanks to its unique focus on hunting down serial killers based on their psychological profiles. Arguably the real reason, however, behind the loyal fandom the series enjoys are the BAU members themselves. Whether it is the socially awkward genius Dr. Spencer Reid (Matthew Gray Gubler), the cool, yet kind, confidence of Derek Morgan (Shemar Moore), or the brightly clothed computer expert who can dig information from the darkest holes of the web Penelope Garcia (Kirsten Vangsness), there are many distinct characters that fans have come to love. 
And David Rossi, played by Joe Mantegna, is one of them. Always ready with a dad joke at hand, Rossi brought his experience (in profiling and unsuccessful marriages) to the BAU beginning in Season 3. Although he joined the series to replace departing Senior Supervisory Agent Jason Gideon (Mandy Patinkin), in the lore of "Criminal Minds," Rossi was actually one of the founding members of the BAU, who eventually retired and became a famous crime writer. 
When he came out of retirement to assist the BAU squad, it took some time for the team to adjust to his quirks. As it turns out, that is also true for some fans.
Rossi was an acquired taste for Criminal Minds fans
Although Rossi was technically a BAU veteran when he joined the team in Season 3, he was an outsider to the BAU members themselves. It took some time for everyone on the squad to warm up to their new senior supervisory special agent. That was also true for some fans of the series, as Rossi's introduction left a Jason Gideon-sized hole in the show.
On the "Criminal Minds" subreddit, a thread titled "lets talk about rossi" explored fans' initial reactions to Rossi's addition. Redditor u/orangefire_bird wrote that even though they were upset to say goodbye to Gideon, Rossi eventually grew on them, despite initially thinking he was "so arrogant and rude." They explained, "I didn't like him but he grows on me so much and continues to grow on me through much later seasons too and I think now I prefer him to Gideon, although I did still really like Gideon. They just have very different styles."
User Sloan430 shared a similar view. "I was a big fan of Gideon, and really sad when he left-so I wanted to hate Rossi. And I did at first," they wrote. However, just like u/orangefire_bird, they eventually came around. "But then I got to know the character a little more and ended up really liking him-I think he was a good guy!"
And u/novascotia_3898 echoed those sentiments, writing, "I disliked him a lot in the beginning, but over time he softened up and learned to work with the team. As the seasons go on, he becomes one of my favorites."
Like a fine wine, Rossi's character got more and more love with time.