The Blue Bloods Star Who Did A Stint On 7th Heaven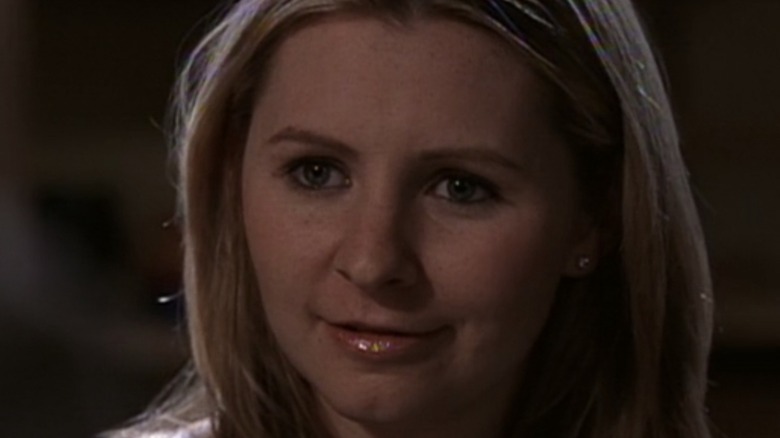 CBS
CBS' "Blue Bloods" has brought the foibles and adventures of the Reagan family to eager-eyed viewers for 12 seasons. The show's sprawling cast includes a number of familiar faces, such as Tom Selleck and Donnie Wahlberg, with some pretty impressive resumes behind them.
But it's likely that fans of the family crime drama probably don't know that one of the program's regular actors appeared in the WB Network's wholesome and yet soapy family drama "7th Heaven." The series featured a large family parented by Reverend Eric Camden (Stephen Collins) and his wife, Annie (Catherine Hicks). Episodes focused on the family's ups and downs, often featuring plotlines about the children's rebellion against Reverend Camden's values or various special episode-style social issues. Per IMDb, it lasted for 11 seasons and was one of the most-watched series in the WB's history (via The Hallmark Channel), hitting 94th place on the Nielsen year-end charts in 1999 (via Variety). 
Let's take a look at the "Blue Bloods" cast member who appeared in several episodes of "7th Heaven." 
Will Estes recurred on 7th Heaven
Will Estes, who portrays Jamie Reagan on "Blue Bloods," appeared in five episodes of "7th Heaven," as a teenager named Andrew Nayloss.
Andrew was the on-again-off-again boyfriend of younger daughter Lucy Camden (Beverley Mitchell). He's introduced during the show's fourth season during Episode 9, "Just You Wait and See." The two flirt, date, break up, and make up throughout Season 4, but Lucy ultimately dumps him during the Season 5 premiere, entitled "Here We Go Again." The relationship is shattered when Lucy learns that Andrew has been unfaithful to her during a long summer trip to Paris. She later discovers that his dad sent Andrew there in the expressed hope that Lucy and Andrew would eventually leave one another.
Lucy ends up marrying police officer Kevin Kinkirk (George Stults) during the show's sixth season. Estes, meanwhile, appeared in the NBC drama "American Dreams" and the Fox thriller "Reunion" before landing the role of Jamie in 2010 (per IMDb).