The Character You Forgot Ian McShane Played In AHS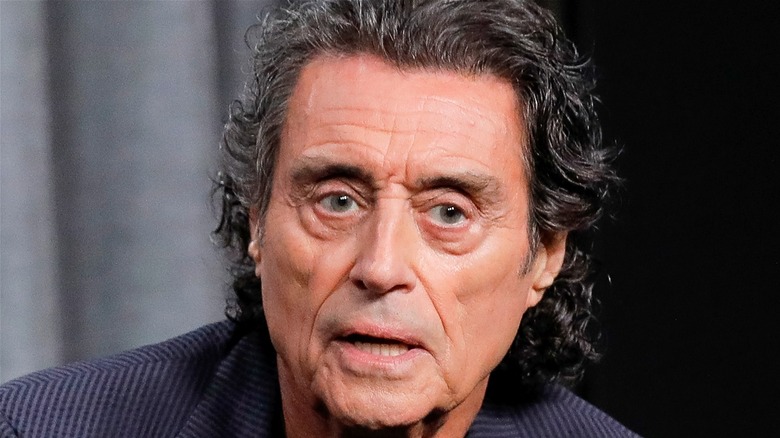 Tibrina Hobson/Getty
When "Asylum," the second season of "American Horror Story" was announced, no one knew what to expect in the continuation of Ryan Murphy's twisted, imaginative series. Would it connect to the first season at all? Would it be as bizarre and disturbing as the first season? Could you do a better job than the actors from the first season? The answer was a resounding yes, on all fronts.
"Asylum" brought back first season favorites Jessica Lange, Evan Peters, Sarah Paulson, Zachary Quinto, Lily Rabe, Dylan McDermott, and Frances Conroy, and introduced quite a few talented new faces, like James Cromwell, Chloë Sevigny, Lizzie Brocheré, and Joseph Fiennes. Adding Oscar-nominated actors like Cromwell, Sevigny, and Fiennes to the cast added to the gravitas that the always-stunning Lange brought to the show. But for many fans of actor Ian McShane, it was his small but memorable role that really brought to life the intensity of the second series. McShane is known for his award-winning turn as Al Swearengen in "Deadwood," as well as performances in "Ray Donovan," "Game of Thrones," and "American Gods," but fans often forget he was also in "Asylum."
Ian McShane was a murderous Santa in AHS: Asylum
Ian McShane only appeared in two episodes of "Asylum," but his story was a fascinating one, and he's given a lot to do in the short amount of screentime he's given. He had been a petty thief, and after being assaulted in jail on Christmas Eve, he managed to break out, don a Santa costume and kill 18 people before he's locked up at Briarcliffe Asylum (via American Horror Story Wiki). He's kept shackled most of the time because he's not trusted. After he bites an orderly's face, he's locked in solitary confinement.
After being released by one of the nuns who is possessed by evil, he tries to kill the monsignor by crucifying him. After he escapes, he's said to remain at large, after having murdered seven nuns. Unlike other characters who died or came back in other seasons, his character just disappeared at the end. Fans have clamored for his character's return, because of how memorable his performance was, but given that it's been 10 years since his time on the show, it seems more and more unlikely.