The Best Storyline In Blue Bloods Season 5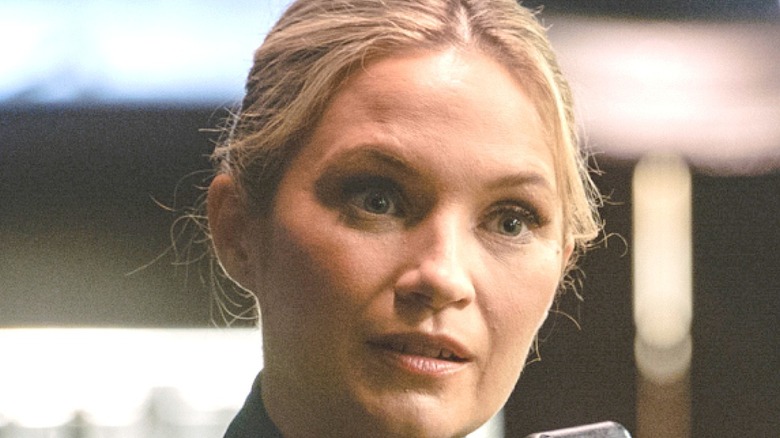 Courtesy of CBS Entertainment
As with any TV series, multiple storylines happen simultaneously. There are short, episodic storylines that take place within one episode, and then the overarching storylines run congruently over numerous episodes or multiple seasons. For a show like "Blue Bloods," throughout its 12-season (and counting) run, you can find both of those in droves.
While each character faces their own conflict or investigation in most episodes, Season 5 hit the ground running with hard-hitting themes from the start. The premiere saw a lieutenant's actions causing backlash when he mishandled an incident involving mental illness. Episode 2 dealt with the "blue wall of silence" as Jamie (Will Estes) stands up for a police officer ostracized for speaking out against a fellow officer. Episode 3 dealt with homosexuality and two detectives conflicting over the topic. Episode 4 dealt with police brutality, as a suspect gets injured while Danny (Donnie Wahlberg) pursues him through a building.
With an audience score of 93% on Rotten Tomatoes, there was a lot to love about the storylines presented over the 22-episode season. However, what was the best storyline audiences saw through Season 5?
Linda ended the season on a gurney
In every season of "Blue Bloods," there are multiple choices for the best storyline. In Season 5, some of the options are Frank (Tom Selleck) attempting to put away a cop-killer who murdered one of his father's (Len Cariou) colleagues years before, Jenko (Vanessa Ray) getting kidnapped in response to Jamie intervening in a domestic dispute, or Erin (Bridget Moynahan) attacked in a biker gang's plot for retribution.
However, all of those were overshadowed by a last-second moment that left fans floored. In the finale of Season 5, "The Art of War," Linda (Amy Carlson) is working to keep a colleague's son safe from gangs when he is forced to kill a witness in a hospital bed. He shoots the witness and flees; Linda and the doctors jump into action to tend to his wounds. When he is pronounced dead, and they all stop to take a breath, they finally see Linda caught a stray bullet.
In her review, Sheila J on Rotten Tomatoes commented, "Linda getting shot brought us to our knees." Meanwhile, on Reddit, u/Robotic_Jay13 commented, "I just saw the final 2 episodes of season 5 and wow it was amazing. It somehow got to me during this one scene."
The Reagan family goes through a lot, and more than one have been shot. But having a member of the family not on the job and still being shot hit different — an unexpected moment of terror for fans watching it go down.