Who Plays Lexy Cross In Syfy's Chucky?
The "Child's Play" franchise — which some might know for its informal, lead character-derived name of the "Chucky" series — has proven to have more stamina and staying power than even the wildest fans of the 1988 original film could have ever guessed. And as if the Andy Barclay-focused original trilogy, the four highly successful subsequent "X of Chucky" installments, and the 2019 reboot weren't enough to prove it, now we also have Syfy's "Chucky."
The laconically-titled TV series, which premiered in October 2021 and has since been renewed for a second season, picks up where the last film in the "original" continuity, 2017's "Cult of Chucky," left off. On "Chucky," everyone's favorite possessed murder doll is going on a killing spree in the city of Hackensack, New Jersey, leaving a group of ordinary teenagers to deal with the consequences. While legacy fan favorites like Brad Dourif and Jennifer Tilly return to lend voices to their respective characters in the "Child's Play" lore, the series' core teen cast is comprised entirely of new faces. And one of those faces belongs to Lexy Cross, the best friend of protagonist Jake Wheeler (Zackary Arthur). Who is the actress who plays Lexy?
Lexy is played by American actress Alyvia Alyn Lind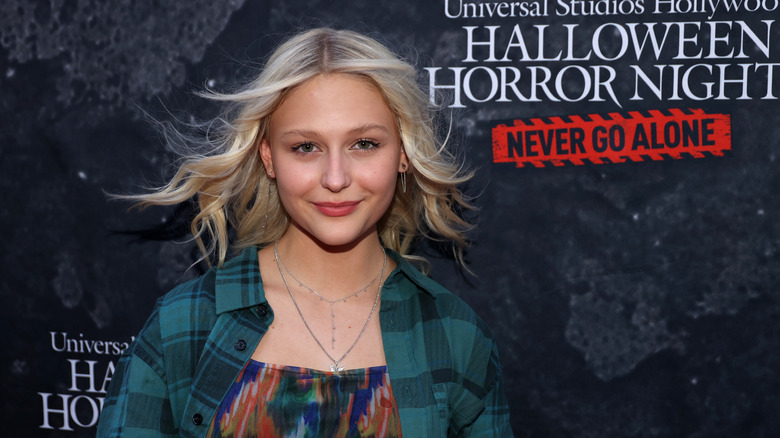 Rich Polk/Getty Images
One of the smart decisions that make "Chucky" ring so true as a depiction of (initially) quiet small-town American life is its age-appropriate casting: For once, all of the teen leads are played by actual teenagers.
As a case in point, the actress who plays 14-year-old Lexy Cross is actual 14-year-old Alyvia Alyn Lind. Prior to "Chucky," she has been known primarily as a child actress, having starred for nearly an entire decade as Faith Newman on the CBS soap opera "The Young and the Restless" before leaving the show in 2021 (via Soap Opera Digest).
You may also have seen her on shows like "Revenge," where she played a young Amanda Clarke/Emily Thorne (Emily VanCamp), and Netflix's "Daybreak," where she starred as pyromaniac kid Angelica Green, among many, many other roles. In fact, for such a young actor, Lind has built up a sturdy enough career to have even received awards attention: In 2016, she was nominated for the Critics' Choice Television Award for Best Actress in a Movie Made for Television or Limited Series for her performance on the TV movie "Dolly Parton's Coat of Many Colors" (via IMDb). Her role in "Chucky" is certain to gain her new fans, though, so keep an eye out for her to appear in more movies and TV shows, going forward.