Chucky Season 2 Release Date, Cast, And Plot - What We Know So Far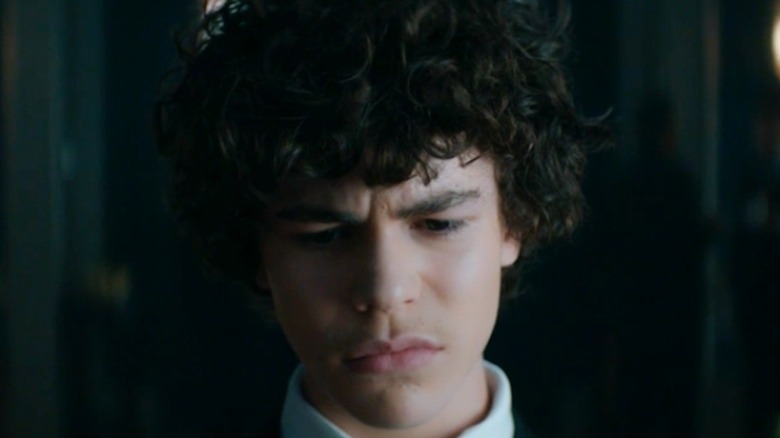 Syfy/USA Network
The horror television series, "Chucky" — based on the "Child's Play" horror film franchise — premiered simultaneously on Syfy and the USA Network on October 12, 2021. Taking place after the events of the 2017 film, "Cult of Chucky," the series follows 14-year-old Jake Wheeler (Zackary Arthur) who buys a Good Guy doll for an art project only to discover that the doll is possessed by the serial killer Charles Lee Ray — aka Chucky. After the doll commits several murders in Jake's town of Hackensack, New Jersey, Jake himself becomes a suspect. The series was created by Don Mancini, who had previously directed three of the "Chucky" films and written several of the films in the "Child's Play" franchise. Mancini also serves as showrunner and executive producer.
The first season of "Chucky" received mostly positive reviews — it currently holds a high 90% Tomatometer score and 88% audience score on Rotten Tomatoes. Summing up much of the praise, John Doyle of Globe and Mail wrote, "Chucky is a delight; a warped, wise, funny and very droll series with bits of gore thrown in, but nothing gory enough to hurt your head. It's a rigorous reinvention."
Now, much to the delight of the show's fans, the series has just received a second season renewal, as reported by TVLine. Here's everything we know so far about "Chucky" Season 2.
When will Chucky Season 2 be released?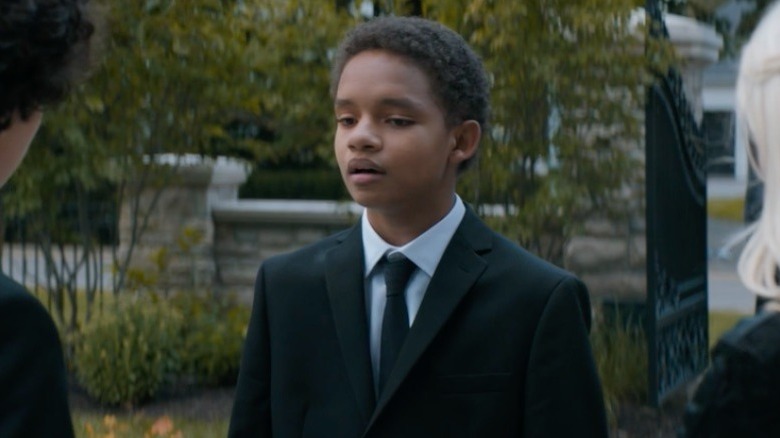 Syfy/USA Network
Since the news of the renewal was just announced, there really isn't much information out there yet about the release date and other details. However, we do know that the second season can be expected next year, as was confirmed in executive producer and showrunner Don Mancini's statement.
Mancini's statement reads, "We're thrilled to start pulling the strings on a second season of puppet mayhem with 'Chucky.' Many thanks to our partners at USA, Syfy and UCP for their incredible support and guidance bringing 'Chucky' to the small screen, bigger than ever. And to the fans, Chucky sends his still-undying thanks, and a message: 'This isn't over, not by a long shot. You better watch your backs in 2022!'"
Considering that the first season premiered in October, near Halloween, it seems likely that the second season would follow suit. However, we'll have to wait for more details for that speculation to be confirmed.
Who will be in Chucky Season 2?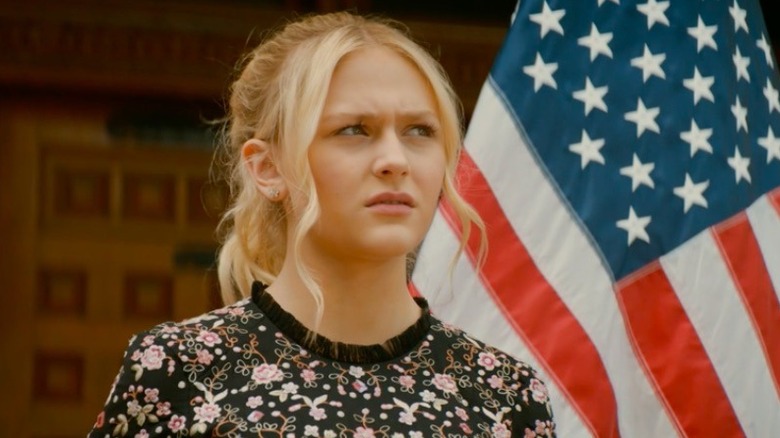 Syfy/USA Network
"Chucky" is led by Zackary Arthur, who plays protagonist — and Chucky owner — Jake Wheeler. Looking at next season's cast, Arthur is just about guaranteed to be returning. Along with "Chucky," Arthur's other credits include "Kidding" and "Transparent" (via IMDb).
We can also likely expect to see the rest of the main cast return for Season 2 — assuming nothing (permanently) bad happens to any of the teens by the end of Season 1, which is yet to conclude. The rest of the main cast includes Björgvin Arnarson and Alyvia Alyn Lind, who play Devon Evans and Lexy Cross, two of Jake's friends. Then, there's Junior Wheeler, played by Teo Briones, who is Jake's antagonistic cousin.
Finally, Brad Dourif voices the vicious serial killer Chucky himself. Dourif has voiced Chucky in numerous "Child's Play" films, including 2017's "Cult of Chucky," 2013's "Curse of Chucky" and even 1988's "Child's Play." Much like Arthur's character, Dourif can definitely be expected to return for Season 2 — considering the show is named after his character, after all.
What will Chucky Season 2 be about?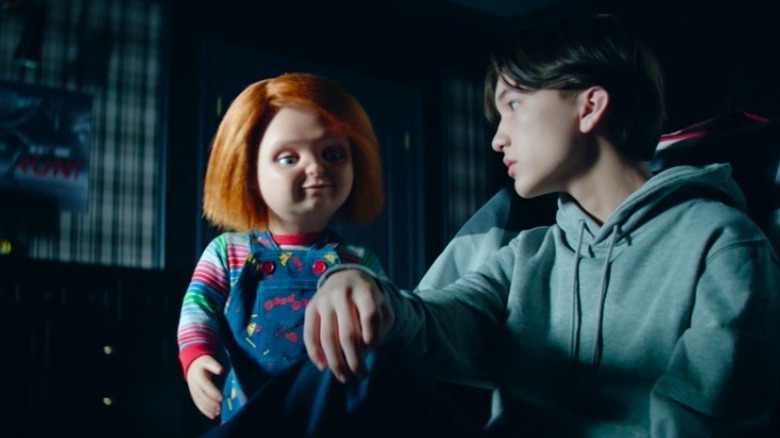 Syfy/USA Network
As mentioned above, the first season of "Chucky" hasn't yet concluded — its finale will air on November 30 — making the plot of Season 2 a bit hard to speculate on (via Variety).
What we do know is that in Episode 7, Jake, after running away from home, comes into possession of another Good Guy doll. While he and Lexy are looking for Devon, who has announced he's leaving the town following his mother's death, the new Good Guy doll begins to come alive and then grabs a butcher knife. Devon, who was trying to free Nica (Fiona Dourif), the paraplegic woman who was formerly possessed by Chucky, is then taken over by Chucky through Nica's body. Devon is last seen surrounded by a ton of Good Guy dolls.
The Season 1 finale will surely address these intense moments from Episode 7. And after the finale airs, we'll get a better idea of what to expect from Season 2. We personally can't wait to see how "Chucky" continues into its second season. In the meantime, Season 1 will be available to stream on Peacock beginning December 1 (via Variety).