The Character You Forgot Ryan Gosling Played In Remember The Titans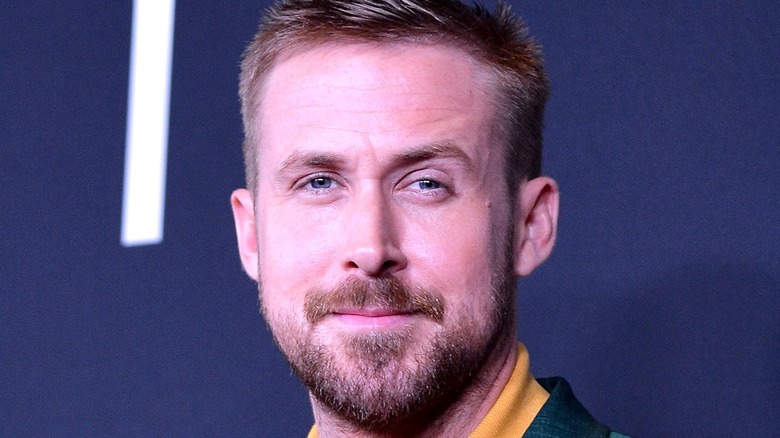 Shannon Finney/Getty Images
The 2000 film "Remember the Titans" starred the Academy Award-winning Denzel Washington as Coach Herman Boone alongside veteran actor Will Patton as Coach Bill Yoast, and it has been praised by audiences for years (via Rotten Tomatoes). IMDb even has it listed as the 12th greatest sports movie of all time amongst some great company, including the likes of "Field of Dreams," "Rudy," "Rocky," and "Hoosiers." "Remember the Titans" also adds to the list of sports movies that are based on true stories, as the screenplay was adapted from events involving a real high school football team from Virginia in 1971 (via Northern Virginia Magazine). Of course, like any Hollywood film, "Remember the Titans" takes plenty of fictional liberties. However, the core of what the movie tries to touch on is racial issues that were still prevalent in the early '70s.
At the tail end of the Civil Rights Movement, schools were becoming unsegregated, and T.C. Williams High School had to integrate a nearby all-Black class with an all-white one. This led to concerns from everyone, students and teachers alike, but especially the football team. Coaches Boone and Yoast were forced to work together to help the Titans put aside their racial prejudices and play as a team. The movie shows this struggle in nearly every fashion as the Titans overcome their differences and eventually go on to win a state championship.
Although Washington and Patton were already established actors, "Remember the Titans" served as a proving ground for some well-known names that you may have forgotten played a character in the film, including Wood Harris, Donald Faison, Ryan Hurst, Kate Bosworth, Ethan Suplee, and even Ryan Gosling.
Ryan Gosling played Alan Bosley in Remember the Titans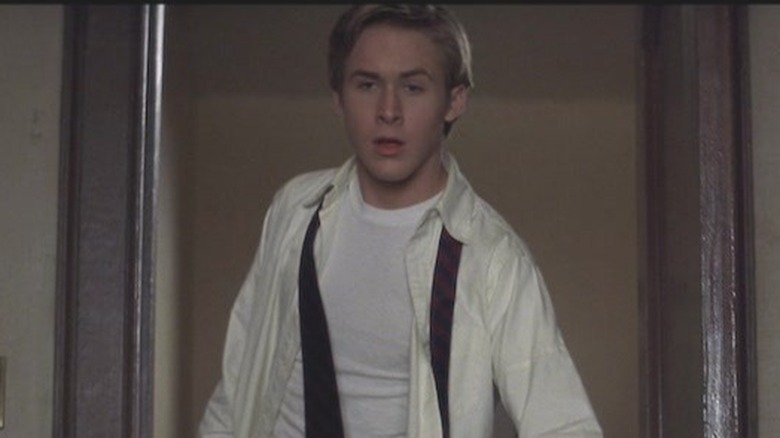 Disney+
Coming off of "Young Hercules" and "Breaker High" in the late '90s, Ryan Gosling was starting to truly rise as a young actor. Up until "Remember the Titans," Gosling mostly had guest spots, recurring roles, or starring roles in either TV series or TV movies — "Remember the Titans" was his second feature film role ever aside from 1996's "Frankenstein and Me" (via IMDb). In the film, he played Alan Bosley, one of the white students from the pre-integrated T.C. Williams High School football roster.
Bosley has a small, but meaningful arc in the film, as he is initially a little apprehensive about the incoming Black players without being too loud about it like Gerry Bertier (Ryan Hurst), and ultimately gets over his preconceived notions with the rest of the team. By the end of the film, he's comfortable as a cornerback, teammate, and human being. He reflects a light-hearted spirit in the film as well — and can be seen dancing and cracking jokes with his Black teammates.
Gosling hasn't spoken much on the role in recent years, but in an interview with Entertainment Tonight back at the premiere of the film in 2000, he noted his appreciation for working with Denzel Washington and his gifts as an artist, also joking that he didn't have to do much acting when Washington was screaming at them all of the time. Gosling would be the star of a feature film only one year later in 2001's "The Believer," and the rest is history. Gosling is currently in post-production for Joe and Anthony Russo's "The Gray Man."