Galadriel's Speech From Lord Of The Rings: The Rings Of Power Trailer Means More Than You Think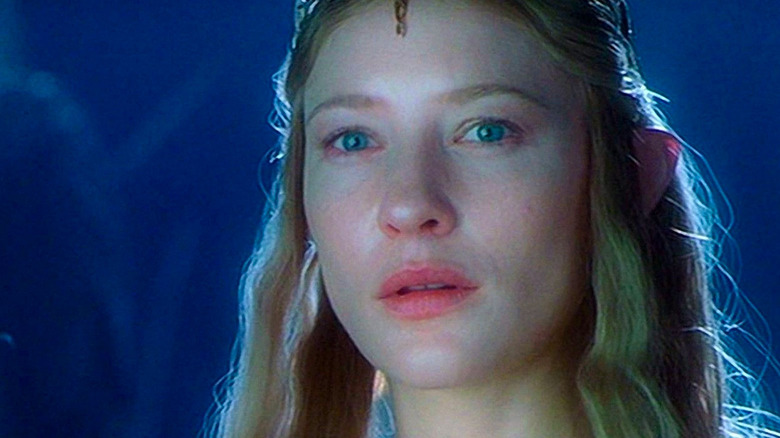 New Line Cinema
No trinket strikes more terror into the hearts of elves, dwarves, and men than The One Ring. Sauron's weapon of power at the center of J. R. R. Tolkien's beloved fantasy trilogy and Peter Jackson's groundbreaking adaptation of "The Lord of the Rings" has a dark history set to be explored in the upcoming prequel series from Amazon Prime Video. Now, after eagerly anticipating more info, the show confirmed to be titled "The Lord of the Rings: The Rings of Power," gave us an announcement teaser (via YouTube), as well as a first listen of the show's Lady Galadriel, who will play a significant part in the war against Sauron.
Played by Cate Blanchett in Jackson's trilogy, Morfydd Clark will be taking the iconic role as the Lady of Lothlórien in the show, where she discovers all too late that a gift from Sauron is anything but. However, what's interesting about our first listen to her take on the character is the speech we hear her utter so angelically. One that any fans of Tolkien's world will know of by heart, and fragments of which hark back to Peter Jackson's epic introduction.
Galadriel is reciting the Ring's Verse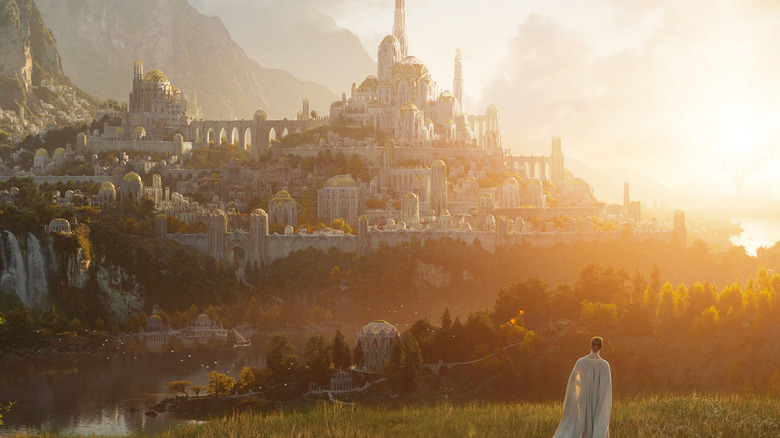 Amazon Prime Video
As molten metal flows and folds in the all-new look into Amazon's take on the fantastical world, an image that conjures the creation of the rings, Clark can be heard reciting the iconic Ring Verse written initially by Tolkien. The poem is, in fact, an extension of the inscription engraved into Sauron's fancy bit of jewelry, partly said by Blanchett's Galadriel in "Lord of the Rings: The Fellowship of the Ring," along with Sir Ian McKellen's Gandalf. You know the one –  after the elves, dwarves, and men were given rings, there was "one ring to rule them all, and in the darkness bind them." 
Besides this verse, there are also the familiar and hair-raising chords at the start of the teaser that sound very much like Howard Shore's original score for Jackson's trilogy. It's a surprising thing to pick up on, as it has been confirmed that the series is not connected to the films. Could a new score from Shore still carry some similar notes? We can only wait and see when "The Lord of the Rings: The Rings of Power" finally arrives on Amazon Prime Video on September 2, 2022.