The NCIS Character You Forgot Jamie Lee Curtis Played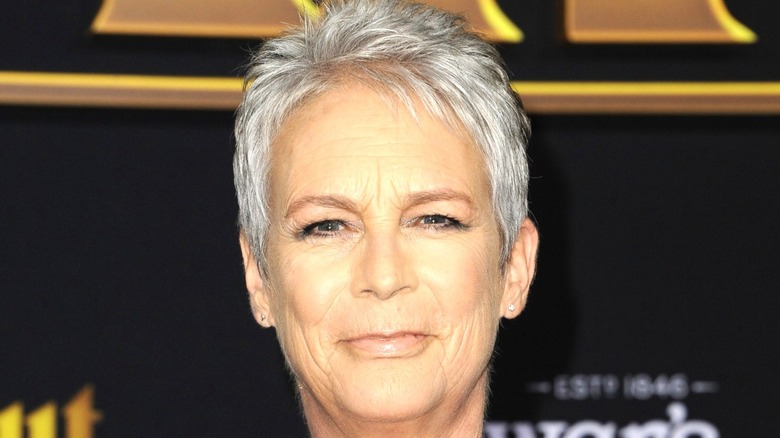 Tinseltown/Shutterstock
It's hard to imagine Jamie Lee Curtis in any other profession other than acting. The daughter of Tony Curtis and Janet Leigh, she appears to have inherited a talent honed by a career that now spans six decades. On television, it began with guest spots in shows like "Columbo" and "Charlie's Angels (per IMDb), but her first taste of stardom came when she was cast for the 1978 horror flick "Halloween." Since then, she's been in numerous films, both horror and otherwise, and her star further rose with "Trading Places," "A Fish Called Wanda," "My Girl" and "True Lies" in the 1980s and 1990s. In this millennium, films like "Freaky Friday" and "Knives Out" have only cemented her status as Hollywood royalty.
Curtis may be a bona fide movie star, but she has also done her share of high-profile television shows, including recurring roles on "Scream Queens" and "New Girl." And yes, she's showed up on one of TV's most popular programs: "NCIS." You may have forgotten — or if you're new to the show, you may never have known — but back in 2012, the actress made multiple appearances on the series as Dr. Samantha Ryan, head of the Department of Defense's PsyOps division and a love interest for Gibbs (Mark Harmon).
Curtis appears in NCIS Season 9, playing mind games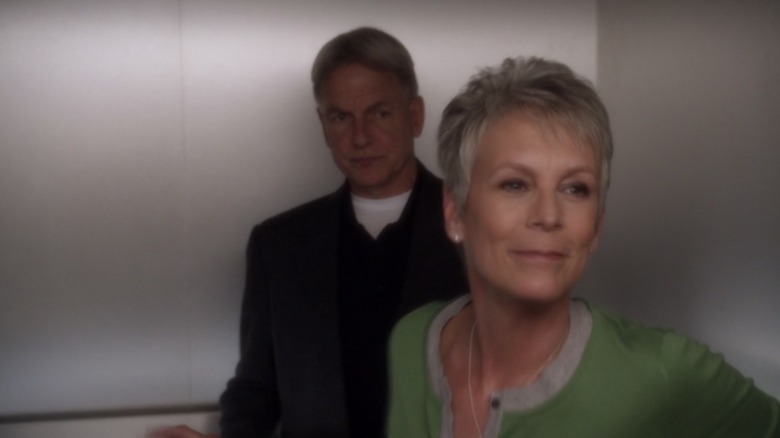 CBS
When Dr. Ryan is first introduced to the NCIS as the quick-witted head of the "brain-gamers" (her own words) in the episode "Psych Out," she's clearly already known to some who work with Gibbs and company. She apparently goes way back with Leon Vance (Rocky Carroll) and Dr. Rachel Cranston (Wendy Makkena). While she's ostensibly on the side of the good guys, it's made clear that she has secrets — and she's not above bugging Gibbs' house to keep herself in the loop of an ongoing murder investigation. But by the end of the episode, though, she comes around to having a good opinion of Gibbs. "You make people feel safe, Gibbs," she tells him when calling him at 4 p.m. for a breakfast date. "It's a gift."
Ryan appears four more times in the series, butting heads with Gibbs, but each time, also getting closer to him. Of the relationship between her and Gibbs, Curtis said on "The Talk," "She's as wounded as he is and as tough as he is." Pointing out that on dramas, characters' backstories are vital, she said, "We kind of sniff around each other ... playing mind games with each other, trying to suss out, are you trying to hurt me? And as they break those down and they kind of get closer, it's very moving, ultimately."
Curtis calls the experience 'one of the unexpected delights of my varied career'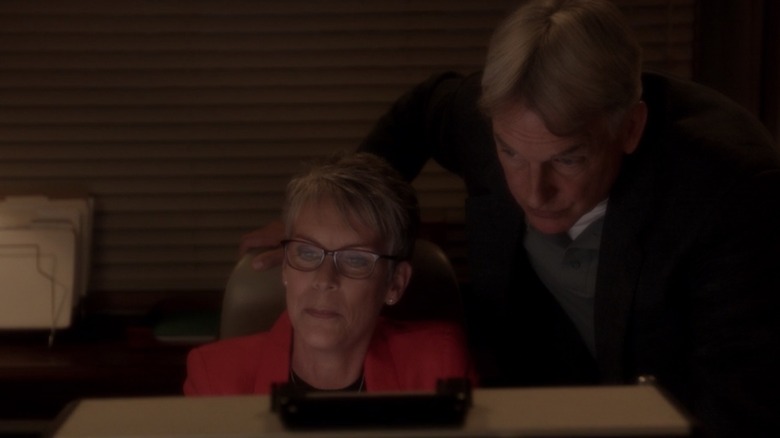 CBS
Curtis and Harmon had previously worked together in the 2003 movie with Lindsay Lohan, "Freaky Friday," so they already had a rapport on-screen (and off — "He makes me blush a little bit [...] he's just such a sweet guy," she told Entertainment Tonight Online) that also was easy to see in their "NCIS" relationship. Harmon expressed excitement about working with Curtis again, saying to Access, "Jamie's great and I think we're all glad that she's coming to play with us in our little sandbox for a while." 
Not everyone was on board with their arc, though. Some vocal fans didn't like Samantha Ryan and felt she didn't fit in with the NCIS team. Perhaps that's why her last appearance was on the Season 9 finale, "Till Death Do Us Part," an episode that focuses on the manhunt for vengeful father Harper Dearing (Richard Schiff). When Dr. Ryan's malicious ex-husband is released from prison as part of Dearing's manipulations, it scares her enough to run away with her son Parker.
Curtis has always remained positive about her "NCIS" experience. In an Instagram post following the announcement that Harmon would leave "NCIS," Curtis wrote, " One of the unexpected delights of my varied career was being able to do five episodes opposite him and his team in front of and behind the camera. My favorite line was when I was coming down from his bedroom, 'Practice makes perfect.' Certainly worked for him and his Jethro Gibbs character." She's referring to a suggestive early scene in the episode "The Missionary Position," which shows how their tenuous working relationship evolved into something more — at least, for a brief part of the "NCIS" timeline.