Jamie Lee Curtis' Best Movie And TV Roles To Date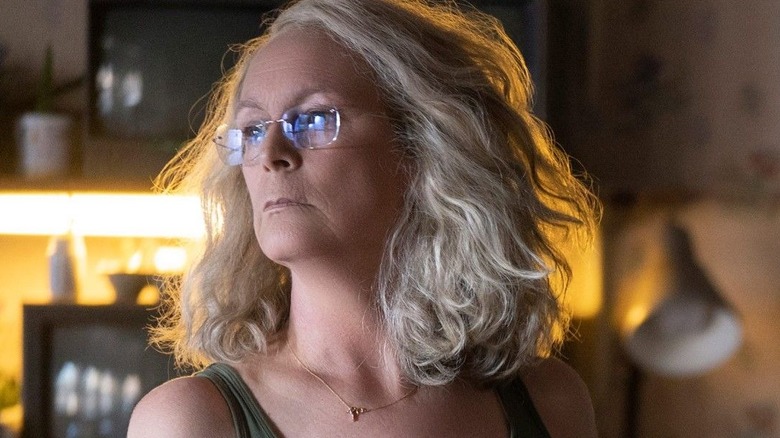 Universal Pictures
Jamie Lee Curtis got her start as one of horror's earliest scream queens. From there, she has seemingly made a career out of proving the naysayers and doubters wrong, branching out of the horror genre and into comedy, drama, and action movies. Even after making her name as a true Hollywood starlet out of the shadow of her superstar parents, she refused to be pigeonholed. She took surprising career turns, such as when she went from starring in hit movies to the small screen sitcom "Anything But Love," where she received her first Golden Globe. And just when critics thought they had her figure out in the 1990s, she embraced her slasher film roots rather than run from them, and returned to the franchise that made her famous by starring in "Halloween: H20."
Even if modern audiences might know her best as the commercial spokesperson for Activia yogurt, Jamie Lee Curtis boasts a versatile, varied, and full career in front of the camera. From leading lady to part-time TV guest star, Jamie Lee Curtis is a true maverick who never lets Hollywood dictate her path. It's time to count down Jamie Lee Curtis' best roles in movies and on television — including a few that you may have forgotten.
Megan Turner (Blue Steel)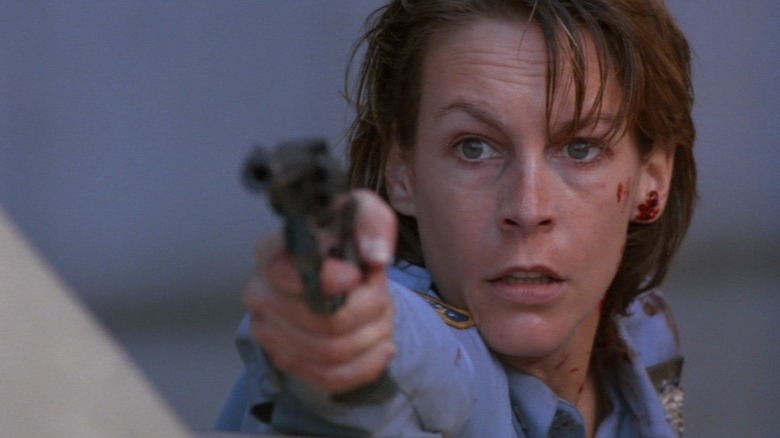 Metro-Goldwyn-Mayer
The 1980s was a time when Jamie Lee Curtis was branching out from horror films, and as the decade came to a close she had acted in some strong dramas and gotten to flex her comedic chops. As a new decade dawned she dipped her toe into the action genre too. In perhaps one of her more underappreciated performances, Jamie Lee Curtis starred in "Blue Steel" in 1990, a movie helmed by future Academy Award winner Kathryn Bigelow in just her third time in the director's chair. 
As Curtis' first lead role in a feature-length action thriller, "Blue Steel" proved she was a dramatic force to be reckoned with. She wasn't just the star, but the strong heroic lead. In the film, she played Megan Turner, a rookie police officer who is suspended after being falsely accused of killing an unarmed man. After she clears her name, she discovers that her boyfriend may be the serial killer responsible for the murder.
Coming hot on the heels of her role as the title character in the comedy "A Fish Called Wanda," "Blue Steel" received mixed reviews, but it did get higher marks on sites like Rotten Tomatoes and Metacritic. Retro reviews praise her strong performance as the young policewoman engaged in a deadly game of cat and mouse with a ruthless serial killer.
Shelly DeVoto (My Girl)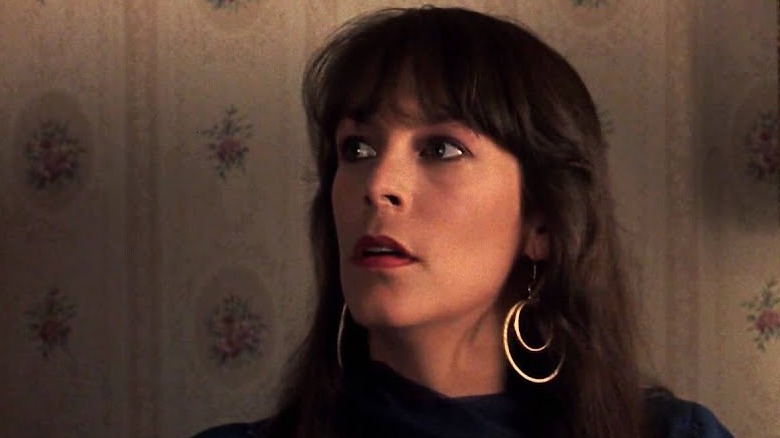 Columbia Pictures
In the mid 90s, Jamie Lee Curtis starred twice in the role of Shelly DeVoto in the films "My Girl" and "My Girl 2." The coming-of-age films starred Anna Klumsky as Vada Sultenfuss, with the first of the two movies being her screen debut. The first film also starred Macauley Culkin and is notable for featuring a rare emotional gut-punch through the death of a child character, a moment that would traumatize a generation.
Curtis co-starred as Shelly DeVoto, a woman who befriends the young Vada and works at the funeral parlor run by Vada's father Harry. Before long, Harry and Shelly are dating, which makes Shelly's friendship with Vada difficult. However, the two grow closer when Shelly acts as a quasi-mother figure, and in the end she is the one to help Vada deal with the sudden death of her best friend. "My Girl" is one of Curtis' most serious and emotionally dramatic efforts, and in 1993 her part in the movie continued to fill out a career built on playing a damsel in distress in over-the-top horror movies. "My Girl" and its sequel, by contrast, further showed off Curtis' range and earned her good reviews for her ability to instill the role with both comedy and pathos.
Dr. Samantha Ryan (NCIS)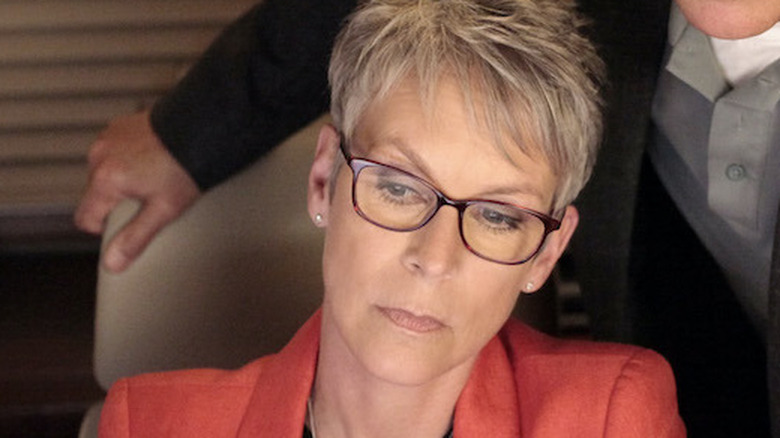 CBS Media Ventures
It's always impressive when a long-running TV series can attract big Hollywood talent, and "NCIS" and its spinoffs have done it many times. Reunited with her "Freaky Friday" co-star Mark Harmon, Jamie Lee Curtis was announced as a surprise guest star in two episodes of "NCIS" in the series' ninth season, playing Dr. Samantha Ryan, head of DOD PsyOps Division. Curtis would prove too good to confine to just those two episodes, though, and her role was expanded. Her character would eventually appear in a total of five episodes that season and become a romantic interest for Mark Harmon's character Leroy Jethro Gibbs.
Executive producer Gary Glasberg spoke about the addition of Curtis upon her casting, saying "the role of '[Samantha] Ryan' got even better when the enormously talented Jamie Lee Curtis agreed to join us. Jamie's shoot-from-the-hip style embodies everything we want from Ryan — humor, heart, strength, and a lot of fun. We couldn't be more excited she's here. And don't be surprised if there are sparks between Gibbs and Ryan. We're expecting some real chemistry" (per EW). 
Curtis' appearance drew positive responses from critics, with TV Fanatic saying, after her first episode "Psych Out" aired, "A major reason the episode worked so well was Jamie Lee Curtis' Dr. Samantha Ryan, a uniquely formidable 'brain gamer' and an adversary who temporarily threw Gibbs off his game – not an easy feat."
Willa Weston (Fierce Creatures)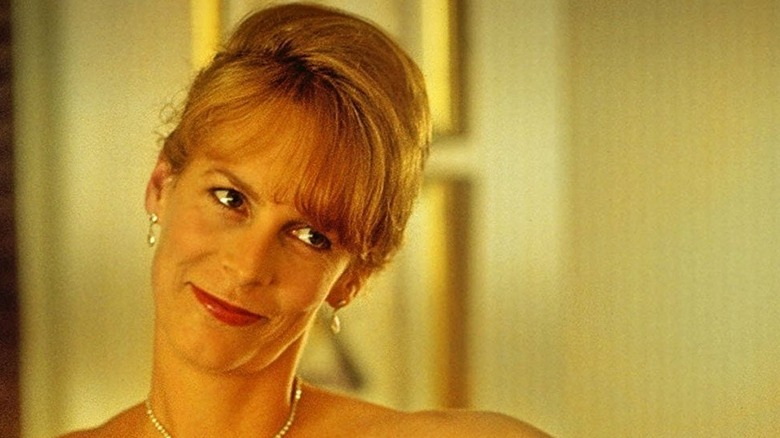 Universal Pictures
In 1997 the entire main cast of the critically acclaimed 1988 hit "A Fish Called Wanda" reassembled for another British comedy farce. The movie, "Fierce Creatures," reunited Jamie Lee Curtis with her former costars Kevin Kline and ex-Monty Python stars John Cleese and Michael Palin. Once again written by John Cleese, the ensemble comedy is often described as the spiritual successor to the earlier film, with the foursome from "A Fish Called Wanda" all playing entirely different characters.
Where in "A Fish Called Wanda" Jamie Lee Curtis plays the title character, a sly con artist, here she plays business executive Willa Weston, who must help run a British zoo recently acquired by Australian magnate Rod McCain (Kevin Kline) and under the inept ministrations of Rollo Lee (John Cleese). In order to ensure healthy profits in his new venture, Lee institutes a "fierce creatures" policy that means that the zoo will only put deadly animals on display.
Despite not being as well-loved as the earlier film, "Fierce Creatures" was a solid comedy with a great cast. Noted critic Roger Ebert called out Curtis in particular, saying "I like the way Jamie Lee Curtis demonstrates how a low-cut dress can shift the balance of power in almost any room."
Gayle Buckley (Veronica Mars)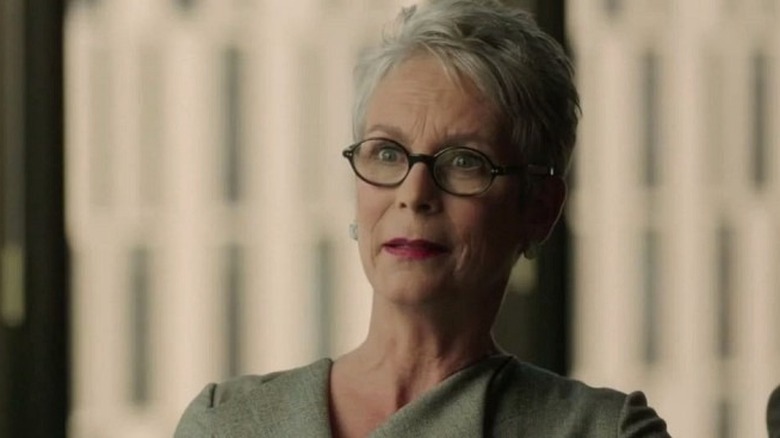 Warner Bros. Pictures
Famous for its crowdfunded origin, the feature film spinoff of the cult TV series "Veronica Mars" only exists because of the passion and involvement — and financial support — of the TV shows' dedicated fans. The Kickstarter raised over $5.5 million from backers. It was the single largest ever funding for a television or film project on the site at the time, and it still stands out as one of the more successfully backed projects even a decade later.
All of the publicity generated by the massive amount of crowdfunding attracted the attention of many in Hollywood, including the show's studio Warner Bros. Creator Rob Thomas — with all that funding in hand, and the newfound support of his studio — was able to afford to add superstars like Jamie Lee Curtis and James Franco to the cast. Curtis took on the role of Gayle Buckley, a powerful lawyer at a prestigious law practice who seeks to recruit lead character Veronica Mars to join her firm. The film received good reviews, and critics like Variety noted that Jamie Lee Curtis was a welcome addition to the cast of the franchise. The film was a strong return for the show and spawned a "Veronica Mars" small screen revival in 2019 with an eight-episode season on Hulu.
Dean Cathy Munsch (Scream Queens)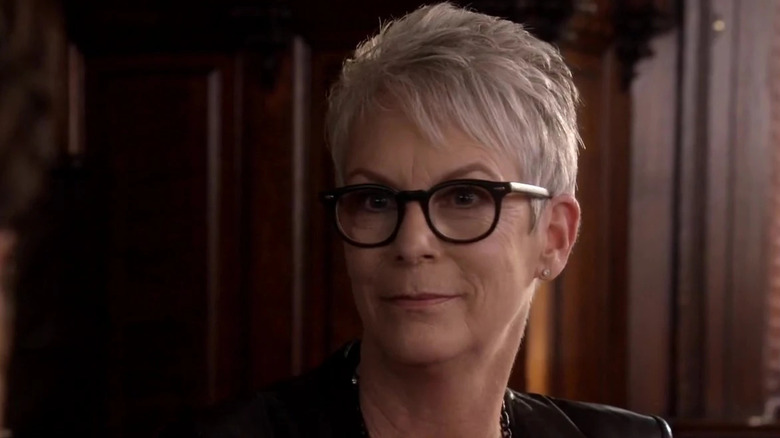 20th Television
"Scream Queens" was the horror comedy satire that poked fun at the horror movie genre, so who better to cast as the dean of a fictional university terrorized by a serial killer than the original scream queen herself, Jamie Lee Curtis? No brainer or not, the casting worked well, and Curtis hammed it up as the ruthless dean tasked with keeping the college kids in line.
Set at the Kappa Kappa Tau sorority, students on campus have to deal with a decades-old mystery that suddenly gets renewed attention, as a murderer in a red devil costume begins picking off girls one by one. It's a classic horror movie premise of a killer on campus, with Vox comparing elements of the show to the likes of "Glee" and "American Horror Story," saying it was "as close to a mashup of those two series as anyone could possibly get." Once again, Curtis drew praise for another iconic performance, with Vox describing the actress as "visibly thrilled to be playing the dean, a ferocious character, especially when she gets to stomp all over collegiate plaything Chad Radwell." A highly recommended watch if you like Curtis and appreciate her body of work in horror as she pokes a little fun at the genre's tropes. 
In 2020 the show's creator Ryan Murphy revealed that he was working on a revival of the comedy/horror series. Is it possible we haven't seen the last of Jamie Lee Curtis as Cathy Munsch?
Prom Night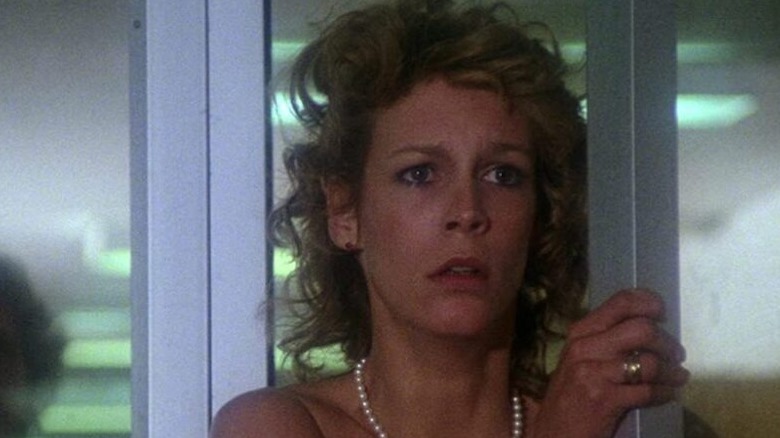 Astral Films
The first true slasher movie on this list, "Prom Night" was released just two years after Jamie Lee Curtis played the role of Laurie Strode in "Halloween" and the same summer as her lead role in "The Fog," cementing her place as horror's first true queen of scream. In "Prom Night" Curtis plays Kim, a defiant prom queen-to-be who is haunted by the mysterious death of her younger sister.
Often compared to the likes of "Carrie" for its story of high school prom queen being bullied, and to "Halloween" for its premise of a monstrous killer taking out teenage victims, "Prom Night" carves out its own identity, partly thanks to its disco soundtrack. Contemporary reviews like Canuxploitation commend the film for its unique use of music, saying the movie "joyously celebrates the disco culture with an unrivaled naivety. No other slasher film presents youth culture as such a joyous amalgamation of age and race upon the lighted dance floor."
Reviews upon release were split, but "Prom Night" did well enough to garner three sequels and a 2008 remake, none involving Curtis. Most critics at the time dismissed it as little more than a bloody gorefest, but Jamie Lee Curtis received good scores for her part. Mack's Musings remarked that the actress "shines in the role of headstrong and funny Kim." 
Joan Day (New Girl)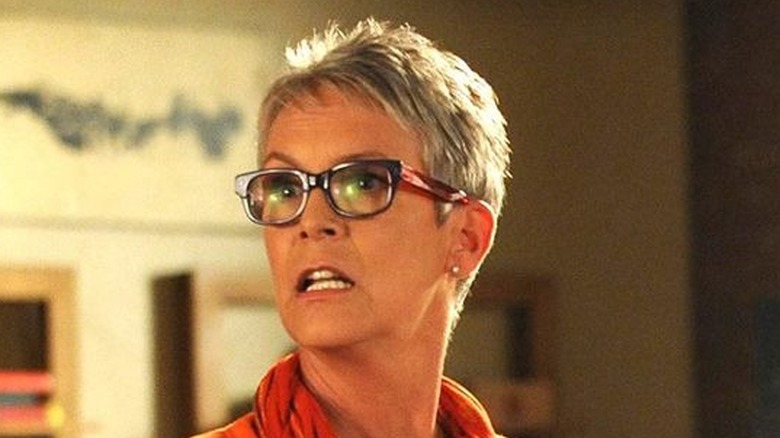 20th Television
Fresh off her five-episode stint as Dr. Samantha Ryan on the procedural police drama "NCIS," Jamie Lee Curtis immediately switched gears, appearing in the Fox comedy "New Girl", as star Zooey Deschanel's hilarious on-screen mother Joan Day. Playing opposite comedy legend Rob Reiner as her television ex-husband, her six appearances on "New Girl" are some of the best recurring guest spots on the seven season series that has included multi-episode parts for the likes of Josh Gad, Megan Fox, and Linda Cardellini. 
In her debut episode on the series, title "Parents", Deschanel's Jess plays a game of "Parent Trap" with her divorced mom and dad, attempting to reignite the romantic spark between them in the hopes of getting them back together. It's a tired, almost overused sitcom story, but it works because the duo of Jamie Lee Curtis and Rob Reiner do have genuinely great chemistry together on screen. IGN reviewed the episode upon its airing and heaped it with praise in no small part due to Curtis, giving the episode four out of five stars. "You really couldn't have made better casting choices for Jess's parents. Jamie Lee Curtis and Rob Reiner both knocked it out of the park," said the site.
Curtis has appeared in a number of comedies over her long career, and her side-splitting role as Joan Day in "New Girl" is right up there with the best of them.
Trading Places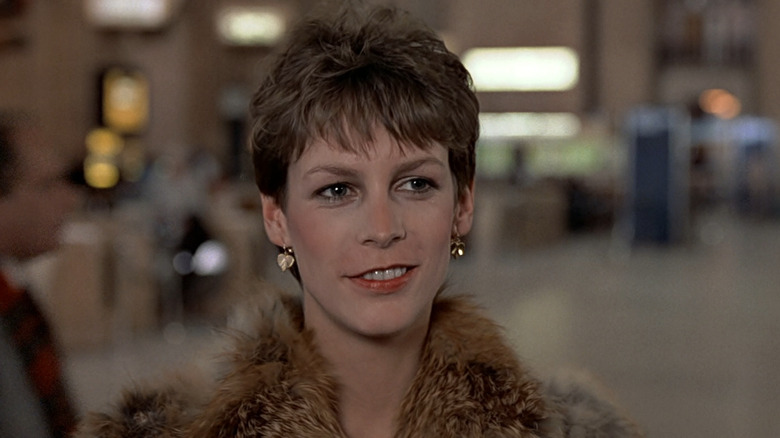 Paramount Pictures
Still just 25 years old, Jamie Lee Curtis already had a number of films under her belt in 1983, but "Trading Places" was the first high profile major studio film for her, and she appeared opposite Hollywood stars Eddie Murphy and Dan Aykroyd. Here Curtis played Ophelia, a New York City prostitute who gets tangled up with Aykrod's character Louis Winthorpe, a wealthy, self-centered investor who had swapped roles with a streetwise con artist as part of bet with a pair of even wealthier elitist Wall Streeters.
Essentially playing the part of the "hooker with a heart of gold," Ophelia is not a sympathetic damsel figure, but a romantic interest and helping hand for Winthorpe. This is to Curtis' benefit as it sets the character apart from previous roles in movies like "Death of Centerfold" or "Money On The Side" where she played models and sex workers designed to be pitied. 
"Trading Places" has gone down as an early 80s comedy classic and the movie that crowned Eddie Murphy as a comedy king. Curtis' comedic turn as Ophelia was a scene-stealer and showed audiences that she could play characters other than a mere damsel in distress, capable of more than blood-curdling screams. 
Tess Coleman (Freaky Friday)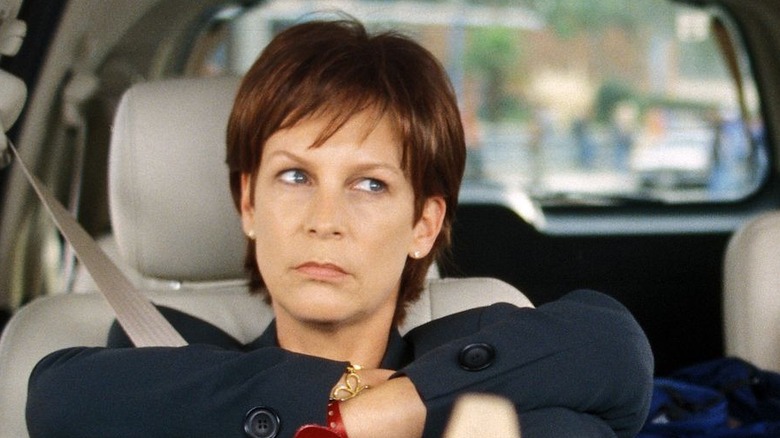 Buena Vista Pictures
Curtis may have skipped the 2008 remake of "Halloween" but not because she has anything against remakes. After all, she took the starring role of Tess Coleman in the second of three remakes of Disney's "Freaky Friday" just five years earlier in 2008. In this version, Jamie Lee Curtis, who came to fame playing high school teenagers, now plays the mom — or rather, the mom inhabited by the soul of her teenage daughter after some magical hijinx.
In the film, the mother and daughter don't get along and come to understand each other through the body swap. Curtis slipped into the role of a troubled child who must deal with her mother's relationship with a new boyfriend, while her mother is trapped in her teenaged self and must cope with being back in high school. Curtis is the key to the film, giving a believable performance as the teenager trapped in an adult body, partly thanks to the help of costar Lindsay Lohan, who gave her lessons on how to behave like a modern teenager. 
Curtis helped make "Freaky Friday" become the rare early 2000's comedy that's only gotten better with age, with Buzzfeed saying "it's Jamie Lee who makes this film." Somewhat ironically, another remake of sorts came to theaters in 2020, this time with a slasher movie twist on the original concept. Sadly, Curtis was not involved.
Linda Drysdale (Knives Out)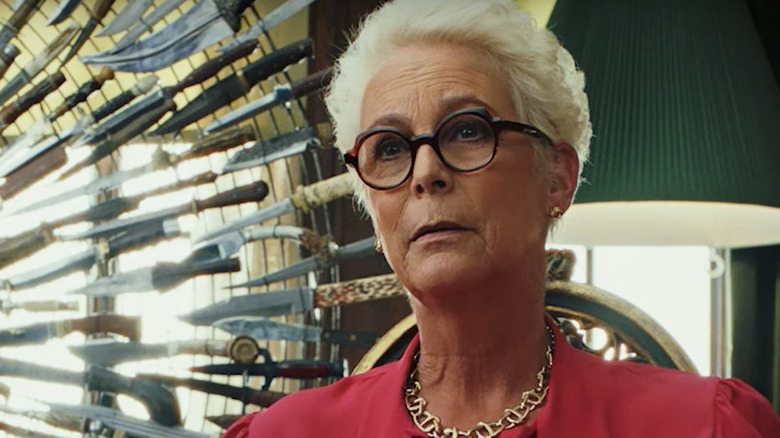 Lionsgate MRC
In his first directorial effort following the release of "The Last Jedi", Riann Johnson crafted the award-winning film "Knives Out" in 2019. The murder mystery masterpiece assembled an all-star cast to tell the story of a family under suspicion after the murder of its aged patriarch. By this time Jamie Lee Curtis was a legitimate Hollywood legend in her own right and in "Knives Out" she stood right in the middle of that star-studded ensemble. She took on the role of Linda Drysdale, the victim's shrewd and belligerent daughter, alongside superstars like Christopher Plummer as the murdered novelist, Chris Evans and Michael Shannon as Curtis' sons, and Daniel Craig as the intense and incorruptible detective Benoit Blanc.
Even upon her casting, there were many that were excited for her to join the film, and her ultimate showing more than lived up to the hype. "Knives Out" still stands as one of Curtis' most highly esteemed films in her repertoire, and reviews applauded the film's "perfect casting," Curtis included. The film received a slew of media attention and became one of the biggest surprise hits of the past decade. 
Curtis' impeccable take on the manipulative, cold-hearted Linda Drysdale is a standout performance in a large field of standout performances in "Knives Out."
Wanda Gershwitz (A Fish Called Wanda)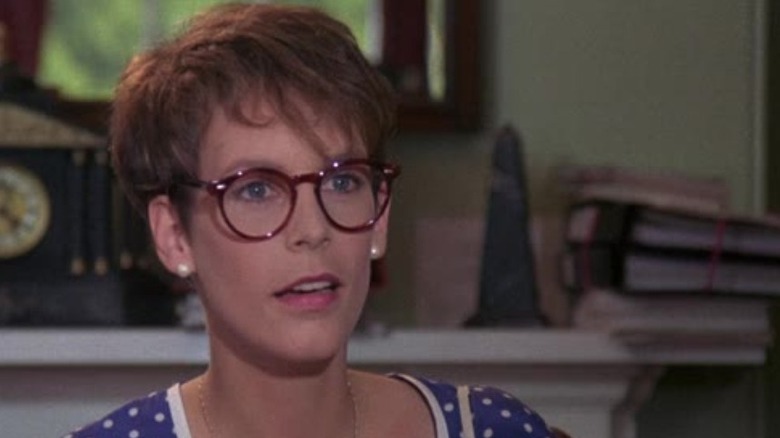 MGM/UA Communications Co.
Curtis' "Trading Places" was a standard 80's comedy, and her follow up performance in a comedy would be 1988's "A Fish Called Wanda", a wild British farce. Written by the legendary John Cleese, the film is famous for reuniting Cleese with his fellow Monty Python alum Michael Palin, as their first high profile project in Hollywood together. But it's Jamie Lee Curtis as the title character Wanda that is the star here, in a dark comedy and heist movie focused on a group of con artists out to swindle each other.
Her performance as Wanda is one for the comedy record books. In just her second comedic performance she delivers a star turn, not only getting in a number of jabs and jokes, but invoking the spirit of cinemas greatest femme fatales, with her uncompromising mastery of the game to stay one step ahead of the men around her. Curtis' ability to use her considerable comedic talents, honed on "Trading Places," allowed her to become more than a sidekick and the scene-stealer, but a genuine laugh leader.
Helen Tasker (True Lies)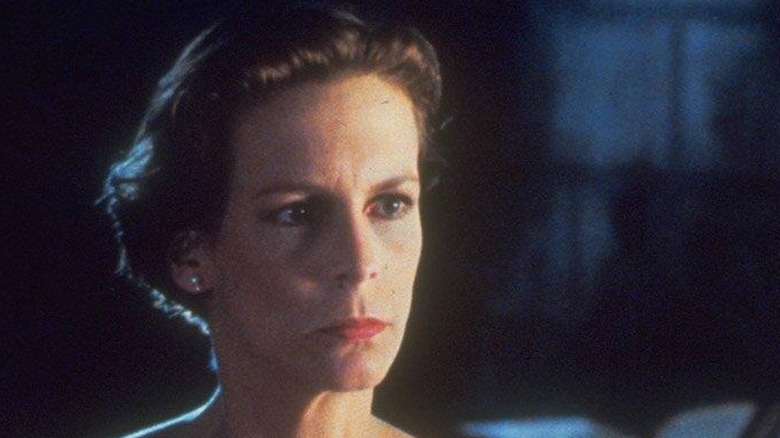 20th Century Fox
"True Lies" is the 90s action comedy directed by James Cameron that re-teamed him with "The Terminator" himself, Arnold Schwarzenegger. Centered on a covert intelligence agent leading a seemingly normal suburban life, Jamie Lee Curtis was his unsuspecting 'normal' wife Helen. And it's in "True Lies" that Curtis' diverse career choices really paid off: her experience as a damsel in distress in movies like "Halloween," as a strong lead in "Blue Steel," and as a comedic foil in "Trading Places" made her the perfect actress to stand toe-to-toe with her on-screen partner. In some ways, "True Lies" is Curtis' star-making turn because it encompassed the entire spectrum of her acting ability, and was her first true blockbuster hit.
Giant Freaking Robot reviewed the film in 2020 with the benefit of hindsight and said "Jamie Lee Curtis is the real star when it comes to the humor of "True Lies." Her nebbish and unfulfilled housewife role is a perfect bit of gleeful misdirection for when she transforms into a sultry spy. Curtis clicks with the material immediately and plays every moment with utmost sincerity and non-forced sexiness. And there is appropriate chemistry between her Arnold."
"True Lies" has been a favorite of action comedy lovers for decades, and there's been talk of a sequel ever since it hit theaters in 1995, but as of 2021, nothing has come to fruition.
Laurie Strode (Halloween)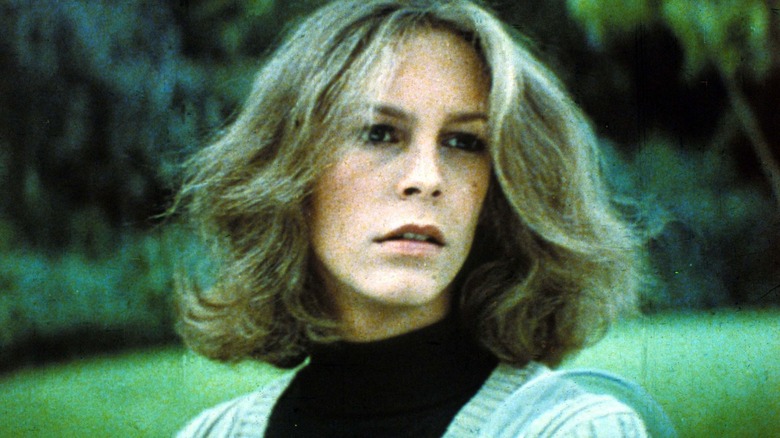 Compass International Pictures
Few actors have films that so define their career and fame as Jamie Lee Curtis and "Halloween." Despite starring in other famous films, despite branching out into other genres and winning awards for other roles, she will always be Laurie Strode, thanks to her nail-biting performance and landmark role as the "final girl" in the groundbreaking horror film.
Though she had a brief voice cameo in the third film, she declined an offer to appear in the fourth and skipped the four sequels. So beloved was Curtis in the role that they kept asking her to return, with her finally agreeing to play Strode again in "Halloween H20" in 1998, and subsequent appearances in "Halloween Resurrection," "Halloween" (2018), "Halloween Kills", and the upcoming "Halloween Ends," meaning she will have appeared in eight of the thirteen "Halloween" franchise films. Universally praised for her performance as the prey of an unstoppable killer, she matured into the role over the course of the series alongside her character into an older, wiser, stronger protagonist.
Despite the ominous title of the forthcoming third film in the most recent trilogy, "Halloween Ends," we may not have seen the last of Curtis as Laurie Strode. She recently spoke to USA Today about her potential future in the role. "If I've learned one thing in 43 years, it's you just never say goodbye," she said. "I'll say goodbye when I'm dead."